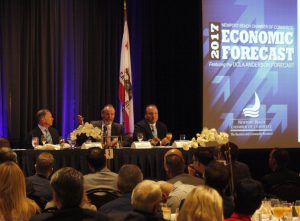 The Newport Beach Chamber of Commerce held its annual economic forecast breakfast at the Fairmont Hotel on October 21, while Newport Beach & Company (the destination marketing organization for the city of Newport Beach) held its annual marketing outlook dinner at the Newport Beach Marriott Hotel & Spa the following week.
The economic forecast offered cautious optimism from a panel of experts, including Jerry Nickelsburg (UCLA Anderson Forecast), John Brynjolfsson (Chief Investment Officer, Armored Wolf Family Holdings) and Scott Baugh (former California State Assemblyman and Assembly Republican Leader).
Conversely, Newport Beach & Co. President and CEO Gary Sherwin painted a rosy tourism picture at the annual outlook forum.
Economic Forecast Breakfast 
"When do we expect the next recession?"
That seemed to be the question of the morning. The answers were unanimous as the panel of experts agreed that there was nothing on the horizon for several years barring any "trade wars or unforeseen circumstances."
The aftermath of the Great Recession of 2008 still lingers as many keep a watchful eye and recall that economic swings generally run in 10 year cycles.
Newport Beach Chamber of Commerce President and CEO Steve Rosansky commented on the two biggest local revenue generators: automobile sales and real estate transactions.
"As the national and state economy goes, Newport Beach fares better than either one," he said. "The election is a big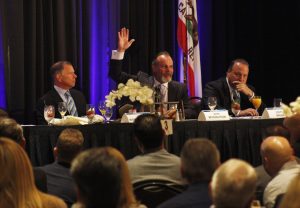 unknown. Most are preparing for a Clinton win and are acting accordingly. A Trump win would throw things into uncertainty, and the market does not like uncertainty."
Our affluent lifestyle does not insulate anyone from economic stress, but so far local auto sales are good, as is the real estate market. Nationwide housing starts are up, but locally we are short on inventory.
And the biggest uncertainty?
"Interest rates," says Rosansky. "We have our share of cash buyers, but every uptick of interest rates reduces the buyers' spending power, so they buy a less expensive house. People buy as much as they can, but if they hit that affordability wall, that eventually creates downward pressure."
Like the recession concern, no one sees any significant interest rate increases for at least two more years.
"A little cooling off might be best for the market. When prices run rampant eventually we hit a wall and create a bubble, "Rosansky concluded.
Scott Baugh focused on the election as he asked "Is this a coin toss or a fait accompli," meaning, "Are the election results a foregone conclusion or still uncertain?"
He talked about "silent voters," who are usually not polled and tend to sway last minute based on whim.
Most of the economic number crunching was supplied by Jerry Nickelsburg, Ph.D., an Adjunct Professor of Economics at the Anderson School of Management, UCLA. He provided data on the national and the state economies.
On a national level, demand for US good are strong. Inflation remains in check as we remain at "the new normal" of about two percent.
One of the more interesting stats: unemployment numbers were lower in California than most of the country. Nickelsburg said that "40 percent of new jobs this year were created in California."
Orange County played a big part of that throughout all sectors with a 2.5 percent job gain over last year, exceeded by only Silicone Valley at 3.5 percent.
For more information, and to watch a video of the economic forecast, visit NewportBeach.com.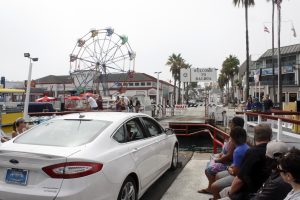 Newport Beach Tourism
Tourism is big business in Newport Beach, so it's no surprise that Newport Beach and Company's President and CEO Gary Sherwin projected big results at the marketing outlook forum dinner.
The program began with the annual Rosalind Williams award for Employee of the Year, which went to longtime Island Hotel employee Lisa Carpenter, the concierge supervisor.
The keynote speaker was Peter Yesawich with MMGY Travel, a leading travel marketing company. Calling himself a "travel trend prognosticator," Yesawich shared compelling data that verifies that Newport Beach has been one of the premier travel destinations over the past year and should maintain that trend.
Among the numbers he shared was the MMGY Travel Horizon Index, which analyzes 2300 households every 90 days and asks how many will be traveling within the next six months.
After the 2008 recession, tourism dropped nationwide and was offset by deep discounting. Finally, after eight years, travel is back to where it was before the bottom fell out. One of the main reasons is that nationwide job security appears to be solid.
More than two thirds (68 percent) of the country plans to vacation travel in the next six months, and over one third of the country will travel for business.
Local benchmarks that were set include 160,862 total rooms booked by set by Newport Beach & Co. for a total of $57.4 million revenue generated, which equates to 77.2 percent occupancy year-round.
Newport Beach had seven million total visitations, with spending of one billion dollars.
Once again a major travel factor are the Millennials and Gen Y demographic.
Millennials travel often, spend more money and travel more last minute than any other sector.
"About 48 percent of Millennials travel within six days of deciding they want to go somewhere," proclaimed Yesawich. They also use online apps more than any demographic, along with using alternative travel options like AirBNB and Uber.
For more information, visit NewportBeachandCo.com.