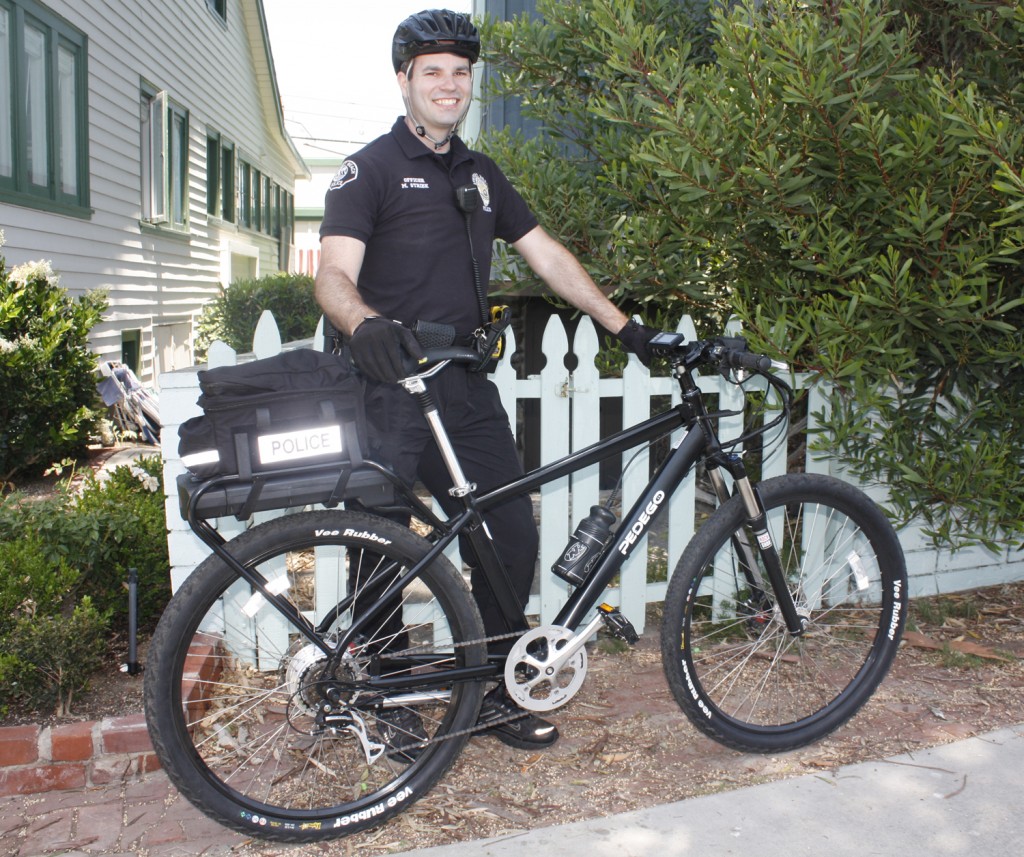 The Newport Beach Police Department enjoys an enviable success rate in reducing home and car burglaries with enhanced patrols, surveillance of targeted areas, dogged detective work, and sometimes good old luck.
Substantial credit for that success can be attributed to the department's own version of the Silent Service: The bike patrol.
The bike patrol is comprised of 20 volunteer officers, most of whom relish the opportunity to "work out" while on duty.
One such example is bike training officer Jason Prince, 35. He's an award-winning triathlete whose favorite component of the sport is cycling.
Prior to joining the NBPD, he served as a bike tactics training officer with LAPD for seven and one-half years.
Cop bicycles are a far cry from the 18-pound Italian road machine on which Prince races while off duty.
"Currently, we have eight patrol bikes, five more for standard parking control (soon to be implemented) and two brand new electric bikes custom built for us by Pedigo in Corona del Mar," Prince said.
As equipped, the human powered, 24-speed, manual shift bikes weigh in at 50-plus pounds. The new electric models push the scales to more than 60 pounds – eight of those pounds claimed by long-lasting lithium-ion batteries.
With smart battery management, bike cops will return to the station with juice still in the power pack after a 10 hour patrol. Should they short out (batteries or cops), the bikes still have conventional pedals and a six-gear set-up.
"Without power, the bikes pedal smoothly," Prince said.
Of course, even those officers with thunder thighs coupled with the prodigious heart output of a triathlete wouldn't want to climb any hills on a 60-pound machine.
Additionally, the Volunteers in Policing unit has three mountain bikes dedicated for their beachfront patrol use.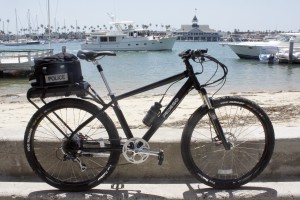 Volunteers generally are retired persons who range in age from 50 to 80.
"We use the oldest mountain bikes; the clicking one hears when we pedal normally isn't the bike – it's our knees realigning," one volunteer quipped.
"Though our full-suspension mountain bikes are good bikes, they are outdated, and actually more bike than we need," Prince opined.
In charge of the bike maintenance, he says, "I'm trying to breathe life into them by making minor repairs."
Electric bikes have proven themselves during their first three months of active service, and Prince feels that the department should update the fleet with at least two more. "But that decision is above my pay grade," he said.
The police electrics cost about $3,000," said Lt. Damon Psaros, who with Prince worked with Pedigo on the current iteration.
Aside from several modifications, the bikes are similar to civilian models. On police bikes, the handlebars are less wide, so that on crowded boardwalk days, bikes can be maneuvered without fear of gouging pedestrians like a longhorn might do to a cowboy.
A bike allows 360 degrees of visibility, sound and smell. They can often reach an incident in just minutes, whereas a patrol car may be stuck in a summer weekend traffic crawl. If handled well, the bikes can even navigate soft beach sand, Prince said.
And they're a dream-come-true asset during a "foot" chase. Obviously, most people can't run 20 miles per hour – the speed of most electric bikes. And unless they're conditioned Olympians, the pursued will stop or drop from oxygen and adrenaline depletion long before the bike battery runs dry.
Imagine how demoralizing to realize after a chase that while you're sucking in a city block's worth of air, the bike cops aren't even breathing hard?
Mostly, the officers keep their bikes to a battery-and-cop efficient 5 to 10 mph.
At that speed, "you don't miss seeing much around you," Prince said.
Of course, catching the bad guys is the stuff headline writers love to highlight. But just as important are the "visibility and positive community relations" bike officers bring to the city, Psaros said, adding, "You can't do that from a patrol car."
Come summer, he and other command staff will assign bike patrols to the peninsula generally from 9 a.m. to 10 p.m. However, he explained, "There are no dedicated times.  We use bikes as tools; they follow the ebbs and flows of the community."
Since bike store owners Joe Carter and Hal Pisors took over the CdM Pedigo franchise a year ago, they have sold more than 200 of the electric bikes. Many of their sales came after customers rented the bikes, then discovered that they could climb Newport Hills Road with motor assist at about 17 miles per hour.
America is just learning about electric bikes. China manufactures 30 million electric bikes annually, of which 25 million remain in the country. The rest are distributed worldwide, Pisors said.
I went for a demo with Pisors through the streets of CdM, and down the sharp drive to the Big Corona parking lot. On the flats, the bike pedaled easily, and the silky Shimano thumb shifter made changing its six gears effortless. But unless you sport bionic quads, you probably wouldn't want to pedal back up that road. No worries, the easy-reach throttle instantly kicked in the motor, allowing for a no-strain ascent. Don't expect nose-bleeds from acceleration, but you will be surprised at the gentle oomph the motor produces.
Should you choose to explore off-road, you can order tires that aren't just "fat," they're downright obese – as if inflated by an arcane mixture of Twinkies and guacamole.
From my brief experience on a bike similar to the two now employed by Newport, I too can recommend Pedigo for both cops and knees alike.
Contact the writer at: [email protected]