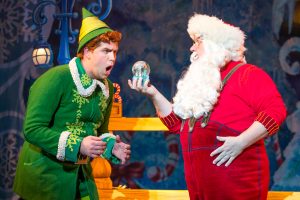 "Elf" is one of those silly feel-good holiday movies that was a hit when it came out in 2013, so it's no surprise that in 2010 "Elf" was turned into a Broadway musical, with songs by Tony Award nominees Matthew Sklar and Chad Beguelin ("The Wedding Singer"), and a book by Tony Award winners Thomas Meehan ("Annie," "The Producers," "Hairspray") and Bob Martin ("The Drowsy Chaperone"). 
And, it's no surprise that the production of "Elf" that runs through January 1 at Segerstrom Center is an equally silly, feel-good musical cleverly adapted from the film yet with enough plot twists to make it feel fresh and vibrant—as vibrant as the colorful elf costumes worn by the North Pole characters.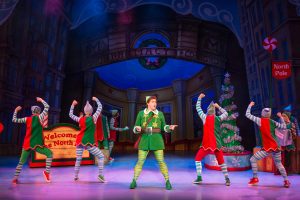 For those unfamiliar with the plot, "Elf" is the story of Buddy, a young orphan child who mistakenly crawls into Santa's bag of gifts and is transported back to the North Pole. He's raised as an elf, and despite his enormous size and poor toy-making abilities, Buddy is blissfully unaware that he is actually human.
Eventually, Buddy learns the truth, and with Santa's permission, embarks on a journey to New York City to find his birth father, discover his true identity and help New York remember the true meaning of Christmas.
The songs in "Elf" are nicely done, but it's the overall exuberance of the production and the fun dance numbers that help make this musical soar. You may not leave the theater humming the tunes, but you'll have a smile on your face and a song in your heart.
For tickets and more information, visit SCFTA.org.