By Elizabeth Greenberg | NB Indy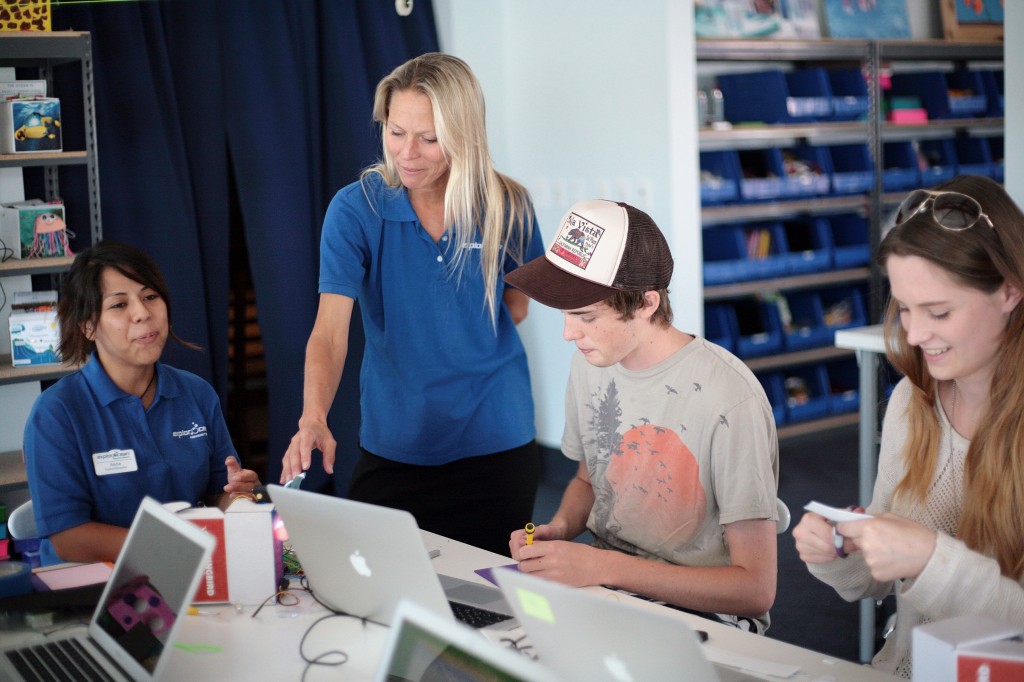 Introducing new, interactive and entertaining programs, ExplorOcean is a must visit this summer.
Located in Balboa Fun Zone, the nonprofit organization offers various activities for kids of all ages and their parents, ranging from animal feedings to free Science Sundays.
New this summer are 13 hands-on "Maker Workshops," which teach children and teens age 10 and older about technology, programming, and engineering in the organization's new Innovation Lab. Classes include how to build robots, rockets, metal detectors and other projects. Kids will learn about electricity, circuits, conductors and more.
Dr. Wendy Marshall, ExplorOcean's director of education, wants to make the program an invaluable experience for children.
"To be the next crop of explorers, you have to be a risk taker, be creative and innovative, and a problem solver. We feel like we are developing those habits of mind here," Marshall said about the Maker Workshops.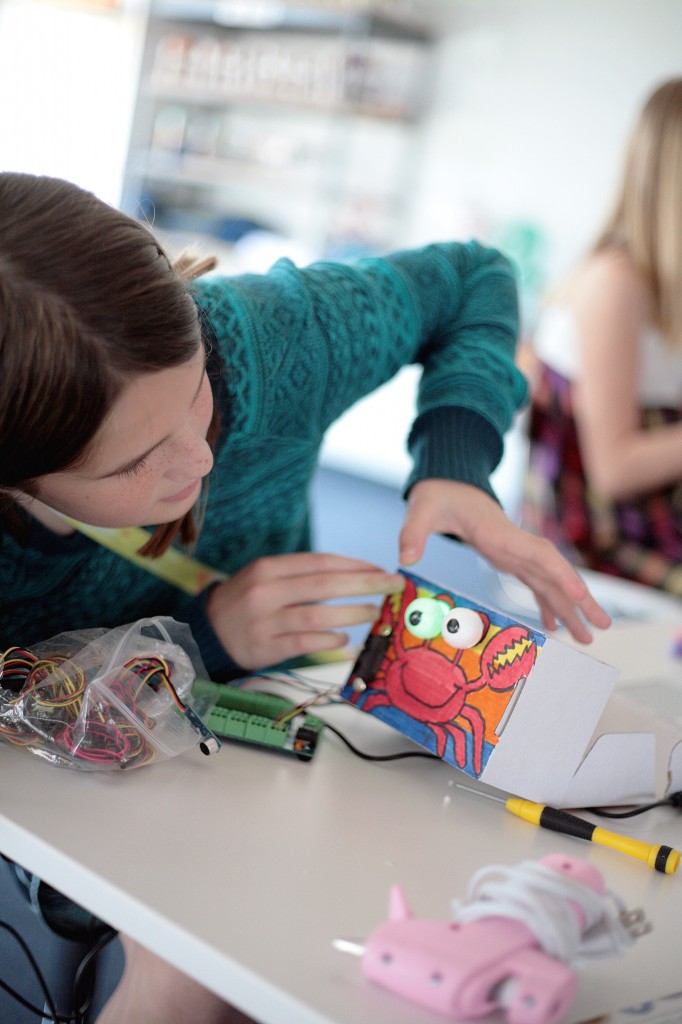 The program provides the time, tools and space to create, she said.
Classes are held several days a week in the new Innovation Lab, a fully-equipped area at ExplorOcean that allows kids to learn in a fun atmosphere.
Grounded in the seventh principle of ocean literacy that the ocean is largely unexplored, the program is designed to provide kids with the tools to discover.
The different activities teach the participants to "understand and then innovate." The separate sessions use different materials to teach unfamiliar skills, such as soldering. All materials are provided.
"I like to look at it as a RadioShack and a Hobby Lobby," Marshall said of the materials. "We buy stuff in bulk, we plan ahead. It's just not an expensive activity."
The projects Makers work on range from simple to extraordinarily complex, allowing all ages to be intrigued, impressed, and challenged.
"It's cheaper than babysitting, and they learn how to program robots," Marshall said.
On Tuesday, four Huntington Beach siblings worked with Hummingbird robotics kits, programming robotics with a computer to manipulate movements and create noises.
"It's actually pretty easy," Robert Niggebrugge, 18, said while working with a Hummingbird robotics kit. "At first I looked at it I was kind of like, 'Eh,' but then I was like, 'Oh wait, that goes there.'"
Younger children can also enjoy the fun and create projects in the Maker Workshops.
"It's really cool because it can be simplified for someone of a younger age or someone who's going to go to college," Aisha Lozada, an Explor Educator said about the equipment she uses to teach kids programming and robotics.
Marshall has taken her Maker's programs to schools such as Newport Elementary, Ensign Middle School, and Costa Mesa High School, mixing the skills needed in robotics with the necessities of everyday life.
It's also important that participants are able to clearly communicate and explain their work, Marshall said.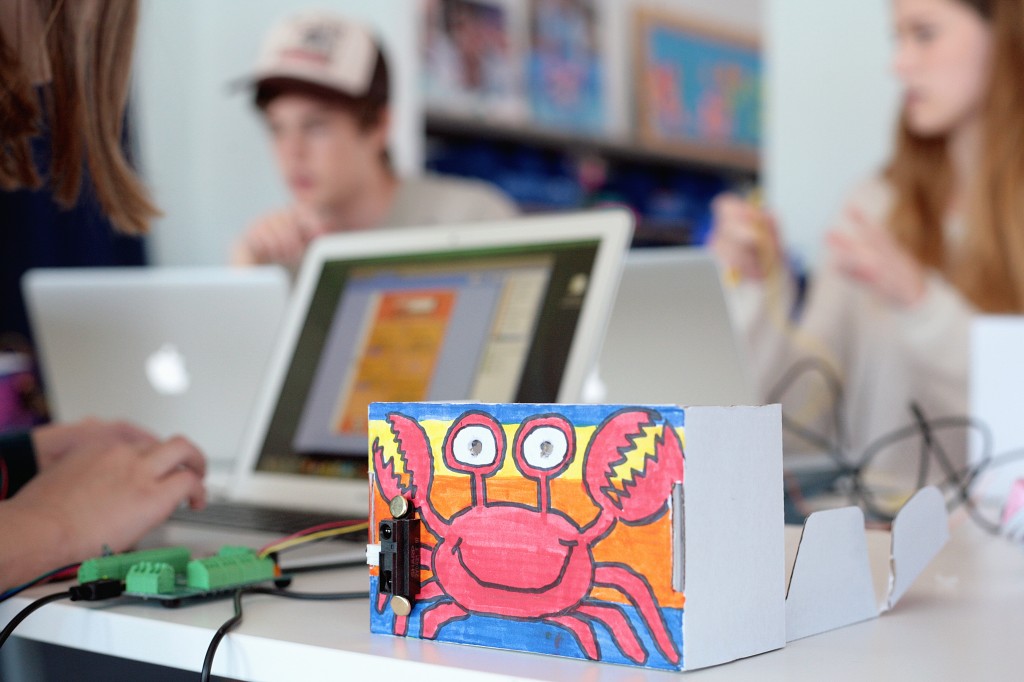 "They had to create a project board that (lists) the materials they used, how the thing works," she said, "but they also did real world connections, like where might you see this in the real world, but they also had to identify problems and solutions."
The projects and hands off approach taken by the staff help the children learn from their mistakes and work their way through problems.
"It filters down to work backwards, look at a model, collaborate, ask somebody else. They're strategies that help not just with the projects but across the curriculum and kind of across life," Marshall explained. "We actually make them very accountable for the critical thinking they're doing."
Children learn how to problem solve and persist in their endeavors in the Maker Workshops and ExplorOcean's other programs. The workshops try to help kids develop these "soft skills" that are not easily learned everywhere.
"It's mostly learning that mistakes are okay," Marshall explained.
"The dilemma is, kids are measured by GPA and test scores, and they're not always indicators if they have these soft skills or not," she continued. "By participating in these types of programs, they're just naturally immersed in those skills. We don't leave it to chance though, because I have them report and I ask them about their problem solving. We are trying to develop the soft skills which may be hard, and we haven't cracked the code to measuring them, but we know that they'll serve them well in new environments and new challenges."
ExplorOcean offers activities for all interests. Another one of their programs, EcoTech, teaches kids about ocean threats, and has them create and use underwater robots to film documentaries, thereby mixing ocean ecology, robotics, and film making into one activity.
To many kids, robotics may seem more difficult than fun, but most participants enjoy the experience and many comment that they would like to continue learning about robotics in the future.
It's the perfect way to introduce children to programming and engineering, while also testing out expensive tools, Marshall said.
Maker Workshops and other programs at ExplorOcean not only educate children, but are an exciting experience which can broaden minds and arouse new interests.
Each activity at ExplorOcean is $10 per hour, with an additional charge for the equipment specific to each project. Class sizes are limited and reservations are required. For more information on ExplorOcean programs, visit ExplorOcean.org.