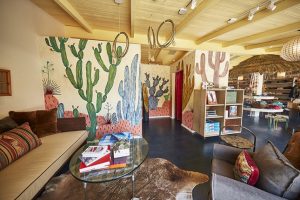 Lido Marina Village is nearly done with its makeover, and numerous new tenants have been moving into the refreshed village.
Add one more to the mix: on August 24, the beach-inspired fashion brand Faherty opens its second California retail location in Lido Marina Village. This will be the East Coast brand's fourth brick-and-mortar location (one is in Malibu), and the last of three openings planned for this year.
The up-and-coming lifestyle brand designs year-round seasonal collections for men and women, and delivers classic casual wardrobe staples with relaxed lived-in fabrics and top-quality craftsmanship, priced between $58 and $250.
Identical twins Alex and Mike Faherty launched their namesake brand in 2013 after leaving corporate positions in private equity and Ralph Lauren respectively.
Growing up on the beaches of Spring Lake, NJ, the two surf enthusiasts dreamed of designing a stylish, comfortable clothing line that would complement their love for outdoor adventure.
After a successful debut of their first swimwear collection in Spring 2013, the brothers set out to elevate the beach wear category with a refined level of quality and style.
Located among a row of converted boat houses along the marina's boardwalk, the Faherty Newport store will join other popular lifestyle brands including Claire V., Aesop, and Planet Blue.
The twins' mother, Ninie Norris, and design partner Ryan Lawson oversee all retail construction, development and interior design for the brand's stores, and are setting a vintage nautical ambiance that uses reclaimed barn wood, archival photographs, vintage surfboards and a curated selection of maritime themed antiques.
"The center's one-of-a-kind waterfront locale coupled with our well-established online and wholesale presence made the decision to open our second California location here an easy one," said Alex Faherty. "We are also excited by the caliber of like-minded emerging brands joining us in this historic shopping village. Beach culture is authentically inherent in our brand's DNA and we're enthusiastic it will resonate with the local community of one of America's greatest beach towns."
The newcomer brand is acclaimed for crafting premium, casual contemporary clothing using primarily sustainable fabrics– including organic cotton, true indigo dyes, and their signature swimwear derived from recycled plastic bottles.
Faherty's casual look centers around ethnic inspired prints, sun faded hues and ultra-soft pre-washed textiles. Each season, Faherty's design team borrows time-honored artisan construction techniques from around the world to achieve a relaxed, vintage-inspired look.
Faherty Newport will be located at 3416 Via Oporto, Suite 101. Visit fahertybrand.com for more information.