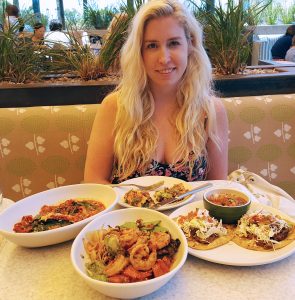 By Christopher Trela & Catherine Del Casale
Remember when eating healthy meant bland and boring plates of unappetizing food?
That began to change a few years ago, thanks to restaurants like True Food Kitchen, whose menu is based on Dr. Andrew Weil's anti-inflammatory food pyramid.
Never has a kale salad tasted as good as the one at True Food, but that's the point: food that's good for you should still taste good, and True Food has embraced that concept with everything from the beverages to the entrees. Many dishes are vegan, vegetarian or gluten free. Even the wine list features labels that are either organic or sustainably farmed.
We've been fans of True Food since they opened their Fashion Island restaurant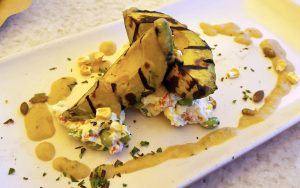 more than five years ago. Since then, the menu has continued to evolve, with some signature items remaining but adding others depending on the season.
True Food just launched its Late Summer menu, and as always it features high-quality, seasonal ingredients with simple preparations that let the freshness and flavor of the food stand out.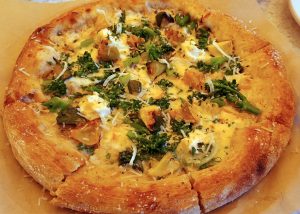 Among the new items (and re-invented favorites): A vegetarian "Vegetables" category featuring Roasted Toybox Squash, Heirloom Tomato Bruschetta and Grilled Avocado; a Vegetarian "Bowls" category including the Ancient Grains bowl featuring miso glazed sweet potato, turmeric, charred onion, snow pea, grilled Portobello, avocado and hemp seed and the Spicy Panang Curry with organic potato, long bean, bok choy, carrot, Thai basil and coconut broth; a handcrafted artisanal Summer Squash pizza features broccolini, sweet onion and lemon ricotta; a Summer Ingredient salad featuring a fresh medley of roasted asparagus, garbanzo bean, cauliflower, broccolini, wax bean, mint, Manchego cheese and pistachio tossed in a Sicilian Vinaigrette; a new Grass-Fed Burger (which replaced the Bison Burger); and Lasagna Bolognese (which replaced the Turkey Lasagna).
We sampled seven of the new Late Summer menu items, and were delighted that the dishes were healthy yet tasted decadent, with flavors that practically jumped off the plate. 
"The Grilled Avocado with piquant pepper, edamame, organic corn pipits and goat cheese is great starter to share," said Catherine,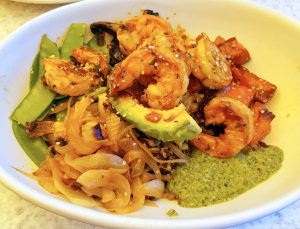 which we did. "I felt like I was indulging in something I shouldn't be with the rich flavor, but the dish was actually good for me. I loved the smoothness of the goat cheese and avocado mixed with the crunchy textures of the other ingredients."
Catherine is addicted to pizza, so of course we ordered the Summer Squash pizza, which Catherine dubbed "light and perfect for summer with its flax crust, broccolini, sweet onion and lemon ricotta. I could have this pizza for lunch and then hit the beach and still feel in excellent shape."
We asked sous chef Allan Aguinaga how they make the pizza crust, which was fluffy and airy.
"It's a mixture of three different flours—harvest king flour, all-purpose flour, and smelt flour, and we add a little flax meal which is good for digestion," said chef Aguinaga. They take great care with everything from water temperature to letting the dough rise and sit for up to 24 hours.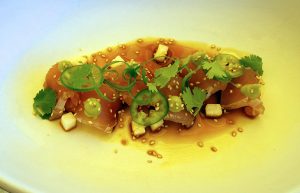 In addition to the pizza, our other favorite new item was the Ancient Grains bowl.
"It's filled with interesting flavors and textures," noted Catherine. "I especially loved the sweet and salty taste of the miso glazed sweet potatoes. The bowl itself is vegan and you have a choice to add tofu, chicken, steak, shrimp or steelhead salmon (we added shrimp). I love how well rounded the bowl was, giving you a little bit of everything and keeping you energized and full for your day."
"The wild caught albacore tataki with avocado, jalapeno and toasted sesame in a yuzu ponzu sauce was a light, refreshing starter, but I also liked the steak tacos (which rivaled those at traditional Mexican restaurants but are far healthier) and the lasagna Bolognese with chicken sausage, mushroom and spinach," said Christopher. "Like the other dishes, the tacos and lasagna tasted fresh and authentic, and didn't leave me feeling like I needed a nap."
"I agree, there is nothing worse than having a large lunch that makes trying on clothes afterwards at Fashion Island no fun," said Catherine. "At True food you feel satisfied but with your waist line still intact."
For more information, visit TrueFoodKitchen.com.