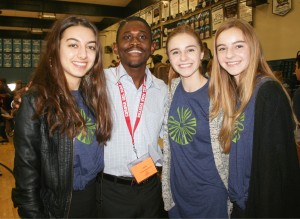 "The number1440 means to me that every minute of the day is valuable for helping others and making the world a better place," said 16-year old Corona del Mar resident Megan Ames. "What inspires me to be a part of this club is the positive impact we as a group can have on individual lives and help Ugandan kids have the opportunities we take for granted."
Twin sister Emily Ames agreed.
"I am so blessed to be part of an organization that allows me to connect with and help teens in Uganda," she said. "It's hard to imagine the challenges they face. Their strength, faith and gratitude is truly inspirational."
Megan and Emily are members of the "Hearts for Uganda Club" which began last fall at Corona del Mar High School.
Twenty-five to 30 teens meet weekly on Wednesdays. They've been working hard to organize their fund-raising luncheon, which includes a silent auction and raffle, for this Saturday, March 22, at the at Community Church Congregational in Corona del Mar.
Kathy Kipp, Youth Ministry Team Leader at Community Church, said the impetus to start the club happened when the church's youth group shared a worship session with Ugandan teens.
"Our church helped sponsor Daniel Okabe from Uganda," Kipp explained. "He just completed his degree in broadcast journalism from Vanguard and went back home.   While he was here, he helped our youth group Skype a group of teens in Uganda, and that sparked an amazing connection between the teens."
"The theme for the fundraiser is 1440 Together," she continued. "We are all given the same number of minutes a day, 1440, and it really hit our kids that there are other teens 6000 miles away living the same minutes each day. We're all part of one body, united by our faith and God, and yet they are living such completely different lives."
Kipp said the teens are the ones planning, organizing and running the fund-raiser.  They've collected items of interest to teens, such as surf lessons, jewelry, and gift cards. They're raising funds to help Ugandan orphans further their education after they age out of the orphanage at age 13.
"Otherwise, their only option is to go back out on the streets," Kipp explained. "Some stay and help at the orphanage, but room is needed for little ones. Education is the key to their future. It was a real eye-opener for our kids to realize how blessed they are to have the education they do – what they often complain about is really such a gift. The Ugandan teens are helping our hearts grow, and learn that joy doesn't come from 'things.'"
"I'm so proud of our teens," Kipp said. "They're discovering their God-given gifts and using them through this experience. For instance, the gal who had the idea for the fundraiser wants to be an event planner, and is planning it. One of the boys who is really good at graphic design is coming up with the logo, and another girl who is really creative is planning the decorations. One student has put together the website, others are making the video. The kids truly are putting the whole thing together from start to finish and they're inviting their friends, and family."
Paula Elizabeth, Intentional Interim Pastor at Community Church Congregational agrees.
"I am thrilled about the excitement this has brought to the youth and the broadening horizons that have opened through this connection. I'm looking forward to how this will unfold in the future."
The luncheon is at noon. $25.00 donation. For further information, email [email protected]
Cindy can be reached at [email protected]