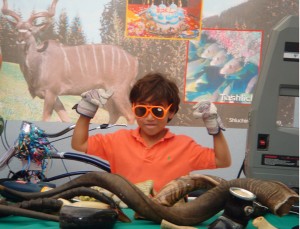 "We embrace everyone and everybody is welcome and invited to our High Holiday services," explained Rabbi Reuven Mintz of Chabad Jewish Center, Newport Beach.  "Rosh Hashanah is a little early this year because of the lunar calendar, but we are always ready to start the New Year off with optimism and hope. I'm really looking forward to a good year for all of us. Some may remember High Holiday services in their past that left them nodding off or looking for something to connect with, so we've created really meaningful and inspirational services. They are interactive, both in English, and Hebrew, with uplifting commentary, stories, background and explanations."
"All our services are open to the entire community," Rabbi Mintz continued. "You don't need any membership or tickets. I like to say you don't have to pay to pray; God didn't create tickets, that was man's invention. Our services really enable the individual who is a regular, or what I call the once a year Jew who just shows up to celebrate the New Year, to leave inspired and uplifted. We also have a little humor in everything we do."
Chabad Jewish Center will continue its tradition of holding the many services at the Hyatt Regency on Jamboree. There will be five services for the 48 hours of Rosh Hashanah, beginning the evening of September 4 and continuing on September 5 and 6; and four services on September 13 and 14 for Yom Kippur, the Day of Atonement. 
"We have the opportunity to spend time reflecting on our spiritual and physical sides," Rabbi Mintz said. "We take the ballroom of the Hyatt and we have two children's programs running simultaneously. We have a great staff that captivates and inspires the children with a love and pride for the holidays and for their heritage. We get over 1000 men, women and children who come through all our programs and services for High Holidays. It's been growing each year."   
"People are searching in every way to nourish their souls," he said. "We nourish our bodies very well, but we have a yearning, thirsting soul that seeks spirituality, that is calling for meaning and purpose, wondering what is my task in life, how am I going to climb out of the rut I am in, how am I going to make this year better than last, how am I going to enhance joy, elevate those around me, and make this world a better place?"
According to Rabbi Mintz, there are over 100,000 Jews in Orange County, but only about 20 percent are affiliated with a particular congregation or Jewish center. He hopes many of the 80 percent who are not affiliated realize it doesn't matter how long it's been since they've attended somewhere, they can come to the services and enjoy festive meals and special traditions, beginning with the blowing of the shofar, or ram's horn, which is meant to wake the slumbering soul to its desire to connect with God. 
He explained that Rosh means "Head of the Year," and the time is meant to improve one's partnership with God, to evaluate the past, and focus on how to make the coming year a year of success. He also emphasized that it is also a time of sweetness, joy and laughter.
"We are all God's children," Rabbi Mintz said. "The fact that we were born gave us our membership to participate spiritually. Our faith gives us meaning, helps us maximize our day to day living, and helps us reach our full God-given potential."
The complete High Holiday schedule, as well as a children's section, studies and stories, information, recipes, traditions, and details about the holidays, is available at jewishnewport.com.
Cindy can be reached at [email protected]