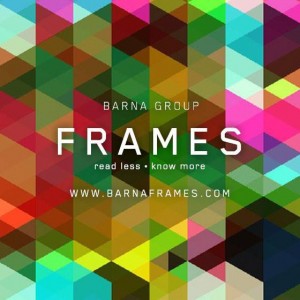 St. Andrew's Presbyterian Church has been selected by Barna Group to host their first FRAMES LIVE, a unique one-day opportunity for the public to learn the latest trends in culture.
"It's really exciting," said Jon Batarse, minister of communication at St. Andrew's. "For 30 years, Barna Group has been a leader in media, churches, non-profits and educational institutions for research and insight into matters of faith in contemporary society. They're one of the organizations that churches rely on for finding information to help move us into the future. It's not our event, but we're hosting it. It's free, but people need to register on line. It will also be broadcast everywhere."
The stated vision of Barna Group is "to provide people with credible knowledge and clear thinking, enabling them to navigate a complex and changing culture."
Its public opinion research is frequently quoted in major media outlets such as the Wall Street Journal, the New York Times, USA Today, Fox News, Chicago Tribune, and the Los Angeles Times.
"The typical person does not have a whole weekend to read a book," explained David Kinnaman, president of Barna Group, via a FRAMES video. "We have short little bursts of time – an hour here or 90 minutes there. We're all feeling the pressure of keeping up to speed. Seven out of 10 people like to stay informed about life and trends, and 56 percent of adults want to know how faith and spirituality apply to current issues they face."
"Barna started a new initiative called FRAMES," Batarse said. "They've been working on this for years. After much research, they've found a wide variety of important topics that people really care about. They selected the most relevant topics that are impacting society and brought in popular people who are experts in their fields to address them.   They created a very condensed and concise way to learn about the important issues."
"A lot of churches are sending their staff and leaders because it's going to be a wonderful conference for those in leadership, equipping them to think differently about life in the accelerated, digital world," Batarse continued. "FRAMES will show how new trends are likely to change the way leaders lead as well as giving us tools to navigate a changing world. Anybody who wants to learn more and hear from some of the best in the industries should come."
Batarse explained that the speakers for FRAMES LIVE will address what Barna Group has concluded are the 10 Big Ideas for 2014, and they will offer insight and useful knowledge to show how the Christian community needs to respond.
The speakers and topics include:
Bob Goff: Multi-Careering;
Clair Diaz-Ortiz: Stewardship of Life in the Digital Age;
David Kim: The New Young Adulthood;
Jon Tyson: Why Church Still Matters;
Jedd Medefin: Adoption, Foster Care and Mentoring;
Jun Young and David Kinnaman: A Theology of Information in the Screen Age;
Kate Harris: The Challenges of Being a Woman Today;
Nicole Baker Fulgham: Helping Children Thrive in Public Schools;
Tyler Wigg-Stevenson and Carol Howard Merritt: Christians in a Culture of Violence
The audience will also hear from George Barna, founder of Barna Group, whose topic is "Now Trending: Why Anticipating the Future Matters More than Ever."
FRAMES LIVE is Wednesday, Jan 29, 10 a.m. – 4 p.m. The event is free, including lunch, but registration is required. Go to barnaframes.com
Cindy can be reached at [email protected]