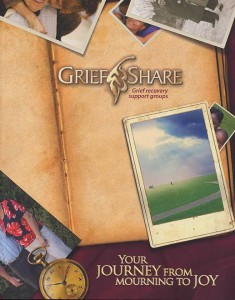 "Right after I lost my dear wife Ginny last November, I was at the lowest ebb that there is and I didn't have a great desire to go on. I'd never been that low," said Newport resident Jim Blackburn. "We'd been married for 61 years and it was a love affair you couldn't believe. I was heartbroken. But my kids interceded, as well as my wife's hospice nurse, who suggested I try GriefShare. I talked to Karen who leads it and decided I'd be a fool not to try it. I've never made such a good decision in my life. I don't think I'd still be here if I didn't have all this tremendous support."
"I was very intimidated to go at first, but now I can't say enough for it," Blackburn continued. "I thrive on it. I'm going to back again for another session and now I'm planning socials because everybody is like my extended family. Sure I still have meltdowns, but I've really done a 180. I'm reinventing myself and I'm about as happy as I can be. GriefShare is keeping me going. And Karen Stevenson is amazing; she is wonderful and supportive and she's absolutely marvelous as a facilitator."
Stevenson leads the GriefShare group at Newport Center United Methodist Church. GriefShare is a grief recovery support group for people grieving the death of a loved one. It is a thirteen-week series, but participants are welcome to begin attending at any session. Topics covered include: challenges of grief, grief and your relationships, guilt and anger, lessons of grief, and heaven.
"GriefShare was the program that saved my life when Harry passed," Stevenson said. "I have been involved since the spring of 2010, first as a participant, and then as co-facilitator, and as a facilitator ever since. I've seen that those who come to GriefShare and take it seriously end up being totally different people by the end than they were at the beginning. This certainly doesn't mean that they are cured because you are never totally cured from grief, but they have learned to cope better. Jim is a perfect example."
"When we talked on the phone, Jim said he'd probably come once, but he was totally taken by the program," Stevenson continued. "He's now one of my best advocates. He is so excited and is planning the next social. He started reading the Bible, he's learning and he's praying. I really emphasize prayer in the group because it's the only way to get a good relationship with God and that's what you need to get through grief."
GriefShare groups are offered throughout the US, Canada and in over 10 countries. The three elements of each weekly meeting are a video, small group discussion and workbook-based personal study.
The next GriefShare series at Newport Center United Methodist starts Sunday, Sept. 7, from 1:30 to 3:30 p.m. The cost is $20, which includes the workbook.
"I feel very humbled that the good Lord led me on this path to get through my grief for Harry and led me further to where I wanted to be a GriefShare facilitator," Stevenson said. "I just want to continue to help people through this dark journey. People don't need to do this alone. I feel very called to do it until I'm called to something else. I tell people that it's for everyone, you don't have to be a Christian to come, but you will hear about God and Jesus."
For further information, contact Karen Stevenson at (949) 640-2798 or go to newportcenterumc.org or griefshare.org.
Cindy can be reached at [email protected]