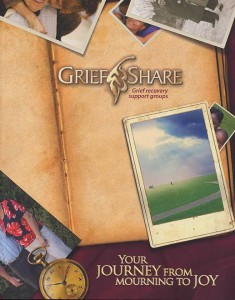 "GriefShare was the program that saved my life when Harry passed," said Karen Stevenson, Corona del Mar resident and member of Newport Center United Methodist Church. "I didn't know which end was up. I was lost and desperately needed help. I went to the GriefShare program at Trinity United Presbyterian in Santa Ana and ended up co-facilitating the group there."
"People started contacting me after they had a death, because they needed help too," Stevenson continued. "They started asking me how I handled things. We didn't have anything like GriefShare at our church, so I said to our pastor that we needed to. He agreed. I was terrified to head it up because I'd never done anything like that before. But it felt like God was calling me to do it and all the pieces fell into place."
Stevenson has been involved in GriefShare since the spring of 2010, first as a participant, and then as co-facilitator or facilitator. She presently leads the group at Newport Center United Methodist Church and is happy to invite those in the community dealing with grief to the beginning of the next session, starting this Sunday.
GriefShare Recovery Support Groups are made up of caring people who know that the best way through the difficult process of grief is by sharing it with others, not trying to go it alone.
GriefShare groups are offered throughout the US, Canada and in over 10 countries. Trained individuals who have experienced grief themselves lead the support groups, therefore they understand the many challenges of the grief process.
GriefShare groups meet weekly, giving specific help as well as emotional support for navigating the grief journey. The three elements of each meeting are a video, small group discussion and workbook-based personal study.
The videos are produced in a television magazine format and feature expert interviews, real-life situations, and dramatic reenactments.
After the video, group members spend time discussing what was presented and are encouraged to share their own experiences, if they are comfortable doing so.
Participants have a workbook to use at home which encourages additional study, reflection and help sorting out emotions through journaling. Group members discuss questions and comments from the workbook study every week.
"I'd had my husband for 29 years, and then I no longer had a 24/7 person to turn to; it was devastating," said Stevenson. "GriefShare and prayer helped me get to a new normal where I'm comfortable being in my own skin. You never get over it but you get to a point where you have the tools to deal with it. December 29 was the fourth anniversary of Harry's passing, and God is there for me 24/7 now. He's always there. I've grown so much in my relationship with God, which is so important."
Stevenson explained that though GriefShare is a 13-week series, people can join any time, and they can repeat the series as often as they'd like.
"By week 13, they aren't cured, but they're a lot better and they smile and laugh a lot more," Stevenson said. "Their demeanor and attitude completely changes, and they leave so much better. This may sound strange to some, but this is actually something I enjoy doing because I'm helping people get through a journey that is so difficult. I like to help people and have made wonderful friends. You bond with one another."
GriefShare is held from 1:30 to 3 p.m. at Newport Center United Methodist Church, 1601 Marguerite, CdM on Sundays. It starts this Sunday, January 12, and goes through April 6.  The cost is $20, which includes the workbook.
For further information, contact Karen Stevenson (949) 640-2798 or go to newportcenterumc.org. Also see griefshare.org.
Cindy can be reached at [email protected].