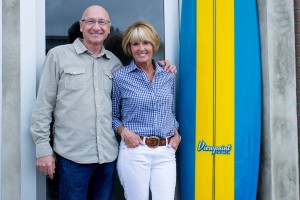 There is a new church in town, and it's led by a unique team, meets at a unique time, is at a unique location and has a unique personality.
Eighty people attended Viewpoint Church for its two preview services on Sunday afternoons at the old Newport Beach City Hall, and they are excited about going forward.
"We're a Bible-based, family friendly, youth-friendly, recovery sensitive, recreational church," explained Newport Beach resident Becky Tirabassi. She and her husband, Roger, are the teaching team for Viewpoint Church.
"It's a unique niche," she continued. "We're not trying to be a church for everyone; there are plenty of great churches in Newport. I think we're trying to reach people who don't have a church. We never dreamt of planting a church, but we feel God has called us to do this in our community because of our strengths, especially when it comes to marriages, recovery, and youth ministry. We really believe we can make a difference in our culture."
"We are very encouraged by the responses of people who think a church by the beach is a great place to minister and help people," Roger Tirabassi said. "There are diverse groups of people and we feel we can offer them what they need. There are a lot of young people in the area who are trying to figure what life is all about, and how God and faith might fit in; they are open and searching."
"There's also a group who need extra help because of their struggles with alcohol and drugs and we think our testimony gives an opportunity to reach out to them in a unique way," he continued. "Also, many young families live by the beach and are looking for a community for support and care. We've connected with leaders who want to make a difference in culture, and feel like being involved with Viewpoint is a call in their lives."
Becky Tirabassi explained that her struggles with alcohol as a teenager motivated the desire for a recovery-sensitive church.
"I am compelled to share my story about a God who loves and forgives us," she said. "I experienced what so many people do—an emptiness in my heart even though I had a lot of things going for me. I fell into the trap of believing I needed drugs and alcohol to have fun. That turned into an addiction and I hit bottom at 21. I felt very desperate. I had a dramatic conversion to God because of a conversation with a janitor at a church, who was the only one available at noon hour on a weekday to talk to me about God."
The Tirabassis have lived in Newport Beach for 22 years. Becky has written 15 books, and spent 25 years traveling and speaking to both adults and students. Roger spent 20 years as a pastoral counselor in Newport Beach. He has also worked part-time as the Marriage Enrichment pastor at Rock Harbor and will continue to run the premarital and marriage programs there. Rock Harbor recently commissioned Viewpoint Church.
Viewpoint meets every Sunday at 5 p.m. at Old City Hall, 3300 Newport Blvd. On Easter Sunday, April 20, Viewpoint meets at 10 a.m.
For further information, go to viewpointchurch.org.
Cindy can be reached at [email protected].