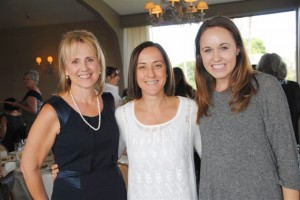 "There are over 27,000,000 slaves worldwide, more than any other point in history, " Christine Caine said to more than 100 women attending the Mariners Christian School's Ladies Luncheon at the Newport Beach Country Club.
"Primarily girls and young women are held as slaves. Often these slaves are kidnapped or sold by families under desperate circumstances. As the demand to exploit human beings for manual and sexual labor increases, the average age of victims continues to fall."
"It is estimated that only between one and two percent of the victims are ever rescued," she continued. "Effective solutions for lasting change are far more complicated than taking down the bad guys. The A21 Campaign is working to advance freedom through: prevention, protection, prosecution and partnership with already existing community and government agencies."
Christine Caine and her husband Nick are co-founders of the A21 Campaign, an organization dedicated to abolishing slavery and human trafficking in the 21st century.  According to the A21 website, another person becomes a victim of human trafficking every 30 seconds, and the average age of trafficking victims is 12 years old. A21 has offices around the world and partners with law enforcement, service providers, and community members to meet the needs of those recued from bondage.
The foundation provides legal counsel to the victims in their care, and represents them in criminal proceedings. They work to prevent trafficking through awareness and education and work with schools, orphanages and universities to educate potential victims of trafficking.
Carolyn Johnson, Director of Development at MCS, was excited to have Christine speak at the event. The luncheon is held annually as part of the school's Golf Tournament, which benefits financial aid for students.
"Christine is unlike any other speaker we've had," Johnson said. "Christine doesn't just inch you out of your comfort zone, she pushes you. We wanted someone who inspired us to action, and she certainly did that. We bumped up against a whole new world that we knew nothing about. To realize that human slavery is alive and well in Southern California, and in our very own neighborhoods, is shocking. We learned about ways to identify slavery and the hotline to report suspected slavery. It was encouraging to learn that there are actually things we can do about it. We can be the arms and legs of Jesus."
"Christine said that the main traffic centers in the US for European and South American Traffic are in New York and Miami," Johnson continued. "Many of the girls from Central America and Mexico are brought in through Los Angeles."
"It was both heartbreaking and motivating to learn more about human trafficking," said Newport resident Carrie Olson, chairman of the event. "The reality of millions of girls my own daughter's age being bought and sold and used in unimaginable ways as mere objects with no shred of humanity is beyond comprehension. Thinking of girls giving birth to babies who are then raised with the sole intent of further exploitation makes me numb with grief. And yet, to realize that we as members of the church have the opportunity to save a life and assist in helping girls regain their humanity and live a life of freedom motivates me to learn more about the A21 Campaign and how our family can help."
For information, including 21 specific ways to help, see thea21campaign.org.
The National Human Trafficking Resource Center hotline is (888) 373-7888. They will answer calls or texts from anywhere in the country all day, every day.
Cindy can be reached at [email protected]