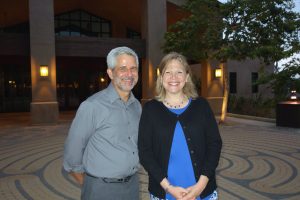 St. Mark Presbyterian Church is serving as a host campus to the newly formed, non-profit Jewish Collaborative of Orange County. The Shabbat morning Collaborative services will initially meet monthly, generally on the fourth Saturday of the month. Their inaugural service was held June 25.
"Our first gathering was really warm, energetic and everybody seemed to have a great time," explained Rabbi Marcia Tilchin. "Newport Beach is an area of Orange County where there's not a synagogue of the denomination that I come from. I know many families in the Newport, Costa Mesa and Irvine area are looking for a traditional yet egalitarian home."
"A friend suggested I look at St. Mark, which I visited last September," she continued.  "That began a conversation with their pastor, Mark Davis. He then presented the idea to his leadership. We are starting our relationship slowly to make sure there are no kinks.  Everything is unfolding in a beautiful way. I'm excited, and it's just the beginning."
Rabbi Tilchin is a graduate of both the Jewish Theological Seminary of America in New York and the Ziegler School of Rabbinic Studies in Los Angeles, both affiliated with the Conservative Jewish movement. She served as the Cantor of Congregation B'nai Israel in Tustin from 2002 to 2015 and is currently on the Judaic Studies faculty of Tarbut v'Torah Community Day School in Irvine.
"Rabbi Tilchin and I hit it off from the get-go," explained Pastor Davis. "Her vision and approach to gathering her community is similar to mine and those at St Mark. I felt like this could be a very positive cooperative venture together. We shared our former campus with a Jewish congregation and it was very good for both parties. It's in our DNA to be an ecumenically minded congregation. It's rooted in our history."
"It says something about the spirit of St. Mark," Pastor Davis continued.  "We are a very gracious congregation who believes that God can be active in the world in a number of ways and not just in the way we experience God. God is bigger than all of our thought processes, larger than the boxes we use to understand the divine. It makes us humble and open to the number of possibilities of how God is active and working among others in the world."
Prior to the first service, Pastor Davis interviewed Rabbi Tilchin during a Sunday service, and soon afterwards held a "Meet and Greet" where congregations learned more about each other. At both presentations, Rabbi Tilchin briefly explained the major Jewish denominations found in America: Orthodox, Conservative, Reform, and Reconstructionist, and explained that, while Collaborative programs won't be denominationally specific, religious services will adhere to Conservative ideals by blending tradition with modernity.
She also said JCoOC is geographically mobile by intent.
"The organization is called the Jewish Collaborative because most of our programs will take place in partnership with existing religious institutions, schools and houses of worship," she said. "So much more can be created when people fuse their ideas and energies together."
Both leaders are excited about the cooperative venture.
"We expect our congregations will learn from one another," Pastor Davis said. "We are looking for ways to work together. We're very active in social justice issues and Rabbi Tilchin would like JCoOC to prioritize meeting communal needs. She and I are part of an interfaith initiative and we see this as a very mutually affirming relationship all along.  We respect each other."
Meet Rabbi Tilchin and radio personality Jason Feddy to learn about JCoOC on Friday July 18 at Mozambique Restaurant in Laguna Beach from 6:30 to 8:30 p.m.
For further information, visit stmarkpresbyterian.org, or jewishcollaborativeoc.org. Email Rabbi Tilchin at [email protected]
Cindy can be reached at [email protected]