B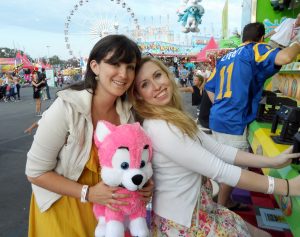 y Christopher Trela & Catherine Del Casale | NB Indy
It's finally here: The Orange County Fair!
Yes, we love the OC Fair, and every year look forward to tasting the new decadent foods, sampling award-winning wines, trying our luck at carnival games, checking out the arts and crafts exhibits, wandering through the livestock section, and attending as many concerts as possible.
This year's OC Fair theme is "Get Your Fair Face On!" and our face is all smiles as we anticipate the opening weekend highlights that start today, July 15, with free admission and parking between noon and 1 p.m.
Some of the highlights of opening weekend:
The 3rd Annual OC Brew Hee Haw, a three-day craft beer round-up where guests can enjoy beer tastings, demonstrations and exhibits.
Styx in the Pacific Amphitheatre (Friday night)
Queen Nation – A Tribute to the Music of Queen (Friday night)
Boston in the Pacific Amphitheater (Saturday night)
42nd Annual Speedway Fair Derby in the Action Sports Arena (Saturday night)
The Psychedelic Furs / The Church / The Fixx / DJ Richard Blade in the Pacific Amphitheatre (Sunday night)
Every day all day, the OC Fair offers a plethora of free exhibits and events, including community entertainment, culinary displays in the OC Promenade, Peking Acrobats and comedy hypnotist Mark Yuzuik nightly at Heritage Stage, Russell Brothers Family Fun Circus, racing pigs, educational exhibits and contests, garden exhibits, and much more.
New this year: A "Show Us Your Fair Face!" multi-media presentation shown nightly at The Hangar featuring a five-minute video topped off with a pyrotechnics finale. Fairgoers can participate by submitting a photo of their "Fair Face" at ocfair.com/ocfairface or by using #ocfairface hashtag in social media.
As always, there are carnival games, a busy midway with wild rides, crazy food items, vendors selling everything from hats to spas, and animals of all shapes and sizes.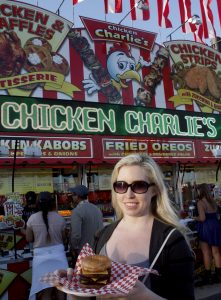 Foodie Paradise
Did we mention crazy food? Seems like every year the OC Fair food vendors try to outdo their competition (and themselves) with culinary concoctions that nearly defy description. And as the Off the Menu dining writers for the NB Indy, we take it upon ourselves to sample as many food items as possible.
New items this year include:
Chicken in a Waffle On a Stick from Chicken Charlie—includes a side of maple syrup.
French Toast Bacon Bombs from Bacon A-Fair features sweet dough stuffed with cream cheese and wrapped in bacon, then deep-fried and rolled in cinnamon sugar.
S'moreo Texas Donut: Giant doughnut topped with chocolate drizzle, Oreo cookie crumble, graham cracker crumbs and marshmallow cream.
Bacon Nutella Pickle is a pickle filled with Nutella, wrapped in bacon, dipped in funnel cake batter and deep fried.
Pork Belly Bacon Dog: At Biggy's, two feet of bacon are wrapped around a slow-smoked pork belly that is dipped into a corn dog batter and deep fried.
Bacon-Wrapped Baked Potato: a giant one-pound potato is wrapped in a half pound of bacon and slow cooked in a wood-fired smoker oven. Served with butter and sauces.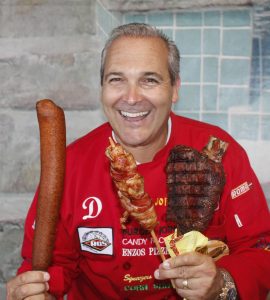 Toyota Concert Series
In addition to the opening weekend acts, the Toyota Concert Series offers a variety of musical and variety acts for almost every taste.
Upcoming in July are The Offspring. Andy Grammer and Rachel Platten, American Idol" 2011 winner Phillip Phillips along with folk-rock singer-songwriter Matt Nathanson and rising duo A Great Big World, The Happy Together Tour with The Turtles and members of Paul Revere & The Raiders and Three Dog Night, Frankie Valli & The Four Seasons, ventriloquist Jeff Dunham, Chris Isaak, Earth, Wind & Fire, and UB40.
August brings Michael Franti & Spearhead, comedian Jim Gaffigan, Hunter Hayes, The Fab Four, Train, Lindsey Stirling, Chris Young, The B-52s, and Ziggy Marley.
Concert ticket prices vary, and include admission to the OC Fair.
Fair Admission and Deals
Admission is $12 for ages 13-59, $7 for seniors and kids ages 6-12. Children five and younger are free. Parking is $10 per car.
Various admission discounts are available, including free admission every day for active U.S. military and veterans with appropriate I.D. (you can also purchase up to six general admission tickets for half off).
One popular program is the OC Fair Express, available Friday through Sunday. Fairgoers can ride the OC Fair Express from eight cities in OC (Huntington Beach, Anaheim, Fullerton, Laguna Hills, Irvine, Orange, San Juan Capistrano, and Santa Ana) direct to the OC Fair and receive a coupon for $3 general admission. Bus fare is $2 each way. Visit octa.net/ocfairexpress for more information.
You can also purchase an OC Fair Super Pass ($35 for ages 13-59, $28 for seniors 60+ and children 6-12) and get unlimited free admission every day of the fair plus express entry, discounted concert tickets, and other perks. We usually purchase these passes every year, since we make frequent food excursions to the fair.
And if that's not enough, there are daily discounts:
Every Wednesday, fairgoers can save on Fair admission with a special donation between noon and 3 p.m. Each donation offers free admission and one free carnival ride per person.
July 20: Food Drive – 5 canned food items
July 27: Children's Book Drive – 3 new or gently used children's books
August 3: Clothing Drive – 5 items of clothing
August 10: School Supply Drive – school supplies worth $5 or more
Every Thursday is Kids Day, when children 12 and younger receive free admission all day.
Thursday is also Taste of Fair Food day, when foodies can taste their way through the Fair for only $2 per sample. Most Fair food vendors will feature a $2 taste on their menu every Thursday from noon to 4 p.m.
And every Wednesday and Thursday, purchase an Unlimited Ride wristband for $30 (includes two free games). Wristbands are sold until 5 p.m. and valid until 8 p.m.
Friday is Seniors Day, when fairgoers 60 and older receive a $2 discount on a Senior admission ticket ($5 ticket) plus free Ferris wheel and merry-go-round rides all day.
Friday is also the day for $2 rides and $2 games from noon to 4 p.m.
Even weekends have a great deal on admission: arrive at the Fair between 10 and 11 a.m. on Saturday or Sunday and get into the fair for only $3.
The OC Fair is located at 100 Fair Drive in Costa Mesa. The Fair is open Wednesday – Friday from noon to midnight, and 10 a.m. to midnight Saturday and Sunday.
For more information, visit OCFair.com.