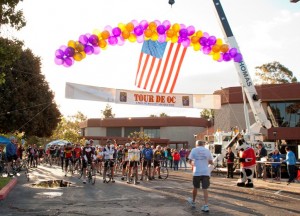 Two hundred riders from as close as Newport and Costa Mesa and as far away as Tijuana recently pedaled their way up and down the coast in the Tour de OC.
The Tour de OC is a fundraising cycling event which raises money to allow foster children to go to a faith-based camp.
Proceeds fund a unique camp experience at Royal Family Kids summer camp which is designed especially for foster kids' needs, with year round mentorship and club opportunities.
According to the Tour's website, there are 3.3 million children in America who are abused and neglected each year, and one child dies every four hours due to abuse. Going to camp removes children from abusive situations, and they will experience love and support from adults who truly care about them.
"The Tour de OC was a huge success," said Kim Farthing, development director of Tour de OC. "There was great food and entertainment, but most rewarding is knowing that you are helping a child have a future. All the surveys said the riders wanted to return next year, and the majority said they chose the ride because of the cause. People recognize that the need is great."
Royal Family Kids' Camps (RFKC) is a network of camps, children's clubs, and child mentoring for abused, abandoned and neglected children in the foster care system.
It is a ministry that offers training and resources for local churches to sponsor a five-day summer camp for children ages 7 – 11 who are in foster care.
Farthing attends Newport Mesa Church, which helps sponsor 115 children to go to RFKC in Lake Arrowhead.
"I'm very passionate about kids, but particularly the foster care kids," Farthing said. "When I learned that some of these kids have had more homes than they've had birthdays, I knew I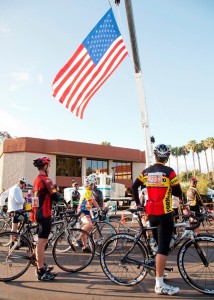 had to do something. I've been involved for 18 years; my husband is also involved. The Tour de OC raises money to allow these kids to go to camp for a week, which gives them hope. Some people may wonder if a week at camp makes a difference, but we hear stories about how it does, all the time."
"Once a boy who came to camp could barely walk," Farthing continued. "It turned out his shoes were two sizes too small. His counselor bought him a new pair and the little boy asked that his shoes be given to someone who needed them. That very evening a young camper became ill and ruined her shoes, and she was given the other pair. Not only were they her perfect size, but they were the same style as her counselor which meant so much to her. There are so many God-stories."
Riders chose from 25, 55, and 100 mile ride options. The rides started at Newport Mesa Church, which meets at Vanguard University.
In addition to singing the National Anthem, the Tour de OC also began with a starting line prayer led by Costa Mesa Police Department's Chaplain David Brooks.
"We were also thrilled to have Assemblyman Allan Mansoor, a foster care advocate, as our Ambassador for the ride," Farthing said.
"The foster kids face incredible odds to succeed, and this camp gives them hope and a sense of belonging," she added. "We give them the opportunity to become a part of a year long mentoring program. Three of the camp staff are former camp members who help provide life changing moments and unique opportunities of hope. The Tour de OC is a quality event and the kids are forever grateful."
For more information, visit tourdeoc.org.
Cindy can be reached at [email protected]