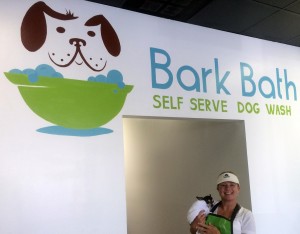 Last year we adopted Charlie, an adorable 10-year-old, apple-head Teacup Chihuahua. Though I never thought I would like a small "yappy" dog, at 4.5 whopping pounds, she's the perfect size to sit in my lap while I work, read or watch TV. In fact, she lying there now taking a little snooze. What a life.
Turns out, she's not at all yappy and has the sweetest countenance for a dog I have ever seen. She's a terrific addition to our family and has become a beloved companion.
Grooming Charlie is pretty easy. We visit the groomer once a month for a complete overhaul where they clip her fast-growing nails and tidy up her unmentionables.
She comes home with that freshly-washed-doggie smell and a sweet little bow tied to her collar that completes her look. In between visits, I usually give her a bath or two to keep her coat healthy and smelling nice but frankly, even though she's small it's a hassle.
That is until I discovered Bark Bath Self Serve Dog Wash in Costa Mesa.
Located just a click away off Newport Blvd., Bark Bath is an inexpensive alternative to the backbreaking job of washing your dog in a bath tub, on the lawn or in Charlie's case, in the kitchen sink. No reservation is necessary and they provide everything you need to get the job done right including professional dog grooming tubs with handy ramps, shampoo, conditioner, spritzes, towels, blow dryers, brushes, and a nice vinyl apron to keep owners clean and dry.
If you're really ambitious, they also supply ear/eye wipes, disposable toothbrushes and nail clippers. The best part, they clean up the mess after you're through.
With a tip, I pay our groomer at least $35 a visit and they typically want two to three hours before I can pick Charlie up. Bark Bath cost me less than half ($15 cash, $18 credit), and we were in and out in less than 20 minutes. That included me perusing their cache of doggie treats and grooming items for sale and Charlie stopping to exchange sniffs with Ginger the shop dog, the official doggie ambassador of Bark Bath.
"My husband appreciates the fact that he no longer finds Ginger's fur clogging up our drains," says Bark Bath owner Dawn Nourse, who along with her husband, Robert Riggins opened up the self serve shop in March. "One of the reasons we opened Bark Bath is that we couldn't find a self serve dog wash nearby. After we would visit the dog beach, our dogs were covered head to toe with sand, which made bathing them a huge challenge, not to mention the mess. So we did the research, formulated a business plan, and here we are!"
Though Charlie is pretty good about being bathed, I have friends with dogs who have health issues, are getting older or just completely freak out with separation anxiety at the mere mention of going to a G-R-O-O-M-E-R.
This is where Bark Bath really becomes of great service to both owners and dogs. As I was drying Charlie off with the nice warm towels they provided us, one dog owner told me that her older dog Timmy is blind but can smell that it is her when she washes him so she prefers to do it herself. As I watched, it was obvious he knew it was her and was as calm as could be as she suds him up.
Charlie and I plan to join the frequent bather club at Bark Bath, and we might even post a photo or two on their Facebook page and Pinterest. After all, Charlie looks like a star after she visits Bark Bath.
Bark Bath is located at 2263 Fairview Road. Visit them on the web at barkbath.ocm or call (949) 514-3264.
Columnist and Charlie the Chi lover, Lynn Selich, is also co-host of "Sunday Brunch with Tom and Lynn" which airs on KOCI 101.5 every Sunday from 11AM to 1PM. Reach her at [email protected].