George's Café at Segerstrom Center
The beautiful Argyros Plaza at Segerstrom Center for the Arts is nearly a year old, and during that time has been the sight of numerous free concerts and special events that have drawn thousands of residents to the Center, and to the Center 360 Café, the charming restaurant that offers a simple yet creative menu created by Leatherby's Executive Chef Greg Stillman.
The Center 360 menu was recently refreshed, as was the restaurant's name. The new moniker is George's Café, named for generous arts patron George Argyros.
The new menu features a selection of chef-driven small plates, snacks, and sides such as Fried Pickles and Poke Nachos, scratch-made soups, vegetable-forward salads, elevated sandwiches including the Grilled Salmon B.L.A.T.; and larger plates such as fried chicken with cinnamon buns.
In addition to the updated menu, George's Café will also offer a new happy hour, available on performance evenings Monday through Friday from 5 to 6 p.m. and Monday through Sunday from 8 to 10:30 p.m., offering specials on their seasonal cocktails, house wines, and beers.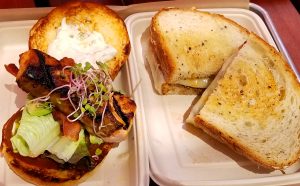 I went to try George's new menu accompanied by Laura Wise, the NB Indy calendar editor. Laura ordered the short rib grilled cheese ($8) with red wine braised short rib, gooey gruyere cheese and apricot jam on whole grain bread, while I settled on the grilled salmon B.L.A.T ($9) with Scottish salmon lemon-tarragon aioli, crisp bacon, avocado, heirloom tomato, and lettuce.
I had a bite of Laura's grilled cheese before she devoured it. We agreed it was delicious, with the jam adding a nice layer of flavor. I was surprised how substantial the salmon sandwich was. The ingredients blended perfectly, and I savored every bite. We also shared an order of fries ($2.75). They were able to give us half regular fries and half sweet potato fries, with two different aioli for dipping.
I went back for a solo lunch a few days later and ordered the meatloaf sandwich ($8), a slow roasted Angus meatloaf with crispy onions, beefsteak tomato, American cheese, and ketchup glaze on a potato bun. And for fun, I added a side of fried pickles with buttermilk dressing.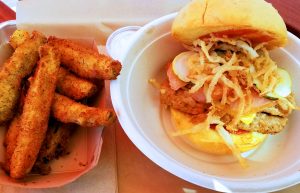 The meatloaf arrived piled high on the bun. It was a lovely handful to handle, cooked perfectly medium, and delicious from first to last bite. It's the best meatloaf sandwich I can remember. Simple, yet oozing flavor. And if you're a pickle fan, the fried pickles are a must. They're crisp yet juicy, bursting with warm pickle goodness.
I'm looking forward to trying more of the menu.
George's Café is open Monday through Friday for breakfast and lunch, and for dinner on show nights. Visit patinagroup.com/georges-café.
True Food Fall Menu
Fall is here, and with it comes a flurry of seasonal menus from local restaurants, including True Food Kitchen in Fashion Island, which debuted its new seasonal menu this month.
The fall dishes include:
Roasted Brussels Sprouts with Asian mushroom, miso sesame vinaigrette, toasted sesame seed
Chilled Shrimp Lettuce Cups with coconut shrimp, grapefruit, avocado, cucumber, jalapeño cilantro
Seasonal Ingredient Salad with brussels sprout, quinoa, roasted butternut squash, horseradish vinaigrette, goat cheese, fresh pomegranate arils, toasted mulberry
Butternut Squash Pizza with caramelized onion, organic kale, vegan almond ricotta, dried cranberry
Dashi Ramen with sweet potato glass noodle, bok choy, portobello mushroom, charred onion, radish, corn, black bean, sesame chili oil.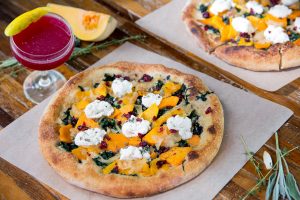 Most of those dishes are gluten free and vegetarian, as is the popular Squash Pie, which makes a return visit. It has graham crust and coconut whipped cream. If you've never tried it, you're missing out on one of the local seasonal delights. Last year I ordered a whole pie for the Newport Beach Indy office, and it disappeared within minutes.
True Food Kitchen also has a variety of new fall beverages, from Lime & Coconut Colada with lime-infused rum to Pomegranate Margarita with organic reposado tequila.
Visit TrueFoodKitchen.com.
Brunch at Fleming's
Fleming's Prime Steakhouse & Wine Bar in Newport Beach is now open for brunch on both Saturday and Sunday from 11 a.m. to 3 p.m.
The menu features brunch favorites such as Fleming's Signature Eggs Benedict, Steak & Eggs Scramble, Crispy Chicken & Waffles and Cinnamon Apple Brioche French Toast.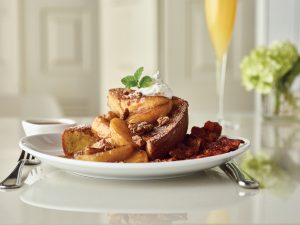 The menu also features Salmon Cobb Salad, Filet Mignon & Potato Waffle, Filet Mignon Sandwich, California Burger and a Mushroom-Farro Burger, a new vegetarian option that looks intriguing. The menu description shows "housemade mushroom" (not sure how they do that) chickpea & farro veggie patty, goat cheese, arugula, campari tomatoes, and fried onion ring.
It's been a while since I've been to Fleming's for brunch, but I remember how good the Eggs Benedict are, and the brioche French toast—and the bloody Marys. I'll be in soon to try more items.
The Newport Beach Fleming's is located at 455 Newport Center Drive. To make a reservation or view the complete menu, visit flemingssteakhouse.com.
Also–congratulations to Flemings! The restaurant is celebrating its 20th anniversary this month.
Raise a Glass for Breast Cancer
October is Breast Cancer Awareness Month, and Five Crowns is partnering with J. Lohr Winery to benefit the National Breast Cancer Foundation.
Lohr has made a commitment to raise funding for breast cancer research in honor of Carol Lohr, wife of founder Jerry Lohr. J. Lohr will donate $3 with the sale of each bottle of Carol's Vineyard Cabernet Sauvignon.
And if you're a VIP member, for each $5 donation when you dine, Five Crowns will match your $5 donation and you'll receive a $10 Bonus Reward to use on your next visit by November 30 (up to $50 in Rewards).
For more information, and to sign up as a VIP member, visit lawrysonline.com/five-crowns.