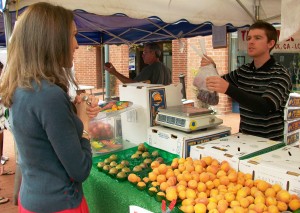 After nearly a year's absence, a Certified Farmers Market returns to Newport Beach, but not at its former Lido Marina Village location.
Starting this Sunday, a weekly Farmers' Market will be held from 9 a.m. to 1 p.m. at McFadden Square and Newport Pier.
Last July, the Newport Beach City Council approved a Revocable License Agreement between the City of Newport Beach and Sprouts of Promise to operate a Certified Farmers' Market located at McFadden Square and Newport Pier. Also approved was a request for a reduced rental rate.
Due to conflicts with construction activities in the market's Lido location, and in consideration of the efforts to revitalize McFadden Square and the area around the Newport Pier, Sprouts of Promise agreed to move the Farmers' Market to the McFadden Square area.
The new agreement calls for a rental rate of $3,600 per year, which is below fair market value yet promotes the City's goals to provide an essential or unique service to the community that cannot otherwise be provided if full market rates were charged;
According to the July staff report, staff discussed several ideas for programming and events to draw pedestrian traffic to the local businesses, including live entertainment, and regular farmers and artisan markets.
In addition to the plaza, a portion of Newport Pier will also be utilized for vendor booths. No more than forty vendors (typically in 10 foot by 10 foot stalls) will be spaced throughout the market area. Sprouts of Promise must also verify that all individual vendors are "producers" or "certified producers."
The vendor layout takes into consideration the approved location of the Ben Carlson Memorial.
Adequate space is provided to allow pedestrian access to and around the memorial during the market operation.