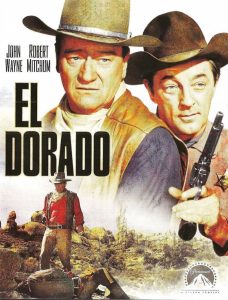 Newport Beach has had its share of celebrities, both real and manmade. Two of the most famous are as popular as ever: John Wayne, and The Wedge.
The Duke spent the last 20 years of his life in Newport Beach. Much of that time was spent aboard boats, but on film he spent even more time in the saddle, making countless western movies (including his Academy Award performance in "True Grit").
The 1960s were prolific years for Wayne, who made a score of westerns including "El Dorado," which screens at the Newport Beach Film Festival on Saturday, April 23 at 11:30 a.m.
The 1966 film was directed by Howard Hawkes (one of his final films) and starred Wayne as a gunfighter who comes to the aid of a drunken sheriff (played by Robert Mitchum) with the help of a gambler seeking revenge (a young James Caan). 
As a life-long John Wayne fan, I've probably watched every western he made, and El Dorado ranks as one of my favorites. There is a serviceable story line, fabulous cinematography, the keen eye of director Hawkes, a surprising amount of humor, and plenty of action.
Wayne and Mitchum play off of each other perfectly, and it's always fun to watch these two pros at the top of their acting game. It's also a kick to see Caan just a few years shy of his featured role in "The Godfather."
This screening is made possible through the support of the John Wayne Cancer Foundation, based in Newport Beach. Wayne's son, Ethan, is the director of the John Wayne Cancer Foundation, and also manages John Wayne Enterprises.
The other local celebrity who loves to wave at both fans and foes alike is The Wedge, perhaps Newport's most infamous surfing spot. Plenty of photographers and filmmakers have documented the massive waves at The Wedge, and the brave (some say foolish) surfers who dare to challenge The Wedge, and themselves.   
This year comes a new documentary called "Dirty Old Wedge," which starts with the backstory in the 1950s and covers everything from the creation of The Wedge to the history of surfing and bodyboarding.
The initial screening of "Dirty Old Wedge" sold out in three days, so a second showing was added. That too sold out, as did a third. A fourth screening has been added, and if that sells out, Film Festival staff may add yet another screening. Check the festivals website at NewportBeachFilmFestival.com for the latest schedule.