Balboa Island is one of those cute, quaint communities that is often overlooked when discussing delicious dining destinations in and around Newport Beach.
I'm as guilty of that oversight as most mainlanders. Island dwellers covet their enclave and the hidden gastronomic gems that line Marine Avenue, and with good reason: along a two-block section of the street lies a veritable smorgasbord of international culinary delights.
One of these restaurants that I've been meaning to try is Barolo by the Sea, an unassuming Italian bistro with a red awning and Dutch door with the top half open so you can peer inside as you stroll down the street.
I finally decided to try Barolo last week, and brought my assistant Laura Robinson with me. Laura may not possess the most adventurous palate, but she does love Italian food.
We arrived at Barolo towards the end of their lunch service but were warmly greeted by manager Juan Carlos, who escorted us to a table.
"Is this your first time here?" asked Juan.
"I'm embarrassed to admit that yes, it is," I replied.
"Mine, too!" added Laura. "Your restaurant is very cute."
"I've heard great things about your food," I said as Juan handed me a menu.
"Everything on the menu is very authentic, very fresh. The owner, Guiseppe Galietta, is from southern Italy. He was a chef on cruise ships for many years, and then landed in Orange County. He worked at Antonello before opening Barolo Café in Tustin nearly 20 years ago," explained Juan. "This is his second location, which he opened nearly four years ago."
"What would you recommend?" I asked him as I perused the menu.
"The dishes are all prepared very simply, full of flavor, so it depends on what you like," said Juan. "How about if I start you with an antipasti sampler so you can try a few things before your main course."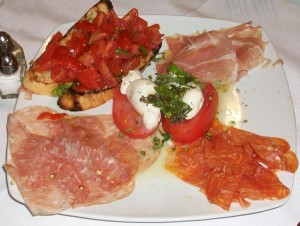 He returned in a few minutes with a plate of thinly sliced meats, mozzarella caprese, and bruschetta overflowing with bright red chunks of tomatoes.
"Wow, this bruschetta is fabulous!" I exclaimed after one bite. "Just the right amount of crunchiness, yet not too hard that the bread breaks my teeth. And the flavor is perfectly rounded between the bread, the tomatoes and the olive oil."
"When we grill the bread, we add the tomatoes and olive oil as soon as possible so by the time it gets to your table, the olive oil has soaked into the bread," said Juan.
"The bruschetta is the star of the antipasti plate," agreed Laura.
"I'm going to bring you our pasta special, but here's a house salad to get you started," said Juan.
"It's very simple, with subtle flavors. I like it," noted Laura.
We finished our salads just in time for Juan to clear our plates before the entrée arrived.
"And now, the pasta," said Juan. "This is pear and gorgonzola ravioli with pancetta and walnuts."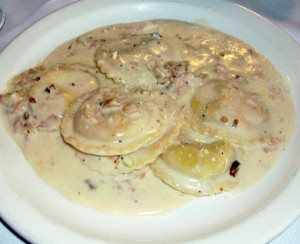 "This is so good. I've never had anything quite like it," I told Juan. "The flavor combination of salty and sweet is fabulous, and the walnuts are a brilliant touch that adds flavor and texture."
"I was in Italy not too long ago, and there they put walnuts in some of the dishes, and the flavor was so good I thought we should try it here," said Juan.
"The walnuts add an enjoyable crunch. This is a perfect blend of sweet and savory flavors," said Laura.
"I hope you saved room for dessert," said Juan. "We make a tiramisu that does not have any alcohol in it. The ladyfingers are soaked in Italian coffee."
"This looks like a work of art," I stated when Juan set the tiramisu dish in the middle of the table.
"I really like this because the absence of alcohol highlights the coffee flavor," said Laura as we dug into the decadent dessert.
We finished the tiramisu and relaxed with a cup of coffee to contemplate the meal.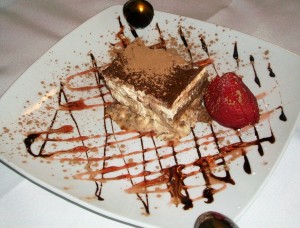 "The whole concept of the menu is right up my alley," Laura told me. "I prefer simple flavors that let the food speak for itself, and Barolo's menu captured that essence."
"It did indeed," I agreed. "Now, let me check my calendar and see when I can come back for dinner."
Barolo is open Tuesday through Sunday for lunch and dinner. Visit BaroloCafe.com for more information.
***
Need a last minute Cinco de Mayo idea? Head to Newport Dunes for the 10th annual Stinko de Mayo Fiesta. Enjoy live music, food, a vendor village, classic car show, and much more.
Driving all the way down from Sonoma to make its debut at the festival is the SIMI Winery on Wheels, a custom food truck that serves Sonoma-inspired small bites (prepared by SIMI Executive Chef Kolin Vazzoler) paired with SIMI Sonoma County Sauvignon Blanc and Alexander Valley Cabernet Sauvignon. In keeping with SIMI's tradition of winemaking innovation, all wines will be served on tap. This is the first time a winery has gone mobile, and could help launch a new trend in food trucks.
Proceeds from Stinko de Mayo go to the charity organization Rock the Autism. For tickets, visit the Stinko de Mayo facebook page: facebook.com/events/408606652485601.