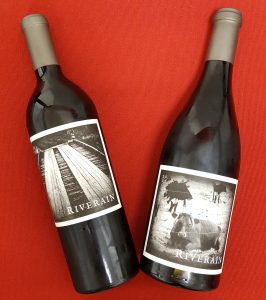 How do you make a small fortune in the wine business? Start with a large one. That familiar anecdote also holds true for beer, although several local residents who recently took the plunge into the wine and beer markets are hoping to prove the saying wrong.
Fine Wine by the River
Riverain is a French term meaning "near the river," so it's no surprise that Newport Beach residents Dean and Laurie Gray chose Riverain as the name of their winery.
After many years of visiting the Napa Valley and enjoying boutique wines, the Grays – along with their friend Steve Nordhoff, a Laguna Beach resident who has a law office on the Balboa Peninsula – decided to take the plunge and start their own wine label.
In 2010, the Grays purchased property in Rutherford near the Napa River, and hired Thomas Rivers Brown as their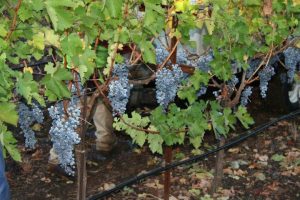 winemaker. The labels feature photos taken in the Napa Valley by Laurie Gray.
They decided to make two wines: Cabernet and Syrah. The decision has paid off. After only three vintages, their wines are gaining notoriety. I sampled them at the Pacific Coast Wine Festival earlier this year and was immediately impressed. So was noted wine writer Robert Parker, who gave the 2012 Riverain Cabernet Sauvignon a 95-point rating, and the 2012 Syrah a 94 rating—the highest rated Syrah that he scored last year.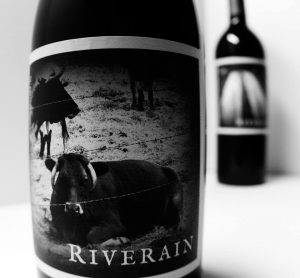 But don't run out to your local store looking for Riverain wines. They are in limited supply, available at Hi-Times Wine Cellars, The Wine Gallery, Rolf's, and a handful of local restaurants including The Winery, Quiet Woman, The Dock, Balboa Bay Club, Montage Laguna Beach, Broadway, Vaca, and a few other select locations.
"The Montage jumped all over our wines three years ago," said Dean during an interview at his Bayshore home. "You can buy the syrah by the glass in the lobby bar, and they sell the cab by the glass for $50." They also sell both varietals by the bottle.
The Grays would love to expand production, and in fact plan to increase their cabernet bottling from 350 to 600 cases (the syrah will stay at 150 cases). Two challenges they have: no tasting room, and no employees.
"After five years and three vintages, we're not making money. Hopefully this year we'll break even, but we're having fun," said Dean during an interview at his Bayshore home.
Dean plans to retire from his full time marketing job in the next several years to focus full time on Riverain, including expanding it to other states (although it is available in some restaurants in New York and Florida).
"We have one of the most well-known winemakers in the United States, and our cab is 100 percent Oakville—you can throw a baseball and hit Screaming Eagle from our vineyards," said Dean, who leases the land but controls the farming. "We're not buying grapes on the open market. We lease the highest quality fruit that we can get. My concern is that we do not have a white wine. When the sun is up, people want a white wine, so we're looking at either adding chardonnay or sauvignon blanc to our portfolio."
One indication that Riverain is on the right track came courtesy of a recent wine dinner at 3-Thirty-3 Restaurant with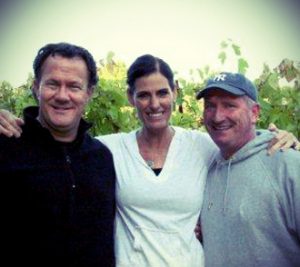 their friend, winemaker David Arthur.
"It was our first-ever wine dinner. We did it two nights in a row," recalled Dean. "They were going to serve chicken and ribs, and the dinner was priced at $175 per person. I said we can't sell a wine dinner for that much, but sure enough we sold out 50 people each night, and they already have us on the calendar for next year."
Dean recently solved his tasting room dilemma: Thomas Brown is opening a tasting room in Napa Valley, and Riverain will be able to do private tastings there.
For more information, visit RiverainVineyards.com.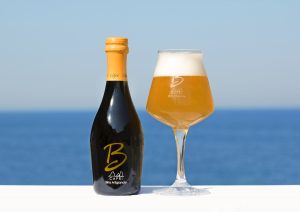 Beer from Capri to Newport
Italy is well known as a noted wine destination, but what about beer?
Newport Beach resident Griffin Cogorno visits the isle of Capri every year, and in fact was married there five years ago. During a pre-wedding visit, a hotel bartender approached Cogorno and suggested he try a local brew called Birra di Capri. Cogorno loved the taste, and the presentation (the bottle is as large as a wine bottle), and wondered how he could import the beer to the United States.
The next day, Cogorno was introduced to the Brunetti brothers, whose family has a 900-year tradition of winemaking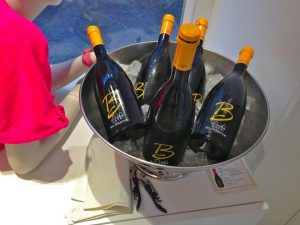 on the island. The family had stopped making wine years ago, so the brothers turned their attention to beer. They started Birra Capri in 2006 out of the family's Café, Bar Grotto Azzurra, located in the heart of Anacapri. The beer is unpasteurized and unfiltered. Their first beer, Ligea, takes its name from one of the Ulysses mermaids sighted near the Isle of Capri.
Cogorno and his business partner Mark Harryman (also from Newport Beach) hit it off with the Brunetti Brothers, and began the process of getting importer and distribution licenses so they could sell the beer in the U.S.
"We ordered our first container of beer two years ago and sold through that, so we ordered another one a year ago and we're selling through that," said Cogorno. "It's a growing business—everyone loves the beer, and the presentation, and the story. It's a fun project to work on."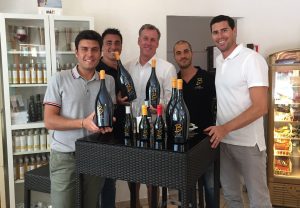 Presentation is indeed key to the success of Birra di Capri. The beer is generally brought to the table in an ice bucket and poured into wine glasses, which "classes up an entire event," noted Cogorno. "You feel like you're in Capri enjoying a nice beer."
Locally, beer connoisseurs can order Birra di Capri at Canaletto, Canaletto, Cucina Enoteca, Ecco Pizzeria, Onotria, Pizzeria Mozza, Sapori, ARC, Anqi, Big Canyon Country Club, and several others.
Steven Poe, the master sommelier and wine director at Big Canyon, said of the beer, "Birra Capri Ligea offers an array of dry, refreshing flavors including Golden delicious apples, a hint of yellow peach and honeycomb, with a palate caressing, creamy-style mousse."
With the success of Birra di Capri, Cogorno is now importing the Brunetti brothers' olive oil from Capri.
"We toured the family's old wine making facility, where they have their original presses," said Cogorno. "Now they press olive oil there—the only one harvested and made in Capri."
For more information, visit airwayimports.com.