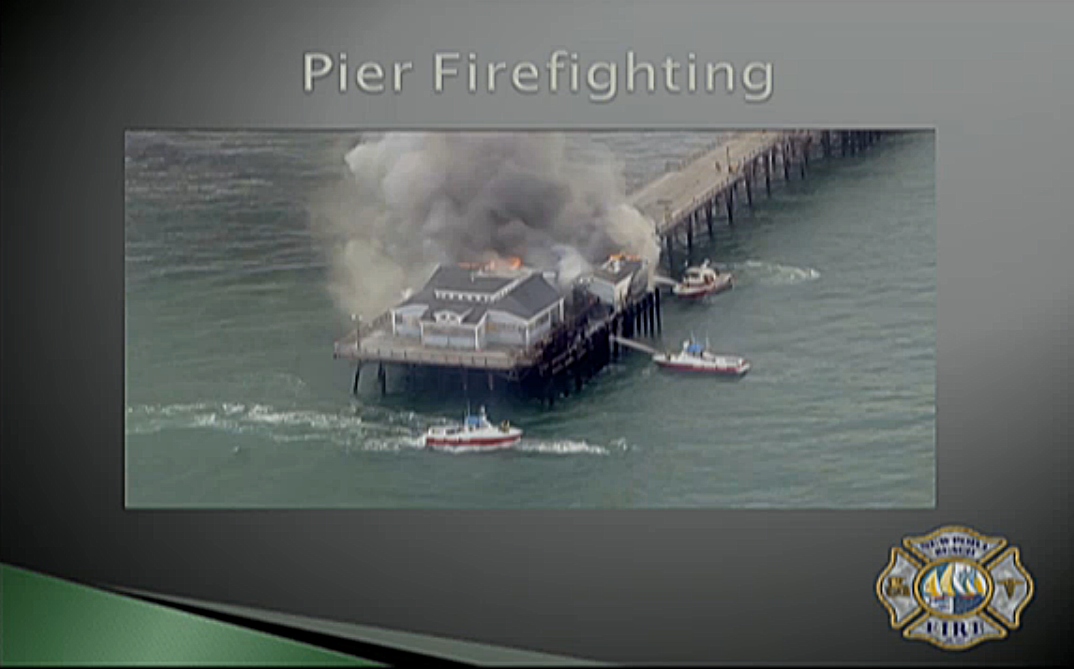 Fighting a fire at the end of either Newport or Balboa Piers will present a number of challenges, officials said this week.
Following the May 20 Seal Beach pier blaze, Newport Beach Fire Department officials evaluated the potential and plan of action for both local piers.
"It's concerning to see that happen and know we have two piers that present some risks," said Mayor Diane Dixon.
It "absolutely" is a possibility that something like this could happen in Newport, pointed out NBFD Assistant Chief Chip Duncan, who gave a presentation on the issue at Tuesday's City Council meeting.
Since the Seal Beach fire, NBFD has inspected and repaired the in-place fire protection systems on both piers and is updating the standard procedure for pier firefighting. They are also working on developing joint training with the Orange County Sheriff's Department Harbor Patrol.
Duncan was able to walk the SB pier and get some firsthand information from the incident commander of the Seal Beach pier fire.
There are a lot of similarities between the Seal Beach pier and Newport and  Balboa piers, Duncan said. Same basic construction, similar wiring underneath, and fire suppression system already installed on all.
Seal Beach pier is about 1,865 feet long, a heavy timber construction with a building at the end.
Newport Pier is 970 feet long with a 4,169-square-foot unoccupied building at the end. Balboa Pier is 920 feet long with 1,082-square-foot restaurant at the end.
Both piers have a 3-ton weight restriction. Both also have heavy timber construction, but with one major difference from Seal Beach, NB's piers have a heavy concrete walkway on top.
There is a fire protection system on both piers, including several water standpipes strategically located throughout. Both piers also have fire department connections.
The building at the end of Newport Pier has sprinklers, however, the Ruby's restaurant at the end of the Balboa Pier does not.
The biggest challenge is probably access to fire boats with the capabilities to fight a blaze of that size, Duncan said.
Seal Beach had direct access to the Long Beach fire boats, all four of which responded and helped douse the blaze. Newport also has an agreement with Long Beach, Duncan added.
"They would respond, if requested, but the time that it would take them to get there would make it questionable how effective they would actually be when they arrived," he explained.
In Newport, the OCSD Harbor Patrol has boat with a canon capable of pumping 750 gallons of water per minute (the same as the two smaller Long Beach boats). Dana Point and Huntington Harbor also have one of these boats, but it would take some time for them to get here, Duncan pointed out.
"Hopefully we never have a fire, of course, but we're going to be relying on other agencies to quickly get here," Dixon noted.
The access is problematic, she said.  
Another Harbor Patrol boat in Newport Harbor has a cannon that can shoot about 150 to 200 gallons per minute, but the boat isn't really designed for firefighting, Duncan said.
"Our current Harbor Patrol boats are not designed for a large scale fire attack like we had up at Seal Beach," Duncan said.
The scenario that concerns him the most is a fire underneath the pier, Duncan said.  They had a very hard time getting to those flames in Seal Beach, he added.  
Access to that area is difficult and their last option would be to go through the concrete, he said. They have to use specialized equipment and it can take several hours to break through, he explained.
Another major problem will be getting the equipment and personnel from the pier parking lot out to the end of the pier, Duncan said.
The weight restrictions will not allow a fire engine onto the pier. They would likely use lifeguard vehicles to take equipment and hose out there, he added.
They've talked about dealing with it similar to a horizontal high-rise fire, Duncan explained, moving everything a long distance out to the end of the pier.
"It takes time, it takes personnel. It's not like a regular structure fire," Duncan said. "It takes a lot of bodies to do this."
At least 15 firefighters would respond to a first alarm fire on the end of the pier, he said, and that number would quickly increase for a second or third alarm fire.  
The sea and weather can also make the in-place fire protection system unreliable, Duncan noted. About an hour into the fire at Seal Beach their system failed, he pointed out.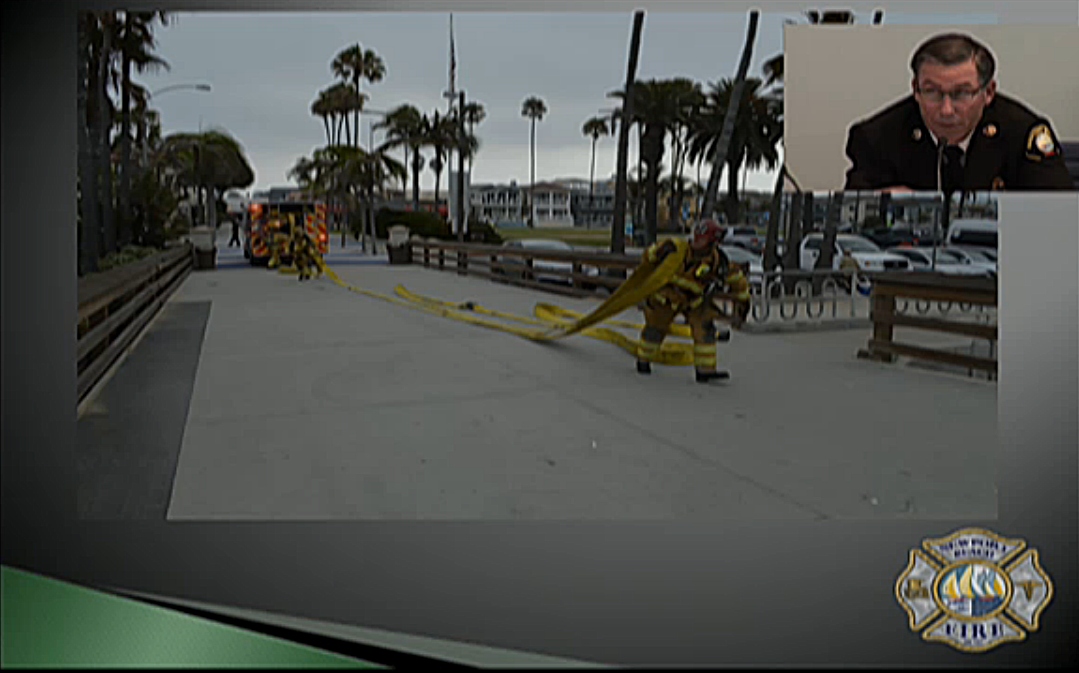 Newport Beach firefighters recently tested how long it would take them to lay out their line to the end of the pier if there was a system failure. They simulated a structure fire response to the end of the Balboa Pier.
A three person crew from the Peninsula arrived and started pulling off their heavy hose and laying it out to the end of the pier.
"They had their work cut out for them," Duncan said.
As they were laying out the hose, a second engine crew arrived to help.
They did a great job, Duncan said, it took about eight minutes and 15 seconds to deploy 1,000 feet of 4-inch hose.
There are a lot of challenges, he summarized.
For more information, visit newportbeachca.gov/government/departments/fire-department.