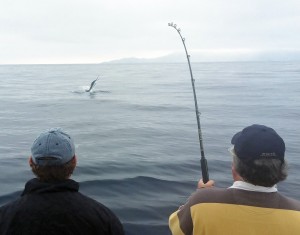 The busy summer sailing and fishing seasons continue with gusto.
Last weekend we had a local offshore fishing tournament, and this week we had a sailing championship.
Recently I bumped into a harbor long-timer that has worked on hundreds, if not thousands, of boats in Newport Harbor.
Everette Tibbits has been hand-painting boat names on our fleet of boats for more than 50 years. All the Barrett boat names were done by Everette, and I watched him apply gold leaf stripe to the classic yacht Chubasco. He also does gold leaf on stern names, which is a lost art.
Everette mentioned he enjoyed my columns. One which brought back memories was the launching of the 120-foot Silverado in the 70s. He asked if I remembered when the Silverado sat on the old Newport Blvd. Bridge over Coast Highway for several hours while the overhead power lines were dropped so the boat could reach Lido Shipyard.
I said I did, then he told me something I did not know.
He said he was very surprised to read after the launch that the government officials were worried that, since the bridge was an antique, it might not handle the weight of the yacht sitting on the bridge. You'd think if that were the case they wouldn't allow that parking spot!
Everette's son Jeff works with him and is an avid Mako Shark sport fisherman. Many a time the lovely Judy Belle and I would be bay cruising, and on a late Sunday afternoon we'd see Jeff and his lady pulling in the jetty from a weekend of chasing the tasty species.
Last weekend was the Helen Smith Offshore Fishing Tournament at the Balboa Angling Club. Helen was a longtime club secretary and avid angler. This event features Dorado, Tuna and Yellowtail species. Following numerous fishing awards last year, Greg Taite won the tournament. Other awards went to Dave Fink (Dorado), Dave Elm (Bluefin Tuna) and Greg Taite (for Yellowtail). There were 17 boats and 51 anglers with 37 fish weighed.
The next tournament (Newport Harbor only) is the Newport Bay Bass Open with local and outside participation drawing a large crowd. You'd be surprised the size of large bass living in our Harbor. This is a quality family time event that shouldn't be missed!
Around the corner, the Master Angler Offshore Tournament and teams from South and West (Hawaii) usually compete. If memory serves me, Marlin is the game.
Speaking of Marlin, Steve Behrens tagged and released the first Marlin of the season from the Angling Club; Captain George Garrett on Joker enabled the catch. Congratulations!
Newport Harbor Yacht Club hosts the Junior Sabot National Championship this week. I hope the locals win.
Sea Ya,
Skipper Steve