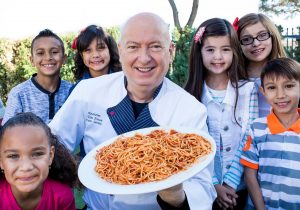 Chef Bruno Serato is renowned for doing amazing things in the kitchen of his historic Anaheim White House restaurant, but even more amazing is his ongoing dedication to feeding 2,000 underprivileged kids every night through his charity, Catrina's Club.
However, both the restaurant and his charity took a big hit in February when a fire caused more than $1 million in damages to the restaurant's structure and contents, forcing it to close.
Almost immediately, the community rushed to Serato's aid. Several restaurants hired his temporarily-displaced employees, while others offered their kitchens so the charity meals could continue.
Serato has vowed to rebuild, but his insurance won't provide all the funds needed to return the restaurant – located inside a structure built in 1909 – to its former glory. So, his friends have vowed to help.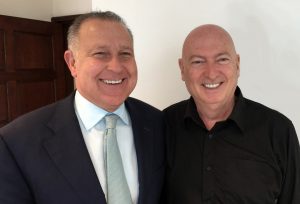 One of those friends, Garth Blumenthal, is the general manager of Fletcher Jones Motorcars in Newport Beach, the top Mercedes Benz dealership in the world. He and Serato have been friends for more than 30 years, when Serato was just a busboy from Italy while Blumenthal was just getting into the car business.
On Thursday, April 20 from 6 to 9 p.m., Blumenthal is inviting the public to attend a fundraiser at his Newport Beach dealership, Fletcher Jones Motorcars, 3300 Jamboree Rd.
Titled "That's What Friends Are For," the event will feature live entertainment, hors d'oeuvres prepared by White House Catering, complimentary wine and live auction items such as dinner with Serato & Bill Handel of KFI Radio. Tickets are $100 each.
"I was just a busboy at La Vie en Rose in Brea when I first met Garth," recalled Serato. "We were both expats just getting a feel for America and I think that's what really sealed our friendship. He was there every step of the way when I bought and renovated the restaurant and he continued to show his support by patronizing frequently. I am so grateful to Garth for holding this fundraiser. It means the world to me."
"Everyone who has ever met Bruno knows how special he is," said Blumenthal. "When I learned about the devastating fire, my first thought was organizing an event where the entire community could come together and show their support."
For more information and to RSVP, visit fjmercedes.com/thatswhatfriendsarefor.