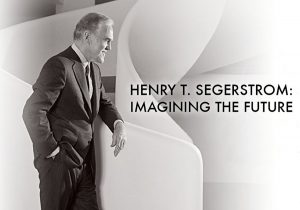 Longtime Newport Beach resident, philanthropist and visionary entrepreneur Henry T. Segerstrom passed away two years ago, but his memory and spirit live on thanks to institutions such as the Segerstrom Center for the Arts and South Coast Plaza, which celebrates its 50th anniversary this year.
Last fall, a stunning documentary called "Henry T. Segerstrom: Imagining the Future" was created for PBS. The film chronicles the personal journey and broad impact of a man raised on a Southern California farm who played a part in discovering, celebrating and supporting some of the world's great artists.
The film had a special advance screening at the Lido Theater courtesy of the Orange County Film Society. The film served as a warm and heartfelt tribute to a man who made an indelible mark on Orange County, and it was a reminder of Segerstrom's many philanthropic projects that have impacted society.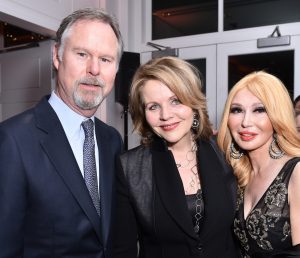 In addition to his impact on Orange County, Segerstrom forged bonds with New York artistic institutions, including Carnegie Hall and American Ballet Theatre. In fact, in 2010 Segerstrom was presented with a Medal of Excellence by Carnegie Hall, and New York Mayor Michael Bloomberg declared that day "Segerstrom Center for the Arts Day."
So, it's fitting that the documentary "Henry T. Segerstrom: Imagining the Future," had its New York Premiere last month at the Directors Guild of America in New York.
The event was presented by Elizabeth Segerstrom and the Segerstrom Family, South Coast Plaza, Carnegie Hall, WNET and PBS SoCal.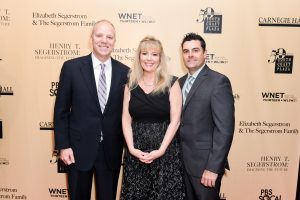 A champagne dinner reception at Carnegie Hall followed the private screening. World-renowned soprano Renée Fleming performed two songs: "O Mio Babbino Caro" from Giacomo Puccini's "Gianni Schicchi," and one of Henry T. Segerstrom's favorite songs, "Somewhere Over the Rainbow."
Decorative and culinary features included dramatic bouquets of white orchids, a caviar bar, and a chocolate sculpture of Segerstrom Center for the Arts featuring Richard Serra's "Connector." Catering was by STARR Events.
Among the many noted guests: Elizabeth Segerstrom, Co-Managing Partner, South Coast Plaza; H.E. Mr. Nassir Abdulaziz Al-Nasser and Mrs. Muna Rihani Al-Nasser, head of the UN Alliance for Civilization and former president of the UN General Assembly; Maxim Beloserkovsky, former principal dancer, American Ballet Theatre; Ashley Bouder, Principal Dancer, New York City Ballet; Irina Dvorovenko, Principal Dancer, American Ballet Theatre; Kevin McKenzie, Artistic Director, American Ballet Theatre; Chris Minev, President and Executive Director, Mariinsky Foundation of America; Terry J. Lundgren, Chairman and CEO, Macy's Inc. and Carnegie Hall Trustee; Anton Segerstrom, Partner, South Coast Plaza.
Maria Hall Brown of PBS SoCal, who served as executive producer of the documentary, was also there, along with other PBS executives including Andy Russell, President and CEO, PBS SoCal, and Ty Woodson, Producer, PBS SoCal.
For those who have not seen the documentary, the Newport Beach Film Festival will be screening "Henry T. Segerstrom: Imagining the Future" on Friday, April 21. Visit NewportBeachFilmFest.com for details.