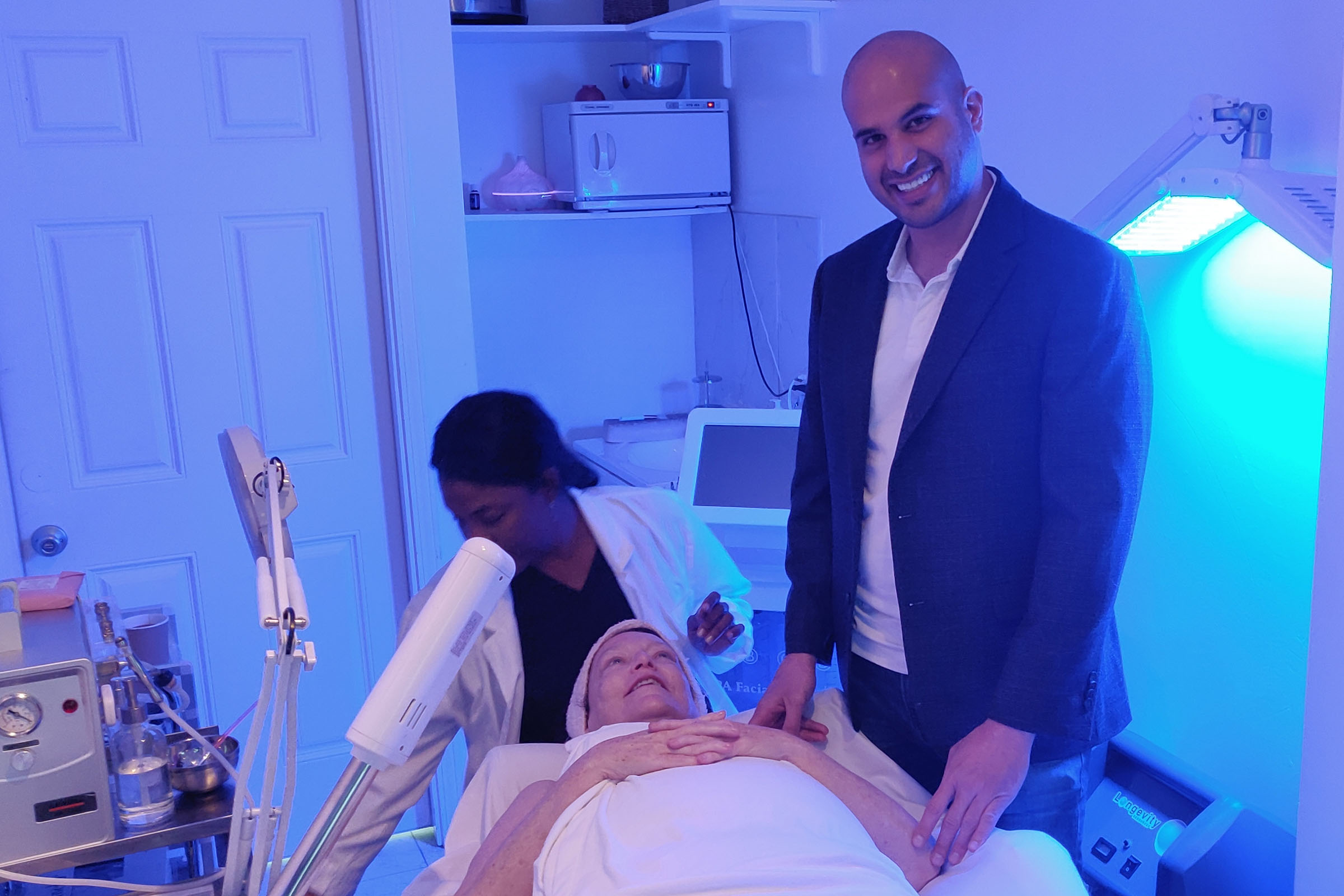 When a customer enters Fortuna Art and Beauty on Marine Avenue, any number of languages in addition to English are likely to be heard, including Hebrew, Spanish, French, and even basic Mandarin and Russian.
And those are just the tongues spoken by 37-year-old salon owner, Ben Vass. His four employees add various international patois.
Since Vass purchased the salon last August, he's discovered that their collective linguistic skills come in especially handy during tourist season on Balboa Island. However, Vass added, since moving down from his Carmel-by-the-Sea salon after seven years there, he was surprised at how many Newport customers speak such a rich variety of global languages.
Being of a technical bent, owning a salon certainly wasn't what Vass had in mind for a career after serving four years with the Israeli Defense Forces, with whom he attained the rank of technical sergeant. After all, the IDF familiarizes their soldiers with gas masks, not cosmetic face masks.
Post active duty, "and it was very active," Vass used his top-secret military training to become a civilian network security agent, which translates to "…configuring and designing computer network switches, routers, and firewalls, providing security solutions and implementing them to enterprise businesses."
The cybersecurity industry equated to "a daily stress that I just didn't want to live with," Vass said. He resigned before he'd realized he'd be unemployed.
Soon after, a buddy who was a sales rep in the beauty industry "introduced me to the retail salon industry. It appealed, in very large part because I always appreciated beauty."
After seven years at the Carmel salon, Vass decided it was time to own his own business.
Whether passers-by realize it or not, Vass's primary marketing technique is a global approach: A sales representative stands in the doorway and welcomingly offers sample treatments to people whom she projects to be not just potential customers, but probable customers. It's a strategy that takes not only keen perception, but patience, coupled with an ability to gently disarm one's natural reluctance to a vis-à-vis, one-second sales seduction.
There's a definite purchasing advantage for both the customer and vendor with this ancient sales strategy.
"No advertising markups blended into the cost of the cosmetics," he said.
Vass further explained that with America's leading mass-marketed cosmetic brands, up to 95 percent of the purchase price is needed to cover those companies' marketing costs, such as advertising and promotions, leaving only five percent return for the product.
"Since we do no traditional American advertising, our customers receive up to 70 percent more value per product pricing, and we enjoy a more attractive margin," he noted.
But Vass also admits to being in transition from a pure street-sales traditionalist. He's recently started exploring proven American communications strategies, such as online introductory discount coupons for facials; i.e., a one-time, $150 treatment for $15.
"I believe that our claims will be proved in a single salon visit," Vass offered.
Beyond the scientifically blended, paraben-free, vitamin and antioxidant rich ingredients in their facial products, Fortuna offers FDA-cleared infrared and/or blue-light treatments proven to revive the skin's surface, renew high-density collagen, and promote cell renewal.
"It's exclusively applied by our resident aesthetician, who uniquely happened to have been a registered nurse," Vass said.  "We truly feel it should be considered a first thought before considering cosmetic surgery."
For those not wanting to wait between salon visits for the skin rejuvenation treatment, the sophisticated devices can be purchased for home application. Though not inexpensive, Vass avers that he has sold more than 200 of the applicators to customers after their in-salon introductions.
Between the mirrors on the walls, the salon serves as an art gallery, displaying large oil paintings by local artists.
"We don't actively sell their works, but we certainly assist the artists in reaching interested customers. "In fact, just before Christmas, several art customers cleared our walls."  They also departed the salon with smoother skin around their eyes.
Owner Ben Vass can be reached at 949-612-8674; 301 Marine Ave., Suite B.  [email protected]
Contact the writer:  [email protected]