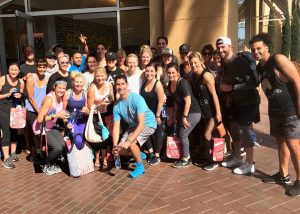 SoulCycle in Newport Beach recently hosted 60 participants in the A21 Freedom Ride. They rode stationary bikes to the beat of music as they learned about modern day slavery and supported A21 in its vision of abolishing human trafficking in the 21st century.
They also raised over $5,000 to help combat the issue.
"It was a success," said organizer Allison Kelly, a Newport resident and First Vice President in the Advisory and Transaction services group at CBRE. "I love A21 and I love SoulCycle. It was fantastic to combine two soul inspiring enterprises and create an event to raise awareness of human trafficking. The attendees loved being in action together about something so important. At SoulCycle we ride to music and do all the motions and choreography together, so you feel very connected. The songs were about love and freedom, and we dubbed in A21 Videos, sharing the founder's vision, key statistics about trafficking, and a survivor's story. It was very powerful."
A21 is a nonprofit, non-governmental organization that fights human trafficking, including sexual exploitation and forced slave labor. According to the A21 website, human trafficking is the fastest-growing criminal industry in the world, generating more than $150 billion every year.  Members of A21 refers to themselves as the abolitionists of the 21st century.
SoulCycle is an indoor cycling studio with workouts that include music, choreography and free weights.
"I got involved with A21 because I heard Christine Caine speak about the issue of human trafficking at a Propel Women's event," Allison explained. Caine is an Australian activist, evangelist and international speaker who started A21 with her husband Nick.
"I was unaware that modern day slavery really existed, and was compelled by the holistic approach A21 has all over the world, and thought it's something I want to support," continued Allison. "The statistics are staggering and the individual stories heart-wrenching. I figured if it was new information for me, many others didn't know about it either. We live where there is so much abundance and financial capacity, and since A21 is privately funded, I feel we have a massive opportunity to really help them."
"I believe that Jesus came so we could live in His love and freedom, and that is really the mission of A21," Allison added. "We can share the compassionate love of Christ. It's an opportunity to be His hands and feet."
"I love our instructor Sumner Weldon, she's an encourager, she pushes us and leads with her positive, uplifting, empowering spirit. SoulCycle has a company culture that includes giving back, so there is a program for Charity Rides," Allison explained. "SoulCycle gave free passes and Lululemon, Goldsheep clothing, Pressed Juicery, Luna Bars and Suja Juice also donated items. They all wanted to help and support the event and A21."
Participants were enthusiastic about the ride.
"The A21 Ride for Freedom was awesome!" said participant Carlin Kuhlmann. "How amazing to see so many people come together and take action around a very real issue. The love and energy in that room was palpable!"
"Amazing, invigorating and inspiring is how I would describe the A21 Freedom Ride," added participant Kellie Hill. "I'm an avid 'spinner,' riding both indoors and outdoors for 12 years, and love me some good spin; especially at SoulCycle.  This class was hands down my favorite. From the cause, to the message, to the music, to being led by the ever inspiring Allison Kelly, truly one could not imagine a better or more fulfilling event. The energy was intoxicating, and everyone so very supportive. Great day, great cause, and ready and willing to do it again!"
For information, visit A21.org.
Cindy can be reached at [email protected]