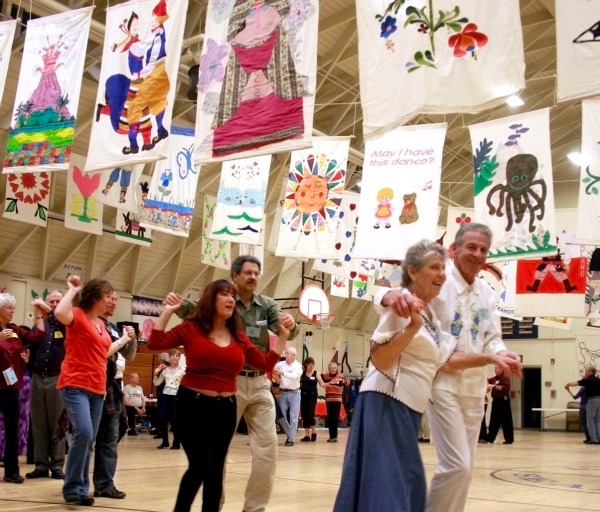 A group of about 150 friends got together Friday night, got in a circle and held hands, or sometimes paired off into couples, and danced their hearts out.
The group was participating in the first day of the 42nd Annual Laguna Folkdancers' Festival. The event was put on by the Laguna Folkdancers club and was held all weekend long at Ensign Middle School in Newport Beach. It featured master teachers Michael Ginsburg and Jerry Duke, as well as live music from local bands.
It's a great way to come and get a general idea of folk dancing and a cultural experience, event co-chair and president of the Folk Dance Federation of California, South, David Carman said.
It's a great way to expose people to culture and dance and music and more, said event co-chair Bremer.
And then they're hooked.
"It's not unusual for people who start dancing and then come every year," to the festival, Carman said.
And it's no wonder people love it. Folk dancers are friendly and the dancing is fun, Carman said.
"It's an outlet (for people)… It appeals to the emotion and it appeals to a sense of order," Carman said. "It combines music with physical movement…And it's a great form of exercise. And it's exhilarating."
It appeals to all kinds of people from all walks of life. There are a lot of mathematical and engineering minds, but there are also teachers, artists, history buffs, musicians, designers and doctors and everything in between.
"It kind of brings us all together," said Marge Gajicki of Long Beach, who has attended the festival every year since its inception in 1970. She even helped plan the first Laguna Folkdancers' Festival. Now, she manages the vendors and has her own booth of jewelry, clothing and cultural items.
It's a variety of people, she said.
Folk dancing brings together a diverse group of people, Otterholt agreed.
"There are people from all socioeconomic class, but in folk dancing you're all equal," said Lee Otterholt of Laguna Beach. "You're all holding hands (for the circle dances), you don't even need to bring a partner, you just stretch out your hands and you're part of a community."
Otterholt also loves the traveling.
"I get to see the world and dance with all of the people in it," he said
Otterholt, who has taught dancing all over the world, dances with Laguna Woods Folk Dance Club every week.
"The really great thing about this is when you travel in foreign countries you know the music and you the dances," Otterholt said. "And when you put on some music and start dancing, all of a sudden you have 25 new best friends."
Everybody knows everybody, said Folk Dance Federation of California, North, President Lucy Chang, and everyone is very accepting.
"You can do this dance in San Francisco, in New York, in Japan," Chang said. "It binds people around the world… It connects us."
It truly does allow people who might be a little shy to socialize, Carman said, it gives a people, who otherwise might not get it, a chance for human connection and interaction.
"Everybody cares about each other," Bremer said. "You can't be lonesome and be a folk dancer."
There are simpler dances that beginners can easily get the swing of, Bremer said, and people are more than willing to help newcomers learn the steps. Just be sure to stand behind the line if the steps are too difficult. It boils down to a few basic steps that anyone can learn, Bremer said.
"If you can walk, you can dance, you can folk dance," Chang said. "All you need is your feet."
Even though planning for the festival start several months in advance, the Laguna Folkdancers club meets and dances once a week, a different tune and style every time, and invites anybody interested to come out and give folk dancing a shot. Check their website, www.lagunafolkdancers.org, for information.
"It's a bonus If you just happened to be interested in ethnic food, ethnic music… different cultures," Bremer said.
One of the goals of the federation is to provide dancing from all ethnic varieties, from all over the world, said Chang.
"It's a mixture of dancing, singing, music, community, culture," Chang said, and it's good exercise, she added.
"It's fun, its engaging," said dancer Joe Timlin. "And it's different… from anything else."