Y'all know that I am a big supporter of our military, and I thank my lucky stars our editor Roger Bloom allows me to give them – and the organizations that support them – a little ink now and then. So when I heard about Goodwill of Orange County's new Boots to Suits Veterans Program, I ditched the column I was working on this week to write about it and encourage everyone to clean out their closets in support of this great program.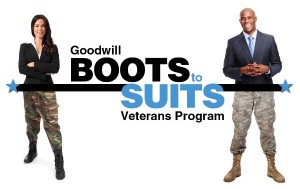 The initiative was developed in response to a growing need among U.S. veterans and active military personnel for assistance once they arrive home. As thousands of military service members return to Orange County from overseas, Goodwill's Boots to Suits is offering them a $50 voucher towards clothing and accessories to help prepare them for employment. Though it may not sound like a lot, with the value Goodwill provides, $50 can go a long way towards building an appropriate business wardrobe.
"Our Boots to Suits Veterans Program is designed to help ease the challenges our veterans experience inherent with the amount of change they are facing," says Corrine Allen, vice president of retail operations for Goodwill of Orange County. "We also want to show them gratitude for their service to our country."
With a strained economy and massive unemployment, the goal of the program is to relieve some of the stress of making the transition. Boots to Suits will help vets shed their fatigues and don a more professional civilian appearance as they seek to make the transition from their military roles.
Katherine Ransom, marketing and communications director for Goodwill of Orange County, also pointed out to me that Goodwill provides a plethora of other vital programs including career counseling and continuing education, and boasts a state of the art fitness facility in Santa Ana designed especially for the physically disabled or chronically ill members.
Veterans are just one of the populations poised to receive job training and employment services from Goodwill career counselors, who each year help thousands of individuals overcome barriers to employment. Program participants work closely with Goodwill job developers to realize their talents, flesh out their dreams, cultivate successful job skills that can be applied to their career search, prepare them for interviews and ultimately help them to secure employment.
Because most of us have a least a few items in the closet that could be put to greater use, local residents are encouraged to support the program by donating gently used or new business attire. Specific items include button-down shirts, dark gray, black or navy suits, leather shoes and belts for men, and neutral colored suits, blouses, skirts, slacks, closed-toe leather shoes, purses and accessories for women.
Items can be dropped off at one of several donation centers in or near Newport Beach: at Newport Harbor Lutheran Church, St. Michaels & All Angels Episcopal Church (Corona del Mar) or the Goodwill Store and Donation Center on 19th Street in Costa Mesa. Addresses and hours can be found by at ocgoodwill.org.
To make a Boots to Suits appointment for a visit to the Goodwill Career Center in Santa Ana from Feb. 15-17, 2012, call Cindy Ferry at 714-547-6308, Ext. 332. Veterans will be required to show their Veteran ID card or DD214 to participate and receive the merchandise voucher. The clothing voucher can then be redeemed at any of the 20 Goodwill stores throughout Orange County.
For more information, call 714-547-6308, ext. 332 or visit ocgoodwill.org.
I can't think of a better excuse to clean out our closets and help some of our local heroes succeed back here at home!
Columnist Lynn Selich resides in Newport Beach. She can be reached at www.LynnSelich.blogspot.com.