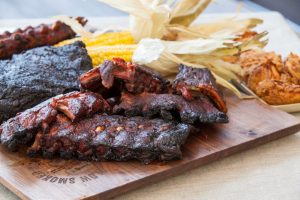 Something Peachy at Oak Grill
August is National Peach Month, and Oak Grill restaurant at The Island Hotel is celebrating all month during lunch and dinner with a special peach cocktail and specialty dessert.
The Southern Delight cocktail has Bulleit rye, muddled peaches, peach puree, lemon juice, and mint, while the Peaches and Cream dessert features almond cake, blueberry thyme compote, and vanilla ice cream.
There's another reason to check out Oak Grill this month: Slow Smoked Sundaze has returned every Sunday from 5 to 9 p.m.
For $38, select an entrée from a list that includes a starter (try the jalapeno cheddar cornbread), entrees such as baby back ribs, fried chicken and whole-grilled branzino, choice of two sides (we love the creamed corn and the mac and cheese), and down-home desserts. Wash it all down with the watermelon mint lemonade, which is terrific on its own but we recommend spiking it with vodka for an extra $10.
Visit OakGrillNB.com for more information.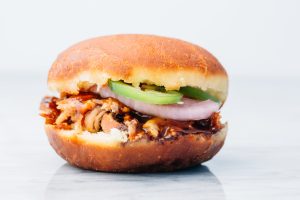 Doughnuts for Lunch
We've been fans of Sidecar Doughnuts in 17th Street in Costa Mesa since before they opened (they served doughnuts on Saturday mornings from their test kitchen while perfecting recipes prior to opening), so we're happy to hear that Sidecar is now open until 9 p.m. on Thursday nights and 6 p.m. on Sundays.
Even bigger news: Sidecar is now serving a different made-to-order savory lunch doughnut from 11:30 a.m. to 1:30 p.m. daily.
For the month of August, Sidecar features a Malasada doughnut topped with slow-roasted pork, house made Carolina-style BBQ sauce and cole slaw.
Visit SidecarDoughnuts.com for more information.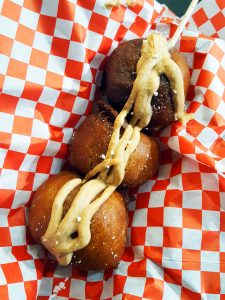 Fun with Food at the OC Fair
The OC Fair is renowned for having some of the most unusual (some might say crazy) food you can find anywhere, but fairgoers certainly ate it up this year.
According to statistics released by the OC Fair, the Bacon A Fair stand sold 4,900 "Unicorn" Pork Legs, and fairgoers bought 20,000 pounds of bacon.
Over at the famous Chicken Charlie's stand, they sold 6,000 Fried Peanut Butter Meatballs (which we thought were sensational), 4,000 Krispy Kreme Ice Cream Chicken Sandwiches (we loved this one too), 4,500 Funnel Cake Burritos, 15,000 Pupu Wings and 6,000 Luau Chimichangas. And Juicy's sold 40,005 turkey legs.
Other stats: RCS food vendors (including Biggy's) mixed and fried over one ton of funnel cake batter, sold 12,000 feet of churros and 22,500 pounds of fries. They also fried an entire semi-trailer full of Oreos and sold four semi-trailers worth of cotton candy. They also used two entire fields of corn, 2,200 pounds of fresh strawberries, 10,000 pounds of cane sugar, 7,000 pounds of ribs and 1,200 pounds of popcorn seed.
Back Bay Bistro Summer Social Hour
Back Bay Bistro at Newport Dunes has launched a Summer Social Hour from 4 pm to close Tuesday through Sunday, offered only in the bar area, which has views of the Upper Newport Bay.
Some of the menu items: Pork Sliders ($6), Bistro Loaded Fries with pulled chicken or pulled pork ($8), Grilled Calamari Steak ($9), Individual Pizza ($10), Shrimp Cocktail ($12), and Back Bay Bistro Burger ($14).
Drink specials include bottles beer for $3.50 to $4.50, wine for $5 a glass, and well drinks for $5.
For more information, visit NewportDunes.com/bistro.
Family Funday at Ruby's Diner August 19 and 26
Every day is a fun day at Ruby's Diner. Our go-to spot is the original Ruby's at the end of the Balboa Pier (which opened in 1982), especially for breakfast—their cinnamon roll French toast is delicious.
Families love Ruby's, which is why they have their Tuesday Family Nights when kids 12 and under eat for free from 4 p.m. to close.
Here's one more family-friendly ruby's promotion: Family Funday, held at the Laguna Hills location Saturday Aug. 19 and Aug. 26.
On August 19 from 2 to 3 p.m., enjoy live music from children's band Jelly of the Month Club, plus free activities such as a balloon artist.
On Saturday, August 26, from 3 to 5 p.m., the family fun continues with more live music and an opportunity for kids to have their photo and fingerprints taken by the Orange County Sheriff Department.
This promotion is only at the Ruby's at Laguna Hills Mall, but may expand to other locations soon, so visit Rubys.com for more information.