I've been fortunate to have spent my life boating in and out of Newport Harbor. Having traveled to the New York, Baltimore, Annapolis, Jacksonville and the Potomac River (to name a few), the waterfronts were interesting and had their own uniqueness, but we are always aware that "there's no place like home."
Dorothy in "The Wizard of Oz" made a much more profound heartfelt phrase than anyone could ever imagine. This came to mind when the lovely Judy Belle and I voyaged on a short cruise last Saturday.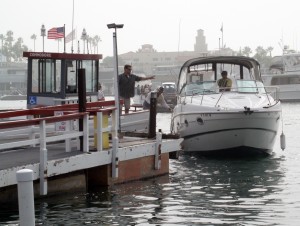 One doesn't have to be rich or own a yacht to enjoy the fruit of our wonderful harbor. We parked our land yacht a few feet from the ferry on Balboa Island for one of our oldest favorite bay front eateries for lunch. One doesn't have to spend huge amounts of funds for a great meal on the bay front.
Next to the ferry is the Island Grill, a.k.a. in the past as Quickies, for a delicious cheeseburger and fries with a table and chairs beside a large sitting bench next door in front of the Island Market.
The view is to die for, and the people watching of joggers and dog walkers is quite entertaining. Naturally, the biggest entertainment is our harbor and, in this case, the largest fleet of boats since the summer.
We were amazed that even with the foggy-like conditions, yachts, Duffy rentals and trailer boats launched at the Dunes filled the harbor.
This adventure was a result of crossing on the ferry to pick up spare oil and fuel filters at Hill's Fuel Dock and a walk along the Fun Zone and the Pavilion. The air was crisp and the sun penetrated the overcast for warm conditions.
Ooops, the filters are too heavy for this senior citizen with lower back deterioration, so we enjoyed the waterfront while holding hands, and took our second ferry ride back to the car.
While waiting in line for our third ferry ride back to Balboa, the ferry was berthed empty for a few minutes because a 30-foot power boat lost power and the current nudged it into the bay front end of the ferry boat.
Whether one rides across the harbor on the ferry or you take a harbor cruise on a vessel from the Fun Zone Boat Company (which I wrote about a while back), there are an abundance of ways to cruise Newport Harbor without breaking the bank.
In future columns I will detail additional offerings without becoming a yacht owner.
Sea Ya,
Skipper Steve