The push is on by the Balboa Performing Arts Theater Foundation's volunteer board of directors to raise funds to renovate the theater, and they are giving their capital campaign a push in to its final phase with an inaugural "Balboa Beach Music Fest" to be held at Peninsula Park on Oct. 13.
The festival is being presented by the foundation in collaboration with The Producing Group and will feature a full day of live music by a stellar lineup of top pop and indie rock artists from across the country. The performers will include Matt Nathanson, Joshua Radin, A Fine Frenzy, Maria McKee and Lucy Schwartz, Graham Robby Band, Stacy Clark, Justin Soileau and Enjuillet.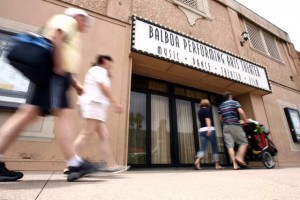 According to foundation board member Craig Smith, since the mid-'90s the city of Newport Beach, which owns the building, has agreed to a 25-year lease at no cost to the foundation, a nod to the fact that the city is in support of the redevelopment of the historic building.
"In lieu of the city's good will, we have a commitment to raise the millions of dollars necessary to renovate the building," Smith said.
He pointed out that while the Balboa Beach Music Fest is a push to invigorate the foundation's capital campaign, it's important to look at the big picture.
"Beyond just completing the construction, we feel that the renovation of the theater will also help the economic revitalization of the Village, support local businesses by attracting visitors, and create awareness for ExplorOcean, formerly the Newport Harbor Nautical Museum," Smith explained.
The two organizations have become mutually supportive and hope to partner on various community events once both projects are completed.
To date, the foundation has retained distinguished theater architect John Sergio Fisher, who created an updated theater design, the city has issued a building permit for construction , and the foundation has  received its development permit from the Coastal Commission.
All the foundation needs now is the cold hard cash.
Since 1928, the Balboa Theater has been a treasured landmark, one that served countless visitors until closing its doors in 1992. The success of the capital campaign will ensure that the 300-seat historic concert venue and Newport Beach landmark  in the heart of Balboa Village will once again be a vibrant attraction for the area. Upon reopening, the venue plans to showcase the best in contemporary entertainment.
The Balboa Beach Fest  gates will open at 11 a.m. and live music will be presented until 10 p.m. General admission tickets are $45, Premium Circle tickets are $75 and VIP tickets are $200. VIP tickets include premier stage views, catering, private restrooms and backstage access. To purchase tickets for Balboa Beach Music Fest, visit balboabeachfest.com.
Lynn Selich resides in Newport Beach with her husband Ed. She can be reached at [email protected].