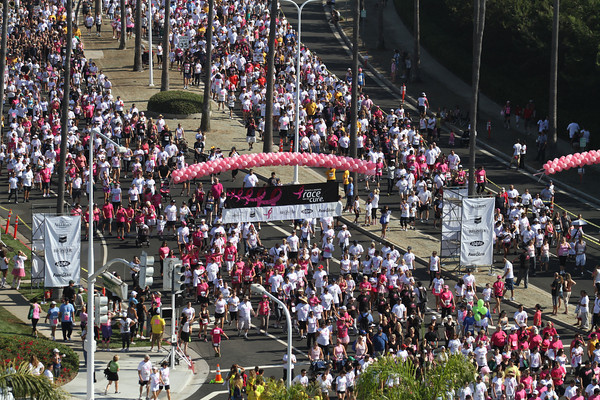 More than 18,000 attendees made an appearance at Fashion Island to run and walk two 5Ks and a one-mile fun run in support of the fight against breast cancer. For more than two decades, the largest Race for the Cure in California has been the marquee event during a year of inspiring fundraising initiatives sponsored by the Orange County Affiliate of Susan G. Komen for the Cure.
Event organizers expect to meet the $3 million fundraising goal. Preliminary totals for the 2012 Race for the Cure currently stand at $2 million. Fundraising for the Race for the Cure will continue through Oct. 31, the deadline for participants to turn in donations.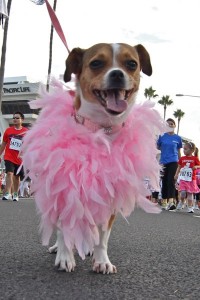 "We are so impressed to see supporters from all over Orange County and the world come out to support the fight to end breast cancer," said Lisa Wolter, executive director of the Orange County affiliate. "Seventy five percent of the funds raised will go directly back into our community to provide breast health services, education, mammograms and other financial and medical breast health support to those who are uninsured and underinsured."
The hallmark moment of the event was the Survivor Tribute ceremony, which started with a parade of more than 1,000 survivors making their way up the steps of the Pacific Life building at 8:45 a.m. This year, four incredible women in Orange County, who are either fighting or have fought the battle with breast cancer, spoke during the ceremony.
More than 1,300 volunteers from Orange County and all over the world helped at booths, water stations and on the course to ensure all facets of the Race went smoothly.
Carla Cammack was the top individual fundraiser, having raised $16,475 to date for this year's Race. Cammack is celebrating her 15th year of breast cancer survivorship. The top fundraising team was Team PIMCO, whose team fundraising total is currently at $67,010.
Seventy-five percent of the funds raised are invested in local breast cancer awareness and education programs, breast self-examination classes, medical and diagnostic services for uninsured and underinsured women, and other unmet community needs through grants to community breast health organizations.  The remaining 25 percent is dedicated to the Komen Award and Research Grant Program to fund groundbreaking breast cancer research.