It seems like every other day lately is National Something-or-Other Day, and every time I log on to Google, their cute little home page is wishing a happy 212th birthday to some amazing individual I have probably never heard of.
Recently, we've celebrated both National Pancake Day and National Frozen Yogurt Day – not entirely bad things, mind you – and also marked the birthdays of such influential authors as Laura Ingalls Wilder and Charles Dickens.
While most of these so-called holidays are barely worth acknowledging, last Friday we commemorated the birth of a man who changed the landscape of many a childhood by celebrating the 108th birthday of Dr. Seuss with Read Across America Day.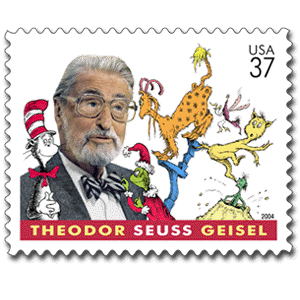 Children in Newport and across the nation held various celebrations on March 2, honoring both Seuss and the joys of reading.
My children went to school in their jammies, and were treated, in their respective classrooms, to readings by special guests.  The Cat in the Hat himself even visited many schools.
While different schools held different celebrations, they all participated the national event with one goal – promoting a love of reading in young people.
Sponsored by the National Education Association, Read Across America is an annual reading motivation and awareness program that calls for every child in every community to celebrate reading on March 2, the birthday of beloved children's author Dr. Seuss.
Could there be a more appropriate author for them to hitch their star to than the good Dr.?  Born Theodor Seuss Geisel, he authored more than 40 children's books, and has been instrumental in teaching generations of kids to read.  All that from a man who never had children himself, yet dedicated himself to entertaining the world's kids.
When we think of Seuss, it is most often in rhyme.  We think of Cats in Hats, and Hopping on Pop.  We count One Fish, Two Fish (Red Fish, Blue Fish), and crave Green Eggs and Ham.  We almost always think of fantastical creatures that speak nonsense words in colorful type.  If we stop there, however, we are missing what I think is the essential Seuss.
While it is true that he remains the king of beginning readers, and is well-known for his made-up, rhyming vocabulary, he was also incredibly skilled at weaving inspirational messages into his wacky tales.  He used phrases that made kids feel good about themselves, letting them know that being different is OK.  He reminded us of the old advice to "try, try again."  He taught kids that they can do whatever they want if they just put their minds to it.
From the Grinch, we learned that holidays aren't about gifts and bows, but about the love we feel for our fellow man.  From Horton, we learned about the importance of keeping your word and helping others as he sat for weeks and weeks waiting to hatch the egg. From the Lorax, we learned the importance of taking care of the world around us, and the Sneetches taught us the cost of prejudice.
All lessons that were taught in a fun light-hearted manner that made learning them all the easier.
He taught us "a person's a person no matter how small."  He reminded us to celebrate that "today you are You, that is truer than true.  There is no one alive who is youer than you!"
He said, "You have brains in your head.  You have feet in your shoes.  You can steer yourself any direction you choose."
Countless children (and their parents) have begun steering themselves down life's path as they travel through his pages.
Thank you Dr. Seuss for your rhyming words of wisdom.
You've taught us such an incredibly lot, I promise, I promise, forget you we'll not!