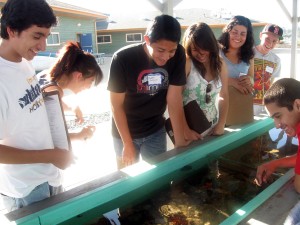 By Garry Brown, Executive Director / Orange County Coastkeeper
Just above Newport Harbor is the Upper Newport Bay, a sanctuary to many species of plants, birds and marine organisms.
The Upper Newport Bay Nature Preserve and Ecological Reserve is an estuary, a wetland with a mix of fresh and salt water that is tide-dependent. It is the largest ecosystem of its kind in the area.
This wetland not only provides home to wildlife including various endangered species, but it acts as a natural filter for urban runoff pollution and provides natural flood control. Additionally, it is a beautiful area great for relaxation and recreation.
Popular activities include wildlife-watching, paddle boarding, kayaking, rowing, bicycling and jogging.
Over time, human activities have had somewhat of a negative impact on this sensitive habitat. Now, it is important to protect the integrity of the ecosystem that still remains and to restore the habitat that has been degraded. Various efforts exist that provide the opportunity to do both.
The California Department of Fish and Wildlife has established programs that help educate the public about the area. Their programs include monthly Marine Life Inventories of the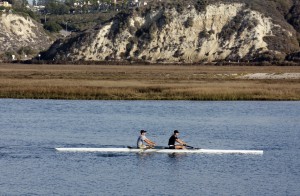 estuary and weekly/monthly restoration days in the surrounding bluffs.
The monthly Marine Life Inventories are open to the public by reservation only. For more information or to make a reservation visit backbaysciencecenter.org.
If you are a science teacher interested in taking your students or if you are a member of the community interested in learning more about the ecosystem, join us for these monthly events. Be sure to send regards to Coastkeeper's guest scientist of the month and tell them this article sent you.
If you are interested in the restoration efforts, you can contact the Newport Bay Conservancy. At their website (newportbay.org), you will find various opportunities depending on your availability.
If you are interested in a community-based restoration program, visit newportbay.org/stewardship/community-based-restoration and find the one that best fits your schedule and interest.
In another effort to maintain a healthy ecosystem, the Back Bay Science Center also hosts a large cleanup event on the yearly Coastal Cleanup Day. This is held on the third Saturday of September every year.
If you can't wait that long to help remove marine debris, contact us at Coastkeeper and you can RSVP to one of our monthly cleanups.
I am certain that preserving the integrity of the Newport Bay will come naturally after only one visit to this beautiful area. Remember that we can always do our part to protect the sensitive ecosystem simply by watching our actions in the surrounding area, reducing urban runoff and our pollution.
To get more general information on the area, visit ocparks.com/parks/newport.
For more information on Coastkeeper, visit Coastkeeper.org.