What do you think of when you hear about Goodwill?
Donating unwanted clothes to clear out space in the closet?
I had a chance to take a behind-the-scenes tour, and it changed my view.
Goodwill began in Boston at the turn of the last century, in 1902.  Goodwill of Orange County followed in 1924 and has since become a well-recognized community service provider and leading employer with more than 900 employees and an annual budget of more than $78 million.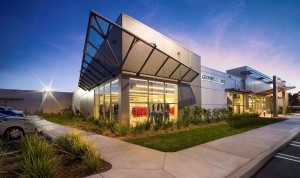 We will review the extensive and impressive list of accolades and sustainable achievements.  But the most interesting revelation on my tour, for me, was that donations and retail centers serve to generate revenue to fund the primary mission of providing a comprehensive array of education, training, and employment services to assist individuals to overcome barriers to employment and to succeed at home, at work, or at school.  The best practices of sustainability, since 1902, are merely a means to the end of providing job training programs and career services.
My definition of sustainability is purposefully broad, so that the top priority of jobs for people with disabilities and other disadvantages fits squarely at the center of what it takes to achieve a sustainable community.  Proof is a thriving business for over a century adding value through the triple bottom line of people, planet and profits, necessarily in that order.
Let's walk through the elements of a modern day Goodwill process.  It probably starts with a donation to one of 17 Attended Donation Centers, or one of 20 retail stores.  Newport Beach has two drop-off locations – at Newport Harbor Lutheran Church, 788 Dover Drive (at Castaways Lane) and at St. Michael & All Angels Episcopal Church, 3233 Pacific View Drive (corner of Marguerite).  The closest retail store is at 620 W 19th St., Costa Mesa.
Any donations are sent to Santa Ana, where the sustainable fun begins, if you like great solutions that divert from our landfills.  Items are sorted for retail viability, with an eye on what store needs what.  Your sport coat dropped off in Costa Mesa may wind its way to another store, based on market demands.  What is not sold in two weeks is marked down.  If no sale, back to Santa Ana.
On site in Santa Ana, these Gaylord boxes – think big box – arrive in Santa Ana.  If you have ever seen the TV show "Storage Wars," you get the sense of the auction scene at Goodwill's Marketplace. (Goodwill Orange County was, in fact, featured on the show in March.)
"Who'll give me $100?" says the auctioneer.
"Yuuup!" shouts one of several who have taken a peek at the incoming Gaylord.
Or, one can enter the section that has all the clothes and textiles spread out.  You can pick and choose for $2.49 a pound.  A little of the exciting backstory of what goes on at Goodwill, creating jobs and job training.
For items not sold in Goodwill's wholesale or retail venues, Goodwill extends its recycling capabilities even more to include clothing, mattresses, appliances and cardboard. On average, each week more than 32,000 pounds of cardboard are crushed and repurposed, while mattresses, clothing, and household appliances that do not make the cut for the retail stores are stripped and sold to manufacturers, textile dealers and scrap metal vendors throughout the area.  See the jobs and job training?
But wait, there is more.
In addition to the 1 million donations received in 2011, Goodwill offers document destruction services.  If you ever wondered where legal, medical, financial, real estate and insurance companies and state, county and local governments send their documents while providing jobs and recycled paper, good chance it is Goodwill.
E-waste solutions and recycling?  Yes, to the tune of 1,929,063 pounds and just under $2 million in revenue.  Provides for a greener Orange County and is providing more green jobs.  If your company or group needs to take a case of items, and shrink-wrap them into, say, quantities of two, Goodwill provides such a solution.  Those performing the task are sure to ooze with pride and satisfaction.
Last year at the OC Fair, on "We Care Wednesdays," fair guests were offered free admission if they brought in five items each.  And bring they did – Goodwill collected more than 20,000 donations.
Our schools are now utilizing a Goodwill container to facilitate a fundraising event and educate our youth.  Schools filling the containers get checks for $1,500, which goes a long way these days to complement educational efforts.
Goodwill offers the Real Goodwill tours year-round, and next month they will be available in Santa Ana on Jan. 19 and 25.  Call Alexandra Paul at 714-640-8360, Ext. 2231.
Goodwill Industries was green back in the day of our grandparents – this is not a new thing to them.  What is new and reinforced to me was the organizational commitment to the sustainable activity of helping those with disabilities to find jobs, and the quality of life associated.
Any Green Year's Resolutions?  [email protected]