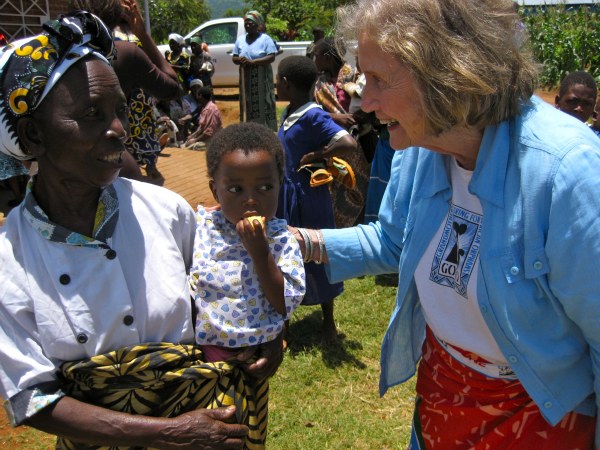 We've all heard the phrase beginning with: "It takes a village …," but in Malawi,  it takes many villages of poor elderly women, as well as countless caring men and women across the United States, to help raise the 1.2 million orphaned children struggling to survive.
Most of the children lost their parents to AIDS, leaving over 80 percent of them to be raised by their "gogos," the country's word for "grandmothers." Many of the gogos struggle to feed, clothe and keep as many as three grandchildren in school, while trying to live off the land themselves.
"These are the poorest of the poor," explained Charlotte Day, grandmother of 13. "But the gogos are strong, resilient and intelligent, though they have no opportunity for education. Once when we distributed fertilizer, some gogos walked barefoot for 2 or 3 miles, and only 6 of the 46 could write their name. The rest had to sign with their thumbprint. But it's the gogos who are raising the next generation. They need so much; we're doing everything we can to assist them."
Gogo Grandmothers, founded in 2005, is an outreach to the elderly gogos, and is a partnership between grandparents in the United States, and in Malawi. The Gogo Grandmothers' mission is to provide a connection and relationship between grandparents giving and grandparents receiving support spiritually, physically and emotionally.
Charlotte explained that Gogo Grandmothers began as a result of a Christmas trip to Malawi that she and her husband, Dick, took in 1990 to visit their son Dick Jr., who worked with USAID.
"While we were there, we met Dick Jr.'s friends", Charlotte said. "One of them knew that Dick Sr. had taught at the university level. He asked our son if his father would consider teaching at the University of Malawi. We said we'd pray about it, and realized we needed a Sabbatical after 30 years in Christian ministry. We went with two suitcases for one year, and that was 21 years ago. After the first year, Charlotte also began teaching at the university, initiating early childhood studies."
The Days raised their children on Balboa Island, and are now residents here, and in Malawi.
"We saw what was happening, we saw people dying. It is just devastating. Malawi is in the epicenter of the AIDS pandemic, it's a heterosexual disease there," Charlotte continued.
In 1994, the Days established SAFE, which stands for Sub Saharan African Family Enrichment. It is a faith-based non-governmental organization registered in Malawi to address the HIV/AIDS pandemic. Later, Charlotte and the SAFE staff developed an Early Childhood Development/Orphans & Vulnerable Children program to address the overwhelming needs. They build preschools, provide nourishment, education and Biblical training for children 8 and younger; some are infected with AIDS, but all are affected by it.
"Dick had written a book with Josh McDowell called 'Why Wait?' about abstinence," Charlotte said, "and the first lady in Malawi wanted something to help their children say no to premarital sex. Since then, SAFE has written a nine-year curriculum for African schools, training thousands of teachers."
Charlotte was shocked at the number of the children being raised by their grandmothers and she began teaching good nutrition, proper sanitation, and helping them get clean water. Charlotte held her first preschool under a mango tree, and ended up holding her first gathering for the gogos under a mango tree as well.
"On one of our leaves, we came back to Newport and spoke to the Fellowshippers Group at Mariners," Charlotte said. "We shared what the needs were and what we were doing, and everybody asked what they could do. The response was overwhelming! So Gogo Grandmothers was birthed here in Newport, but it was conceived in Malawi."
Recent Gogo Grandmother projects include offering fertilizer, blanket distribution, providing mosquito netting and instruction in planting, harvesting and using soy. The organization also seeks to help the grandmothers learn about starting their own income generating activities.
There are twelve Gogo Grandmother groups across the country that meet to raise funds and pray for the many needs. Leslie Lewis, the U.S. coordinator for Gogo Grandmothers, wants people to know that they don't have to be a grandparent or part of a group to be part of the solution.
"All of us doing our part will make an enormous difference in this 'human tragedy' becoming a God-directed 'human opportunity,'" Leslie said.
"Malawi is the seventh-poorest country in the world, we really want to help these women with their hard lives, " Charlotte added. "This was not our agenda. It's God who has put this together and it's Him we want honored."
For those interested in starting a Gogo Grandmothers group or for any information, go to www.gogograndmothers.com and www.safeafrica.org. Cindy can be reached at [email protected].