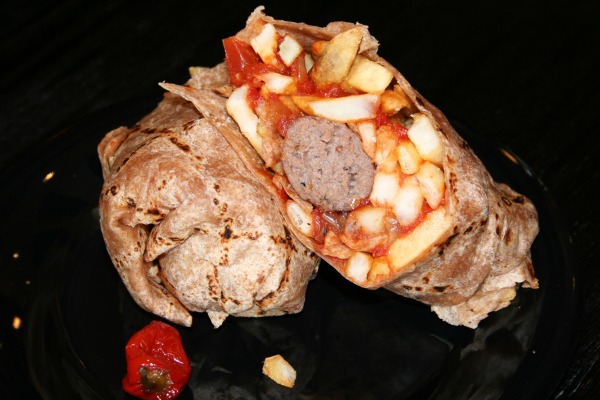 "Ready for a trip to Mozambique? I asked our editorial assistant, Catherine, who's been filling in for Stasha (Stasha has been MIA while she stars in a play in Burbank).
"Sure, I've been all over Europe but never Africa. I have my passport, but I'm not sure I can miss that much school," replied Catherine.
"No need for a passport," I laughed. "This is a culinary excursion. All you need is an adventurous palate."
Catherine stared at me, waiting for an explanation.
"Mozambique restaurant is one of the most interesting and tasty dining spots in Laguna Beach, and they recently opened a 'fast-casual' version in Newport Beach called Mozambique Peri-Peri."
"So Peri-Peri is Portuguese for Fast-Casual?" asked Catherine with a grin.
"Not exactly, although I'm impressed you knew that Portuguese is the official language of Mozambique," I said. "Peri-Peri is a pepper that is Portuguese in origin but has grown wild in Africa for years. It's used as a spice for cooking, and Mozambique restaurant uses Peri-Peri in many of its signature dishes."
"Sounds good to me – when do we eat?"
"How about right now?"
On the way to the restaurant (located in the same shopping center on Bison Avenue that houses Wildfish and Wonderland Bakery), I explained to Catherine that according to my research, peri means pepper, and that the natives of the coastal region of southern Africa thought it tasted twice as nice as any other pepper, so they named it twice: peri-peri. Mozambique owner Ivan Spiers is from South Africa, and brought the flavors of Mozambique with him to America when he opened his flagship Laguna location in 2005.
We arrived at Mozambique Peri-Peri just after the lunch rush and settled in at a table. Being Mozambique newbies, we perused the menu and discovered a host of exotic yet familiar dishes.
Upon recommendation from the staff, we ordered the Combo Maputo Platter (1/4 Peri Chicken, two Prawns, one Sausage, Pineapple Slaw, Mazavaroo Fries, and Black Eyed Peas) so we could sample several items. We added a Boerewors Sausage Roti Wrap (also known as an African Burrito) and a pork chop plate from the special $10 lunch menu.
And, because the name implied an adventurous treat, we ordered Fries Gone Wild (Seasoned Fries baked in Peri-Peri sauce with melted Sharp Cheddar Cheese).
The Boerewors wrap arrived, stuffed with sausage and seasoned fries, along with tomato bredie sauce.
"The sausage is juicy and has a light spice flavor," noted Catherine after a few bites of the wrap. "When it's mixed with the sweet tomato bredie sauce and the seasoned fries, it creates the perfect complement of flavors rolled into one."
"Mmmm…" I agreed after taking a bite.
We dug into the Maputo Platter, and marveled at the tastes and textures of the moist chicken and the sausage. The pork chop plate held a generous serving of tender and flavorful meat, along with whipped potatoes and veggies.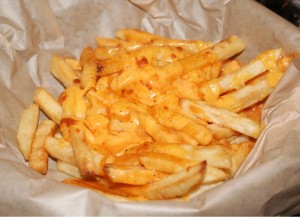 However, our attention was diverted when the Fries Gone Wild arrived.
"Wow – these are fabulous," I exclaimed. "I've never had anything like this. It's spicy and cheesy, and very addicting."
"It's like a South African version of cheesy fries, and the Peri-Peri sauce adds a spicy flavoring that doesn't overwhelm your taste buds," added Catherine.
Realizing we were going to be at Mozambique for a while, I ordered two glasses of Fleur Du Cap Pinotage, a grape grown only in South Africa.
"This is surprisingly light and fruity. I like it," said Catherine.
We continued nibbling away at the platter, and the fries, when one of the staff suggested we try the Mac and Cheese, which is listed under the kids' menu.
"This may be my favorite thing today," enthused Catherine after tasting the dish. "It has a light addition of Peri-Peri that gives it a unique but subtle flavor."
"I have a feeling I'm not going to get any of your mac and cheese, but that's OK – I'm hogging the Fries Gone Wild."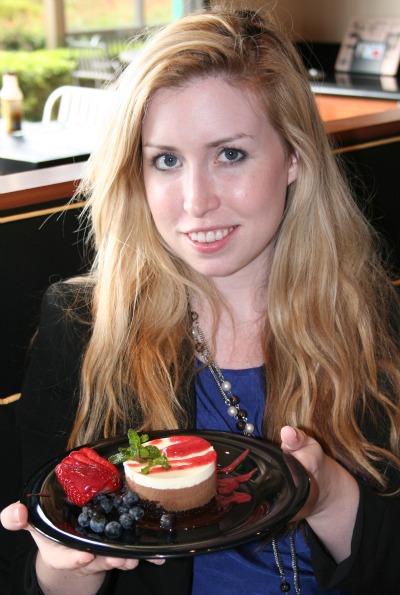 We were getting full, but decided to order dessert. We selected the Triple Chocolate Mousse Torte, and the Ice Cream with Berries, Chocolate, and Raspberry Sauce.
"This has three layers of chocolate!" enthused Catherine, a chocolate lover. "I like the white chocolate layer on top, it rounds out the richer chocolate below. And the fruit and raspberry sauce is a nice complement."
A waiter came to clear some dishes, and started to walk away with the remains of the Fries Gone Wild.
"Hey, wait – that's my dessert!" I cried.
"What about the tort? asked Catherine as the spicy fries were returned to the table.
"You enjoy your chocolate, I'm going to finish every last bite of these fries," I said with a smile.
For more info on Mozambique Peri-Peri, visit MozambiquePeriPeri.com.