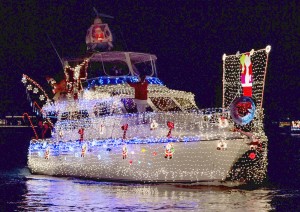 A Newport Beach holiday tradition returns on December 16 when the 107th annual Newport Beach Christmas Boat Parade sets sail for the first of five nights, with nearly 100 decorated vessels slowly cruising the perimeter of Newport Harbor under the delighted gaze of thousand of onlookers.
Hailed as "one of the top ten holiday happenings in the nation" by the New York Times, the Christmas Boat Parade is the longest- running, lighted holiday boat parade in the nation and the largest harbor parade in California.
Hosted by the Commodores Club of the Chamber of Commerce, the boat parade begins Wednesday, Dec. 16, and ends Sunday, Dec. 20, 2015, with a theme of "Seas the Holidays."
For the first time in its history, multiple nights of the parade will include Grand Marshal appearances by talented athletes, entertainers and distinguished members of the community.
On Wednesday, Dec. 16, Los Angeles Angels of Anaheim owner Arte Moreno is the grand marshal. On Thursday, Dec.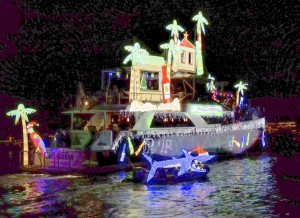 17, U.S. Women's National Soccer players Christen Press and Amy Rodriguez will kick off the second night of holiday fun on the harbor. On Friday, Dec. 18, four alumni from the hit NBC show "The Voice" will bring their talents to Newport Harbor including Brian Johnson, Jacob Rummell, Bay Brooks, and Barry Minniefield. On Saturday, Dec. 19, the Tournament of Roses Royal Court will dazzle onlookers.
Sunday, Dec. 20 is a fireworks finale from the Balboa Pier. Fireworks will also light the sky at 6:15 p.m. on Wednesday, Dec. 16, to signify the start of the parade.
"We're thrilled to have such a fantastic group of athletes, entertainers and community members as part of this year's parade," said Steve Rosansky, president and CEO of the Newport Beach Chamber of Commerce. "It gets better with each passing year, and we're looking forward to five unforgettable nights of festive fun."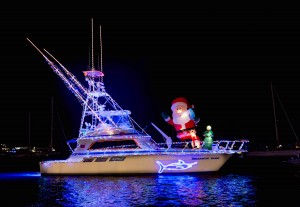 The parade will begin at Bay Island at 6:30 p.m. and end at the same site at approximately 9 p.m. each evening, completing its 14.7-mile route around Newport Harbor. The route offers multiple viewing spots around the harbor for residents and visitors to enjoy for free, as well as a number of restaurants around town offering beautiful harbor views.
Marina Park will be a brand new viewing area for this year's parade. The 10.5-acre recreational center will provide ample space for parade-goers, with family-friendly activities planned there each night.
For more information, visit christmasboatparade.com.
VIEWING AREAS
The Balboa Fun Zone offers plenty of public viewing spots, and it's where you can hear live commentary on the parade. Admission is free and parking is available in the public lot next to the Balboa Pier, but get there early as parking lots tend to fill up fast, especially on the weekend.
ExplorOcean in the Fun Zone is selling bleacher seating for $20 per person ($10 for ages 18 and under) that includes hot cocoa or coffee. Call (949) 675-8915 for details or visit ExplorOcean.org.
The Newport Sea Base at 1931 W. Coast Hwy has a viewing area on their lawn available for $10 per person in advance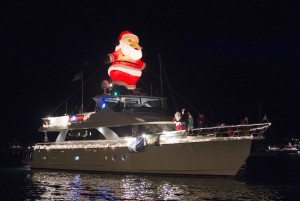 and $20 per person at the door. Food and beverages will be available for purchase. Call (949) 642-5031.
Many local yacht charter companies take visitors out on the bay to watch the parade, including
Catalina Passenger Service, Davey's Locker, Hornblower Cruises, Gondola Adventures, Newport Landing, Electra Cruises, and Pacific Avalon Yacht Charters. You can also rent your own boat at Balboa Boat Rentals, Marina Boat Rentals, and Newport Pontoons.
For details visit ChristmasBoatParade.com.
BOAT PARADE DINING
Only in Newport could you enjoy a gourmet dinner while watching a parade of boats. A handful of bayside restaurants and venues offer ideal parade viewing, while others (such as those on Balboa Island or in Balboa Village) don't offer direct viewing, but they're a short walk from the waterfront and can be less-crowded than restaurants along the parade route.
For a complete list of Boat Parade dining options, see the Off the Menu column in this week's Stepping Out section in print, or the Eat + Drink section on our website.
INSIDER'S GUIDE
Looking for an easily-accessible spot to view the Christmas Boat Parade? Here are a few ideas gleaned during a pre-boat parade cruise around Newport Harbor with Waterfront columnist Skipper Steve.
Park in Cannery Village and walk to the Lido Island Bridge. Viewing there is free. Entry to Lido Island is limited to residents only.
A number of public docks dot Newport Harbor, and make ideal spots to view the parade (dock capacity varies). On the Balboa Peninsula, public piers are at the end of M Street, Fernando Street, Washington Street, and 15th and 19th streets.
Several public beaches along Balboa Peninsula offer sandy spots to watch the parade, including a long patch of beach near 18th Street.
There are also five public piers on Balboa Island, but the parade can be seen from almost anywhere along the perimeter of the island (including the bridge leading onto the island). The trick is finding a place to park on Balboa Island. The solution: park on Bayside (south of Jamboree) and walk to Balboa Island.
Perhaps the best solution to traffic and parking is to take a taxi or Uber to either Balboa Island or Balboa Peninsula. The fare is worth avoiding the parking hassle, especially on the weekend.
Whatever you do, dress warm–temperatures can get chilly along the waterfront.
For more Boat Parade information, visit ChristmasBoatParade.com.