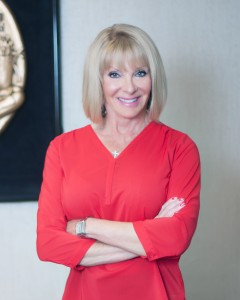 At Literacy Project Foundation's annual gala last October, Wienerschnitzel, the world's largest hot dog chain, was honored as the presenting sponsor of the 6th annual "What Dreams Are Made Of" gala for its "commitments and generous contributions to the organization and its cause of enabling disadvantaged youth to increase their reading skill levels."
"Aligning with The Literacy Project has been an honor for Wienerschnitzel, as we take great pride in helping to better the lives of these children," said Newport Beach resident Cindy Galardi Culpepper, chairman and CEO of Wienerschnitzel. "Without reading skills, which are vital to a child's advancement, we could very well be missing out on the development of our future great leaders. We look forward to achieving much more with The Literacy Project." 
Culpepper said she makes her company's charitable giving efforts a priority, and is committed to giving back to the communities served by each of Wienerschnitzel's 330 restaurants around the country.  
As a board member for The Literacy Project, Culpepper is an ambassador to the organization. She helps raise awareness for the mission and visits schools to participate in interactive reading activities.
"Since our inception, Wienerschnitzel has enabled hundreds of at-risk students to receive our reading program at no cost and drastically improve their skill levels," said Sue Grant, founder & CEO of The Literacy Project. "It is companies like Wienerschnitzel and CEOs like Cindy Galardi Culpepper that truly improve the lives of children who are not afforded an enriching education. We can't thank the entire company enough for giving the gift of literacy."
To date, The Literacy Project has helped more than 3,700 struggling readers throughout Long Beach, Orange County, Los Angeles, and Coachella Valley school districts via a comprehensive instructional reading program that improves both academic and attitudinal levels of students performing far below English proficiency standards. The program is provided at no cost to both the school and at-risk students in the second grade. The program teaches the fundamental principles of phonics and literacy in all three learning modalities (auditory, visual and tactile), critical to children with varying learning styles.
Culpepper has always had a passion for causes that involve children. In addition to serving on the boards of her children's schools, she was president of an assessment and treatment center focus on children.
Recently, Culpepper has led the way for the branding and direction of Galardi Group, parent company for Wienerschnitzel, Hamburger Stand, and Tasty Freeze.
"We don't want to be known as a franchise company or hot dog company, we want to be known as a service company. Our new 'serving food to serve others' values are community, open, integrity, heritage (daring to be different), driven, family, playfulness."
"The more successful our franchises, the more successful the company, the more we can give to communities," added Culpepper. "What can we do? Our primary focus is literacy. You can feed someone and they're hungry an hour later, but give someone literacy and they have a chance to fulfill their dream and be productive."
Culpepper's overall goal is to take The Literacy Project program to every community that has Wienerschnitzel locations. Currently Wienerschnitzel has 330 locations from California to Texas. That's an ambitious goal, but an important one.
"We've had 19 straight months of increases, but my belief is that you can't take without giving," noted Culpepper. "That's why we decided to be a service oriented company. The people in our organization want to give back."
For more information, visit literacyprojectfoundation.org and wienerschnitzel.com.