By Andrea Adelson | LB Indy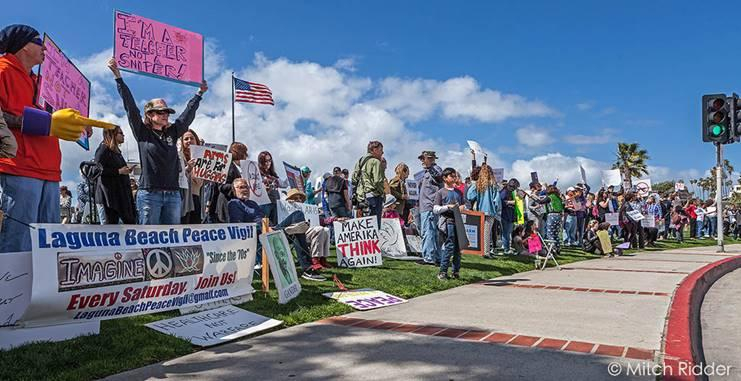 Kylie Mawson experienced first-hand the terror of being a human target as she crawled across the grounds of a country music festival in Las Vegas as a gunman fired more than 1,100 rounds from a high-rise hotel, leaving 58 fans dead and 851 injured on Oct. 1.
Only four months later, panic and anxiety surfaced again for the Lake Forest resident when she learned a troubled teen targeted students and staff in another massacre at a Parkland, Fla., high school.
Last Saturday, Mawson stood with a hand-written sign among an estimated 500 others at a rally on Main Beach in Laguna, one of 800 similar protests around the country and the world sparked by the Florida students demanding lawmakers rein in gun violence.
"I believe in what they stand for," said Mawson, who had never previously taken part in any political activity.
The demonstration in Newport's neighboring beach town attracted varied supporters, including parents pushing strollers and students. Honks and cheers from passing cars elicited yelps from the crowd. Other nearby rallies took place in Huntington Beach and Irvine.
Mawson felt compelled to protest out of frustration at seeing public pressure to curb gun violence ebb so swiftly in the wake of the massacre she escaped.
She speculated that since the victims of the Las Vegas slaughter hailed from far-flung cities, support for political action was dispersed and didn't gain any momentum.
"The conversation changed after Parkland," said Mawson, in part because she thinks an entire community felt the trauma from the deaths of 17 students and wounding of 17 others.
Trauma changed Mawson, too. For the first time, she looked up the voting record of her congressional representative. Her intent is "voting for people who want to pass common sense gun laws," she said.
Mimi Walters, a Republican from Laguna Beach, has represented the 45th District, which includes Lake Forest and borders Newport Beach, since 2015.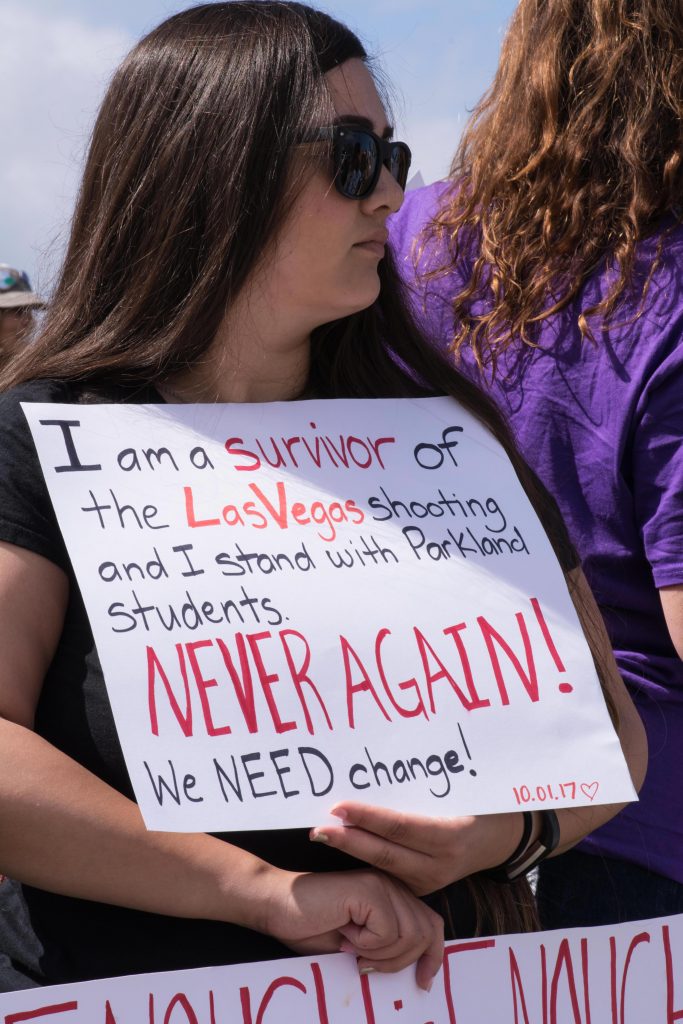 "She has an A+ rating from the NRA," said Mawson, who already wasn't a supporter of Walters. "That's more reason not to like her."
Whether Mawson's new-found political activism and that of the demonstrators she joined will influence the outcome of the midterm election in November remains to be seen.
But imposing restrictions on gun makers remains square in the sights of California's U.S. Senator, Dianne Feinstein, who on Monday met about 50 supporters at a fundraiser in Newport Beach.
"I came to office because of gun violence," said Feinstein, a longtime advocate of stricter gun control measures, whose path to the Senate began with a double assassination in San Francisco City Hall.
"I found Harvey Milk," she said, of the city supervisor gunned down alongside then Mayor George Moscone in 1978.
Feinstein expressed pride in collaborating with former Sen. Joe Biden to win passage of the nation's first assault weapon ban in 1994 by a vote of 52-48.
For 10 years, the law prohibited gun makers from manufacturing semi-automatic military style firearms and mass shootings declined as a result, Feinstein said. The ban expired in 2004.
"I thought after Columbine there would be no more; I thought after Sandy Hook there would be no more," said Feinstein, referring to school shootings in Colorado and Newton, Conn., in 1999 and 2012, respectively.
Yet, 200 mass shootings at schools have occurred since 2012, she said.
In October, Feinstein again introduced a gun control measure, though Mawson could be forgiven for her lack of awareness of the proposal given its outcome so far. The bill would outlaw the sale and possession of "bump stocks," a device the Las Vegas gunman used to retrofit his weapons with rapid-fire capabilities. It has only gained support from 29 Democrats.
"I think this is a different day," she said, with apparent disappointment.
Feinstein's other legislative priorities involve health care and immigration policy for children of people who entered the country illegally.
Her hosts included Wylie and Bettie Aitken, of Newport Beach; Santa Ana Mayor Miguel Pulido; Michael Ray, of Laguna Beach; and former state Assemblyman Tom Umberg, a candidate for the state Senate.
Feinstein, first elected to the U.S. Senate in 1992, is facing a primary challenge from within her own party from Kevin De Leon, the state Senate president pro tempore. She did not receive the state Democratic Party's endorsement.
She pointed out her tenure gives her ranking on the Senate Judiciary Committee, which is investigating whether the Trump campaign colluded with Russians to interfere in the 2016 election. She expressed confidence in Robert S. Mueller III, the special counsel carrying out a parallel independent investigation into the same issue, who she knew as a former U.S. attorney in San Francisco when she served as mayor.
Feinstein described the Trump administration's defiance of norms as destabilizing to allies abroad and among elected officials in Washington, D.C.
"This is the most difficult time in my 23 years; I've never seen a more difficult, uncertain time," she said.