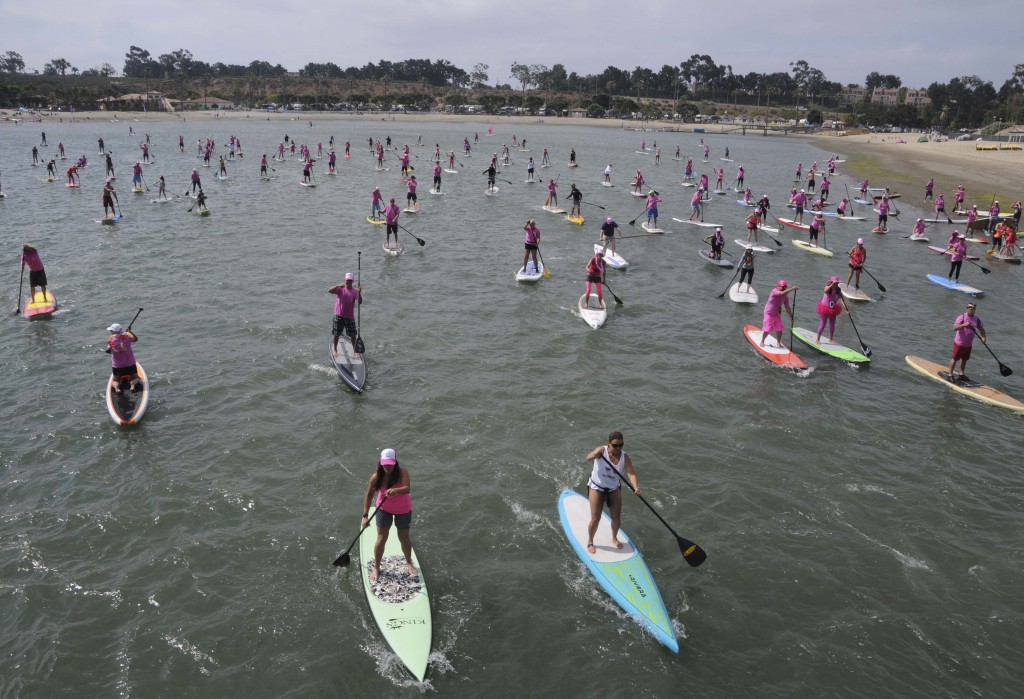 As the popularity for Stand Up Paddle Boarding grows, so does the concern for safety of all users in Newport Harbor.
Newport Beach Harbor Commission recently created an ad hoc committee to study the issue and an update was provided during a meeting Wednesday.
The committee recently hosted a meeting for local businesses and private paddlers to discuss safety and activity in Newport Harbor. Local entrepreneurs and private paddlers attended and provided input on training, safety, and suggestions for educating more users.
Part of the objective for the committee was to collect information about the current safety programs in place with the rental companies in Newport. They also collected information from private SUP operators and industry experts.
They attempted to survey each of the 20 rental companies operating in the harbor, explained Harbor Commissioner Bill Kenney, who headed up the ad hoc committee. They asked what the standard rental form included, what instruction was given, and whether verbal, written, or video safety information was provided.
Results from the survey found that each of the operators require a waiver of liability, but not much else. Although most do offer basic operational and safety tips, he added.
"The rental company operators are not doing an adequate enough job of instructing prospective renters on basic operation and safety of SUPs and other human-powered vessels," Kenney concluded.
Wednesday's presentation seemed to show a big disconnect about safety between the operator's perspective and what is actually going on out there on the water, noted Newport Aquatic Center Executive Director Billy Whitford.
"It makes it sound like we're not doing a very good job of teaching or talking about, implementing anything, safety-wise," Whitford said. "I don't know if that's a fair representation."
He suggested staff look into records of actual incidents so that they could have more reliable information.
Kenney compared Newport's SUP rental business to Alamitos Bay, which only has one provider, but safety program includes more required information, an instructional video, and an on-water proficiency test that all renters must complete. The Alamitos Bay company has also created an on-land simulator used for instruction.
The ad hoc committee recommended updating and distributing the written safety pamphlet, consider preparing or using a safety video and distributing it to rental operators, create and conduct a SUP safety class available through the city, create a safety certification program, and more.
Another idea is to deploy trained volunteer "harbor marshals" at points of congestion on busy days.
Commissioners were supportive of most of the ideas. Vice Chair Joe Stapleton pointed out that spending funds on a video that most people probably wouldn't watch may not be a great idea.
Kelly Carlson of Balboa Water Sports also liked most of the ideas suggested, but was hesitant about the written safety rules. They previously had written rules and safety guidelines, she said, but found that people didn't read them and would use the board incorrectly. So they started doing verbal instructions, and to ensure the users are doing it right, they also walk down the dock alongside the SUP renters after they first get on the board and start paddling.
There are different types of learners, she emphasized. A video might work for some while others might learn better with verbal instructions.
"Our harbor doesn't have a 'one-all' fix for every operator," Carlson said.
Something has to be done, commissioners agreed. They decided to gather more input from the community, possibly by presenting to the Chamber of Commerce Marine Committee.
Another recreational harbor use was discussed during the meeting Wednesday, one that the commission has seen before: Jetpacks.
Harbor Commission unanimously agreed Wednesday to recommend to City Council to prohibit all vessels that operate propelled above the water surface in Newport Harbor.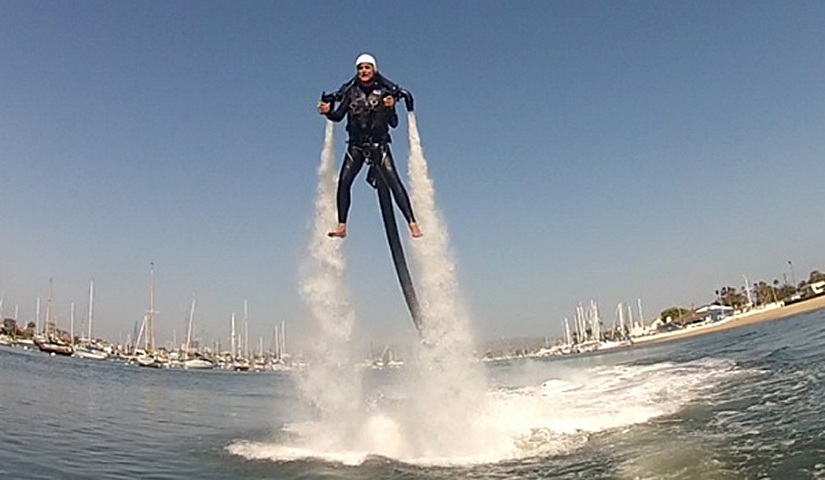 It will head to Council on Tuesday.
Water-propelled vessel activity in Newport Beach peaked in 2014 with multiple commercial operators in Newport Harbor.
In 2014, the Harbor Commission studied the impacts of vessels propelled above the water surface (Jetpacks) in Newport Harbor. The main concerns were for safety, noise, and speed. They recommended to City Council to ban operation of all jetpacks.
In 2015, Council voted to prohibit all private operations but allow one commercial operator within the harbor, as selected by a competitive process and authorized by city permit. Later that year, the city issued a request for proposals for the single commercial operator and awarded it to Jetpack America. The permit expired in November 2016, and they subsequently closed Newport Beach operations.
"During the past year, the Harbor Commission has further review and noted the incompatibility of these operations with the competing uses in Newport Harbor," staff noted in their report.
The main reason Council didn't ban the use and instead allowed one operator was based on the fact that it drew visitors to the area, Commissioner Bill Kenney explained.