"Be the change you want to see in the world."  – Mahatma Gandhi
If you met him delivering your pizza from Laventina's Big Cheese Pizza on the Peninsula, you'd never guess that the good-looking, affable Vinicius "Vina" Tinoco's "other job" is making a positive impact on hundreds of young lives every day.
Born in Sao Paulo, Brazil, 30-year-old Vina immigrated to the United States in January of 2006 to start a new life. Through hard work and determination, he has also has made a difference to literally hundreds of at-risk youth through an innovative skateboarding program he founded called Next Up Foundation.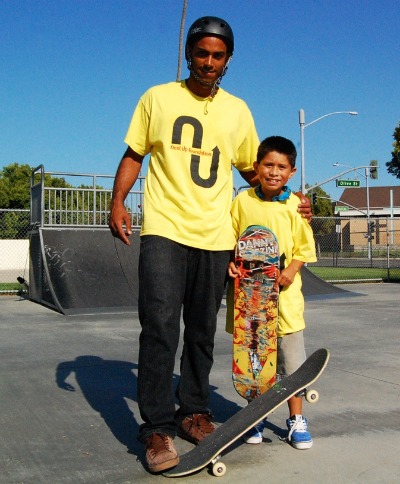 As an accomplished skater himself in Brazil, he had been a volunteer for a skateboarding program established by the Brazilian government called the Foundation for the Well-Being of Minors, working with incarcerated youth. The goal of the program was to help the youth in the program get their lives back on track through skateboarding.
"Working as a volunteer with the kids in Brazil had a huge impact on me," says Vina. "When the opportunity arose for me to move to the United States, I knew when I got here that I wanted to start a similar program because of the positive impact I saw it have on kids that everyone had pretty much given up on."
In 2009, Vina successfully incorporated the Next Up Foundation, becoming a 501c3 corporation, launching a pilot program in partnership with the Boys & Girls Club in Anaheim and Santa Ana.
Next Up's primary purpose it to help at-risk kids reach their full potential by instilling in them an understanding that they deserve to be successful in life, regardless of any of the other factors that challenge them. By promoting exercise, wellness, social skills, sportsmanship, and self-confidence, Next Up Foundation's mentees learn the importance of education and self-respect.
"We get kids on skateboards and keep them busy practicing skating as much as possible, which keeps them off the streets," says Vina. "We encourage them to skate as often as possible so they don't get sidetracked by negative influences."
Next Up Foundation, which is run solely by dedicated volunteers, supplies all the skate equipment including boards, shoes and even clothes as needed, which for the most part come through donations.
Another key element of Next Up Foundation's program is having pro-skate sessions where professional skaters visit and skate with the kids. As role models, their participation is critical in engaging and inspiring them to work to become great skaters themselves.
Currently, Next Up Foundation's program is held Mondays and Wednesdays from 3 to 5:30 p.m. at the Boys & Girls Club in Anaheim; and on Wednesdays from 3 to 5 p.m. in Santa Ana at the Boys & Girls Club/Sierra Preparatory Academy.
Vina is working now to expand the program to Long Beach.
With each new mentee that joins the program, Vina is encourage to continue to build and expand the program to other cities, all he needs is a little more support.
When I asked him what he needs most from the community, he responded that donated or reduced-rent office space is desperately needed, as well as monetary donations to continue to purchase the skateboards, safety equipment and clothes so that the kids can fully participate. And of course, donations of new or gently used skateboards, skate clothes and shoes as well as equipment are always welcome.
For more information about Next Up Foundation, visit www.nextupfoundation.com. To make donations, email Vina at [email protected]. Columnist Lynn Selich can be reached via www.LynnSelich.blogspot.com.