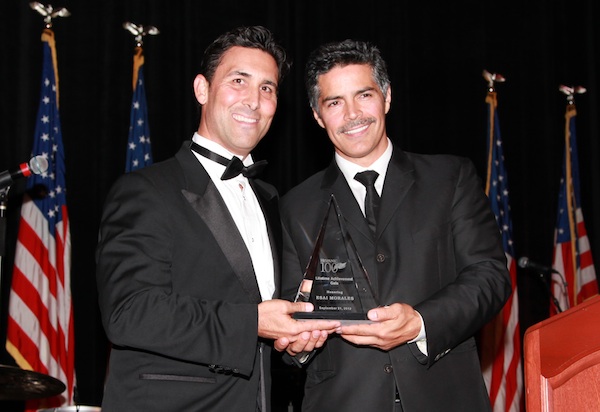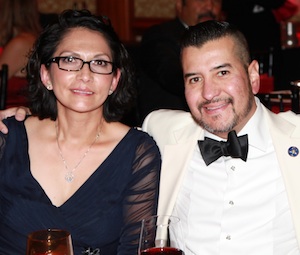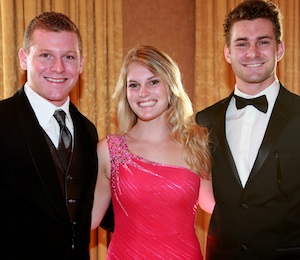 Recently, I joined more than 320 guests attending the Hispanic 100 Third Annual Lifetime Achievement Award Gala at the waterfront Balboa Bay Club and Resort in Newport Beach.  Former U.S. Treasurer Rosario Marin served as mistress of ceremonies for the event, which also included special guest speaker George P. Bush, son of former Florida Gov. Jeb Bush.
The event garnered an estimated $75,000 in net proceeds for Hispanic 100′s Mentor Program, which provides opportunities for Hispanic youth to become future business and civic leaders.
A highlight of the evening was the presentation of the Hispanic 100 Lifetime Achievement Award to actor and self-proclaimed "actorvist" Esai Morales for his distinguished professional career and charitable accomplishments. Morales has had a storied three-decade career on stage, in film and on television. His roles in the Emmy Award-winning series "NYPD Blue," the biopic "La Bamba," the PBS drama "American Family, and the Showtime series "Resurrection Blvd.", as well as Fox's "Vanished" and USA's "Burn Notice" are among his many achievements. Most recently, Morales can be seen on USA's "Fairly Legal."
Morales is also the co-founder of the National Hispanic Foundation for the Arts and Earth Communications Office (ECO). He gives freely of his time to assist many other charity organizations and environmental causes.
"It's exciting to see top business leaders throughout Orange County getting involved with Hispanic 100," said Mario Rodriguez, Hispanic 100 chairman. "Influential business owners and civic leaders are the key to our mentoring program, that we just kicked off last year, which provides a conduit for goal-driven Latinos between the ages of 18 to 24 with leadership, etiquette and business skills. Our hope is that through our program, they too will become successful community and business leaders.'
The evening was rounded out with entertainer Larry Braggs, lead singer of Tower of Power, who kept the dance floor packed.
The Hispanic 100 Policy Committee Inc. is a nonprofit 501(c)4 organization established to develop and promote leadership within and from the Hispanic community and to advance free-enterprise principles through advocacy and educational activities that impact the Hispanic population as it relates to the overall social and economic good of the United States.
Special to the newportindy.com from OCSocialScene.com.
Photos by Tony Lattimore and Mike Munzing.