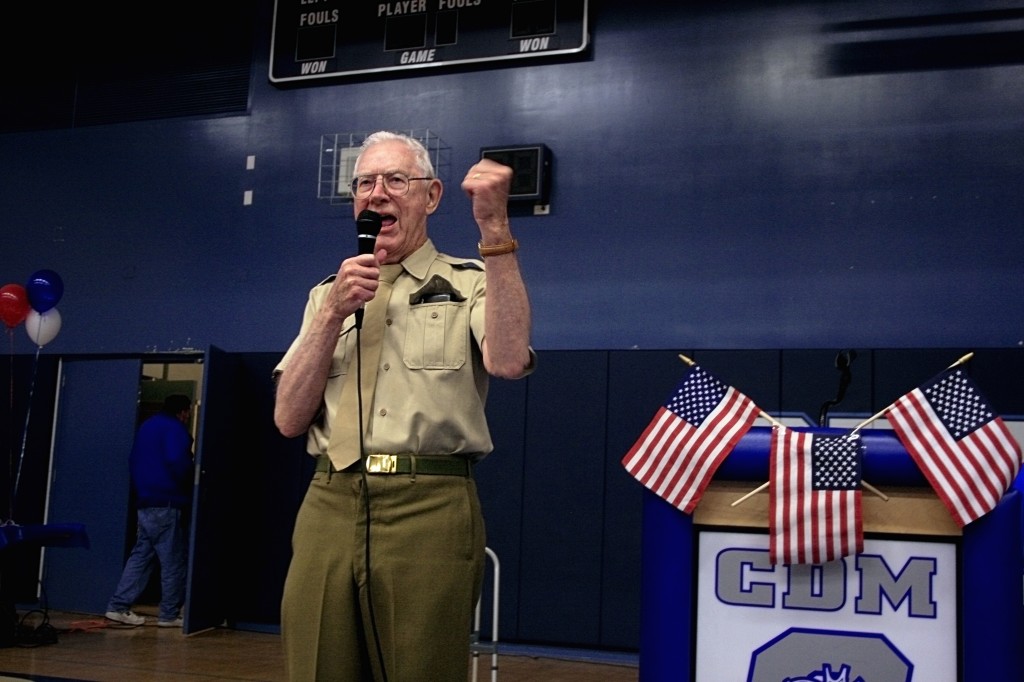 About 80 veterans shared their stories with the sophomore class at Corona del Mar High School Thursday during the school's annual Living History luncheon.
All branches of the military were on hand, from every war between the present and dating back to WWII. They gathered for the annual event, held this year on March 14 in the school's big gym.
The luncheon included introductions from all of the vets, speeches from selected speakers, and a video featuring photos of the students with their veterans.
More than 500 students, veterans and guests attended the event.
"We're so honored to have you all here," today, Denise Weiland, event organizer and community service coordinator for the school, told the veterans.
Sophomore Matt Hollander, 16, spoke during the student reflections about his experience with his veteran, Art Yates.
"He made our experience truly special," Hollander said.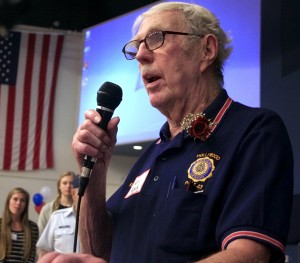 The Living History project is an amazing program, he added, it gives students something special they wouldn't get from books or reading online.
He also said this project is very near and dear to his heart because both his grandfather and great-grandfather served.
Another student thanked the veterans, whom he called "true American heroes."
Groups of four to five students have been meeting with their assigned veteran for several weeks, asking them questions, hearing about their experiences and getting to know each other.
Dick Meadows, a Marine Corps veteran, said it was a good experience, but he may have not given the students the stories they wanted to hear.
"I gave them a history lesson I'm afraid," Meadows said.
His group of kids Justin Hess, Blake Davidson, Brendon Le, Noah Lawson, and Brett Davidson, all 16, respectfully disagreed.
"It was a wonderful opportunity," Hess said. "A great experience."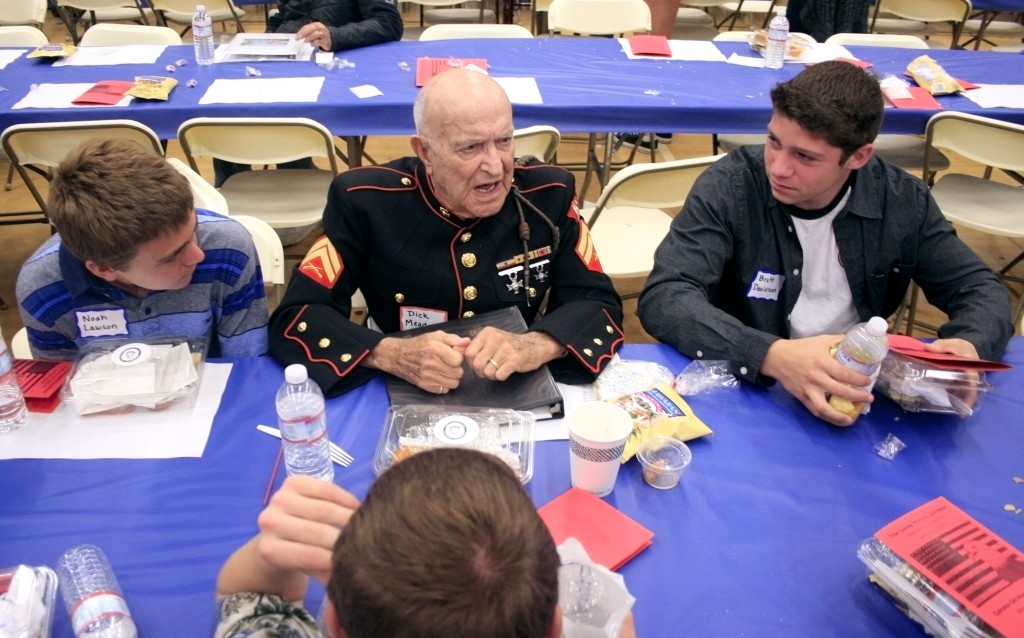 It was great to hear the stories from the insider's view, said Blake Davidson.
Meadows also told the students that the Marines taught him about responsibility, honor and gave him an education.
There were certain stories that Meadows didn't want to share, he said, like seeing his buddies get hurt.
He told them of his combat experience in the South Pacific, Tarawa, Saipan, Tinian, Okinawa, and how he served occupation duty in Nagasaki, Japan
The kids also got to meet his wife of 76 years, Winnie., which led to the topic of love.
Meeting the boys made him remember what it was like to be 16, he said. The group talked about girls, technology and society, among other things.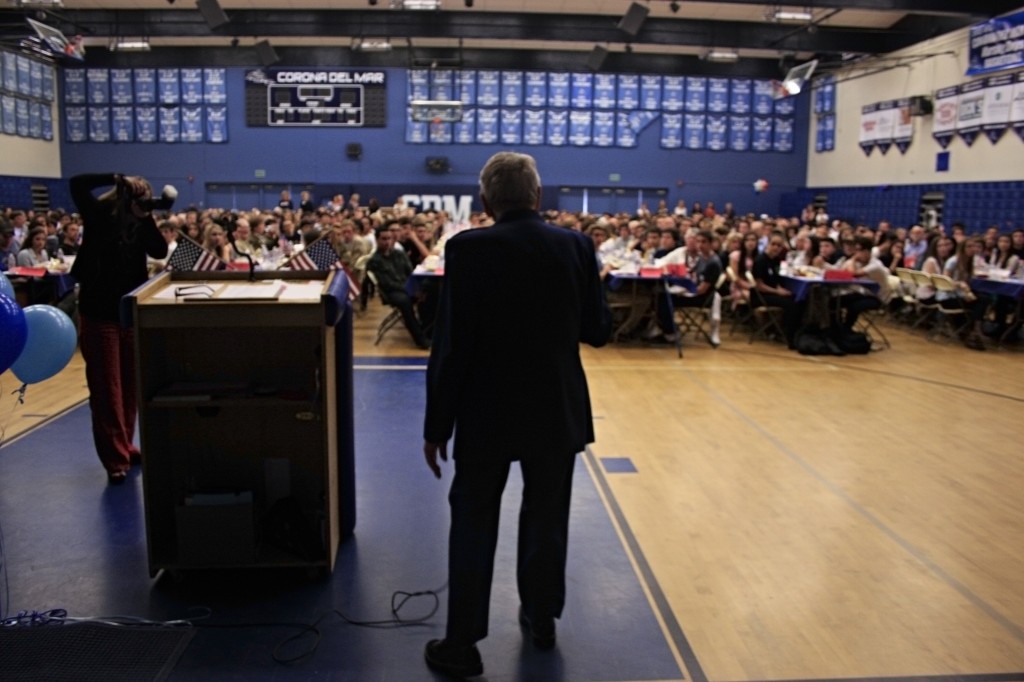 This generation is essentially like every other one, Meadows said, he went through the same things they're experiencing now.
"Same circus, different clowns," Meadows said with a smile.
Meadows is the grandfather of Corona del Mar High School sign language teacher, Tammy Owney. He has participated in the event for the last four years.
The luncheon also featured Jack Hammett, the founder of the Freedom Committee of Orange County, which works with the school on the Living History Project every year.
Hammett honored all the veterans at the luncheon, specifically the only other vet still alive that participated on the first Living History panel (that consisted of just five veterans), 98-year-old Archie Gregory.
The crowd also sung Happy Birthday to Hammett, who turns 93 next week.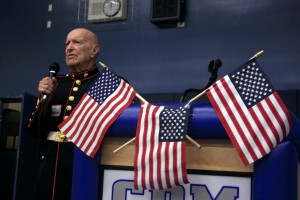 Another veteran speaker was Steph Saltis, an Air Force veteran who flew missions with CdM teacher and US Air Reserve Officer Gary Mathieson.
Saltis gave wise words of advice to the kids and emphasized the appreciation they all should have for being born in a free country.
"Find your calling in the service," or in anything in life, she said, and give back to your country, contribute to society.
A group of select students also reflected on their time with their veteran and what they learned.
Other than some minor microphone challenges, it was another great luncheon, Weiland said.
"The students love and appreciate the veterans," Weiland said.