History came alive last week as Corona del Mar High School students honored nearly 100 veterans during a special luncheon.
The March 19 event was part of the Living History Program which pairs groups of four to six sophomore students with a veteran from The Freedom Committee of Orange County.
The veterans in the Freedom Committee bring history alive in the classroom, said FCOC President Scott Williams.
"I am always awed and honored to be in the presence of my fellow veterans, even though the stories are sometimes grim they are told from the heart and their meaning is cherished and understood by all," Williams said.
The kids interview their veteran, learn about his or her service, record a video of the interview, create a documentary DVD, transcribe the interview, and write a thank you letter.
Williams thanked the students who interviewed him, saying he was impressed with the intelligent young ladies.
"America's future looks bright," he added.
The program is meant to be an interactive learning process aimed to help the students get a better understanding and a greater appreciation for U.S. history, including the sacrifices and accomplishments of veterans.
The sophomores introduced their veterans to the crowd, noting their military branch, years of service and rank.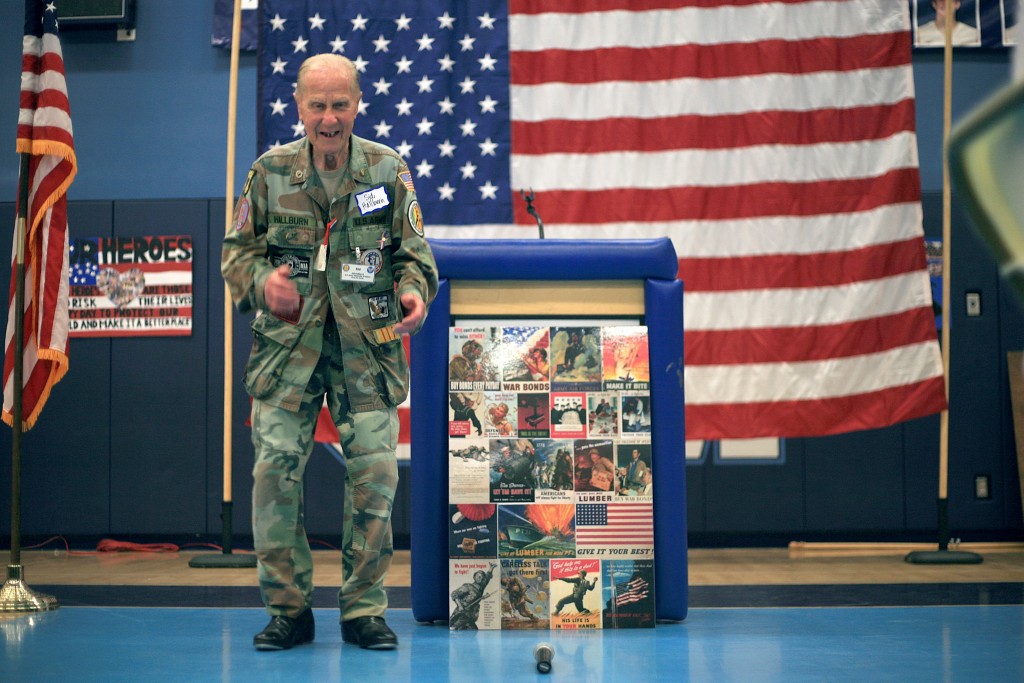 A video montage of the students with their veterans played and a few students shared some reflections on the experience. The crowd was also treated to a tap dance performance by WWII veteran Sid Hallburn.
The students interviewed 96 veterans from WWII, Vietnam, Korea, Afghanistan and Iraq.
Among them was Newport Beach Indy cartoonist and Korean War veteran, George Peters.
Peters' group of CdM students included Tori Thompson, Victoria Duehring, Shirin Assadian, and Brooke Pauley, all 16.
The "intelligent, loving, wonderful young ladies" were very professional, he said.
"I was very pleased and honored," Peters said.
All four girls said they were very grateful for the opportunity to speak with and learn from Peters.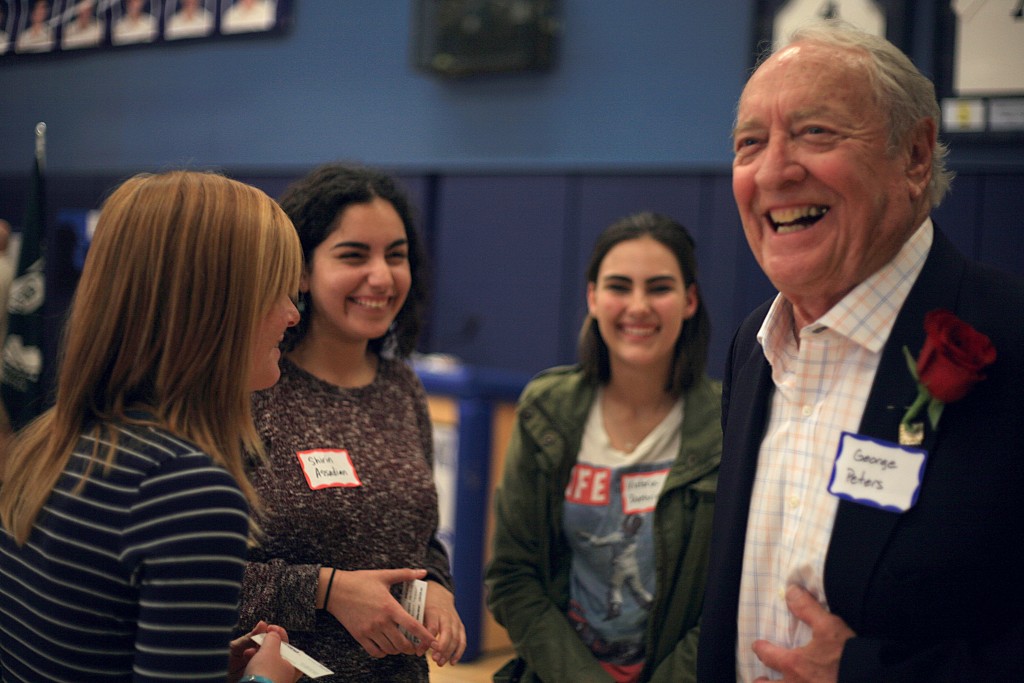 "George (Peters') story is a thread in the American flag and we, as the future of America, are going to have to bear the flag and bear the torch for the next generation," Pauley said.
The Michigan native was a 20-year-old art student and department store stock boy when he was drafted in 1950. He later retired as a staff sergeant.
It's important to learn the personal stories, Duehring said. She heard grim stories from Peters, but also some fond memories.
"We learned that there are people behind history, it's not just what we read in books," she said.
It was really interesting to hear his stories from the war, but also about his life and his work as a cartoonist, Thompson noted.
The experience also taught them that people can persevere through something as awful as war and still come out of it with a positive outlook on life.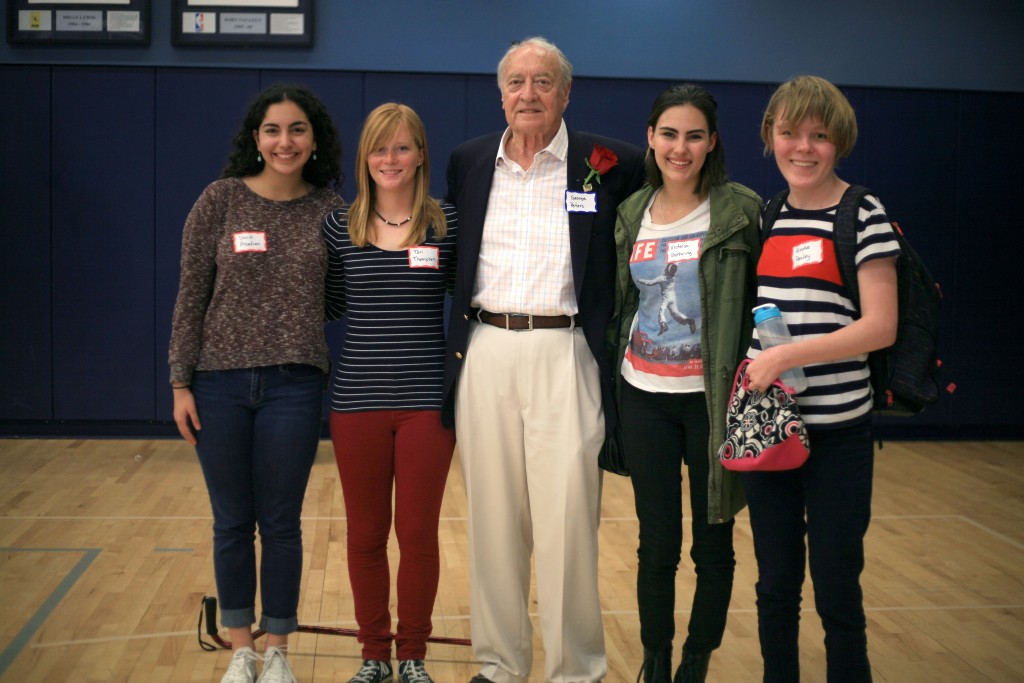 "I love that he still finds a lot of humor in life," Pauley said. "People who see horrific things aren't supposed to have this sunshiney view of the world, but he does and that's testament to the power of the human spirit."
CdMHS Principal Kathy Scott also spoke during the luncheon, quoting President Abraham Lincoln's Gettysburg Address.
The world will not forget what happened there and the price for liberty, she said.
"We must ensure that future generations of students are never permitted to grow up without a clear understanding of the sacrifice of brave men and women since the Gettysburg," Scott said.
She went on to thank the veterans for their service and for sharing their stories, which will be at the "heart and soul of our history lessons," she said.
The presentation also included a photo and bio of Freedom Committee of OC founder, Jack Hammett, who died in December.
The Living History Program started in 1999 when CdMHS invited five WWII veterans from the FCOC to speak on a panel.
"He did not know how the program would be received by the veterans or by the students," Williams said.
By 2013, the veterans had spoken with more than 100,000 students and Hammett knew the FCOC was successful, Williams explained.
"The programs is successful because we have veterans from generations long ago telling their personal histories," Williams said. "Their stories of major events in history engage the students and bring history alive."
For more information, visit fc-oc.org.