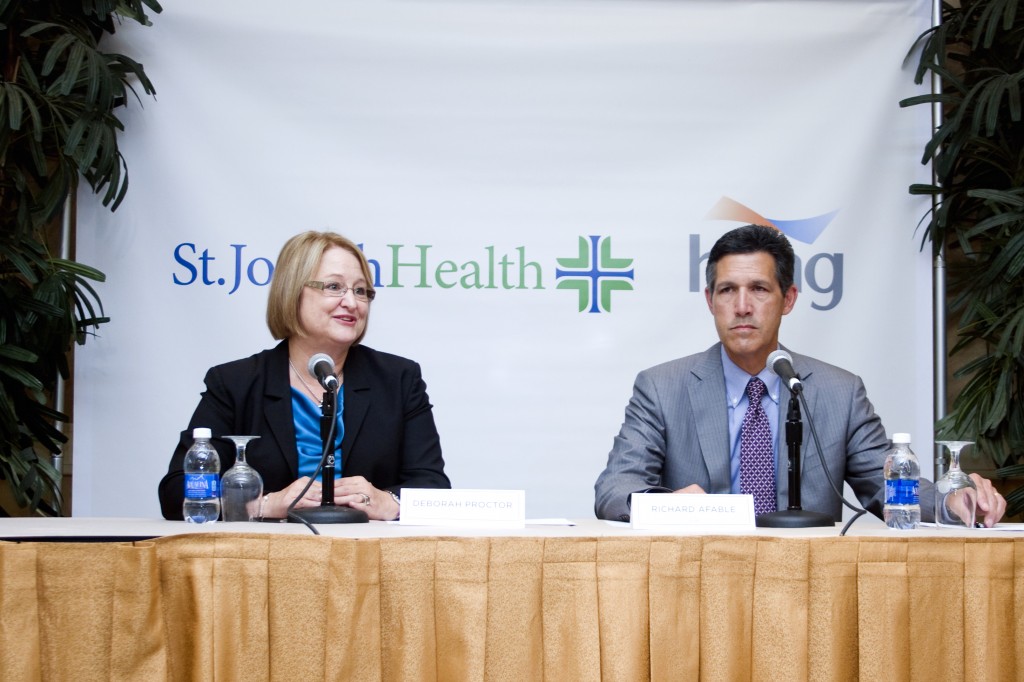 Two of the biggest hospitals in Orange County announced today that they will joining forces to create a combined health care system.
The affiliation between Hoag Memorial Hospital Presbyterian and St. Joseph Health comes at a time when the healthcare is changing, "to a very significant degree," said Dr. Richard Afable, Hoag president and chief executive officer.
Afable, along with St. Joseph Health president and CEO, Deborah Proctor, made the announcement and spoke about the affiliation at a press conference this afternoon at the Hyatt Regency in Irvine.
"We think this is a great day for health care in Orange County," Proctor said. "We have great faith that we can deliver something new and better to this county."
The affiliation will actually be a new company and will form a new integrated healthcare system, which will include the five St. Joseph Health hospitals, the two Hoag hospitals, and all the other services under the two organizations. It will aim to create a seamless experience for patients, regardless of the facility they visit.
They will operate under the direction of a board from the new company, Proctor explained. The company has not yet been named.
It is not a merger, or a sale, and there is no transfer of assets, she emphasized, but they intend to operate as a single integrated system.
At the end of June the organizations approved a letter of intent, but the affiliation still needs to be approved by the California Office of the Attorney General, which they are planning to submit a application by October. They are hoping for a decision by early 2013.
Staffing should remain stable in the first year or two, Afable said, but there are some economies to be obtained in non-clinical areas, he said, like the back office. In the long term, the exact staffing needs will remain to be seen, he said, depending on the new care processes that will be implemented.
"We have understood for quite a few years now that we needed to do more as an organization to serve our mission and our mission was, and continues to be, to provide the highest quality health care services to our community," Afable said.
The vision is to "reinvent" health care for the community and possibly be a model for other organizations across the nation.
They emphasized that the new system will aim to give more people access to healthcare, higher quality care, and at a better cost.
"Health care is complex, it's difficult. It lacks coordination. It lacks an ability for people to seek and receive the care that they want and need without their having to make great efforts, and then after all of that, it's really expensive," Afable said. "We believe that there are better ways to provide health care and health care services in a coordinated and integrated way."
There are still tremendous health disparities in Orange County, Proctor said. There are lot of vulnerable people in the region who have limited access to health care as well, she added. She also noted that costs are too high in the county.
Joining will also help eliminate duplicate services. Duplication of care often adds expense, but not real value, Afable said, and is therefore unnecessary. On the other hand, there are several areas, obstetrics for example, that need to be available for patients at locations all over the region.
The new health system would rationalize care, or "that it is done in an appropriate patient-centric way," Afable said.
"We can put the infrastructure together collaboratively and still deliver it locally," Proctor added.
In rationalizing care, the system will make things more appropriate and efficient, but also bring in services that don't currently exist in the community.
It's about managing patient care in the most effective way, they both emphasized, and to reduce the cost of care.
They chose each other because of similar beliefs and common goals.
They will maintain their own identities, Afable said, and keep their religious roots. Hoag will remain Presbyterian and St. Joseph will stay Catholic.
"Hoag will continue to be Hoag," Afable said. "The name won't change, the organization will be led by the same people, the governing structure will be the same. The identity with the community, in and around Newport Beach [and other nearby neighborhoods], that connection and those identities will remain the same."
There are no future plans to merge, or any kind of change the structure of the "affiliation" relationship, Afable said.
"From the outset our plan is to create a new organization and to leverage and use the existing assets that are already in place," between St. Joseph and Hoag, Afable said, "which are substantial."
As new elements of care begin to develop, he continued, we will have need to capitalize, to make investments in the new processes of care.
He gave information technology as an example, it's not about building facilities but there will be a need for infrastructure.
"We will certainly be needing to generate funds and create funds in order to support that new development," he said.