Many residents have gone above and beyond when it comes to decorating during the holiday season.
Life-size gingerbread houses, adventurous penguins and creative Christmas trees adorn just a few of the homes of some Newport Beach residents.
It's all part of the Ring of Lights house decorating contest, a side event to the annual Newport Beach Christmas Parade, hosted by the Commodores Club of the Newport Beach Chamber of Commerce.
The long standing tradition has become to decorate bay front houses during the boat parade with as much extravagance as the boats themselves, and the Ring of Lights has become almost as celebrated as the parade.
Locals and visitors alike often make a "lights loop" around Balboa Island to enjoy some of the more extravagant, unique and awe-inspiring decorations, among the fan favorites are three Bayfront homes.
Christmas on Balboa Island is special, agreed locals Dennis Vitarelli, Shirley Pepys and Mark Hurd.
The extreme decorating works well here because of all the foot traffic the island gets, Pepys said.
"The whole community gets into it," she said.
"The more people decorate, the more fun and lively and spirited it is," Hurd said.
"It's a very special place," Vitarelli said. "It's our gift to the community."
Life-Size Gingerbread at 140 S. Bayfront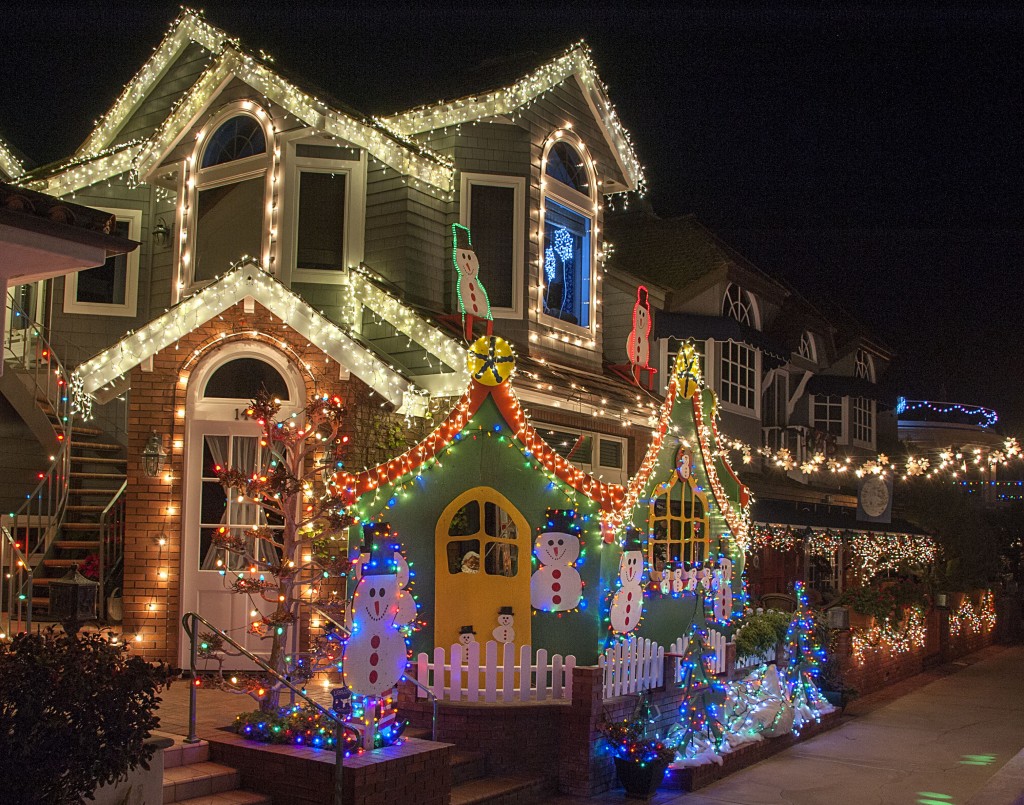 About 12 years ago, Dennis Vitarelli decided to build a gingerbread house.
The only difference between his and a child's Christmas party project is Vitarelli's is nearly 10 feet tall and constructed out of plywood.
It all started when he won an award just for having some simple decorations and some lights up.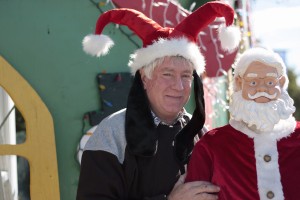 "So the next year I went crazy," Vitarelli recalled. "That inspired me."
The gingerbread house was the first piece Vitarelli built.
"I wanted it to look like the things I made out of gingerbread when I was a kid," he said.
Kids love it, he said. It brings out the child in many adults as well, he added.
"A lot of people take their Christmas cards in front of it," he said. "Occasionally they'll send us a copy."
He then expanded with a plank going from his dock to his neighbors with gingerbread men standing across it. He also built a Santa's Village facade that stands in front of his home.
As a building contractor, he was able to use scrap wood from work to build everything. It's all funky and handmade, he said, all one-of-a-kind.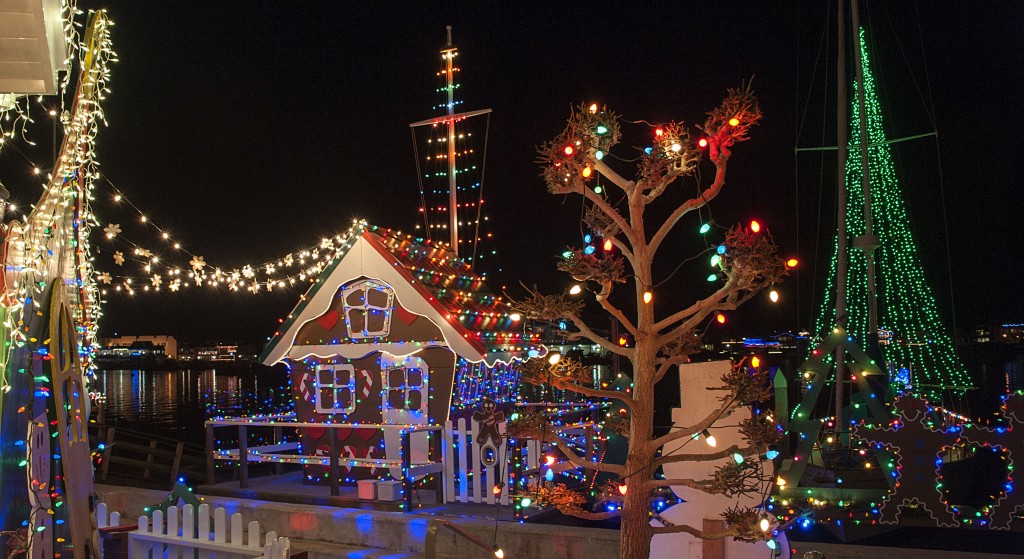 He added more lights to the dock and everywhere else, including a 37-foot Christmas tree made of 4,000 LED lights.
Snowflake lights stretch from the village to the gingerbread house, dangling above people as they walk by, creating a "winter wonderland" effect.
His son helps assemble everything and his wife and daughter help paint. They start the week before Thanksgiving.
"It's a family effort," he said.
Sometimes he will sit on the seawall and listen to the reactions from children and adults, which makes it all worth it, he said.
"It takes people back to their childhood," Vitarelli said. "It gets them to believe again."
.
History and Penguins at 526 S. Bayfront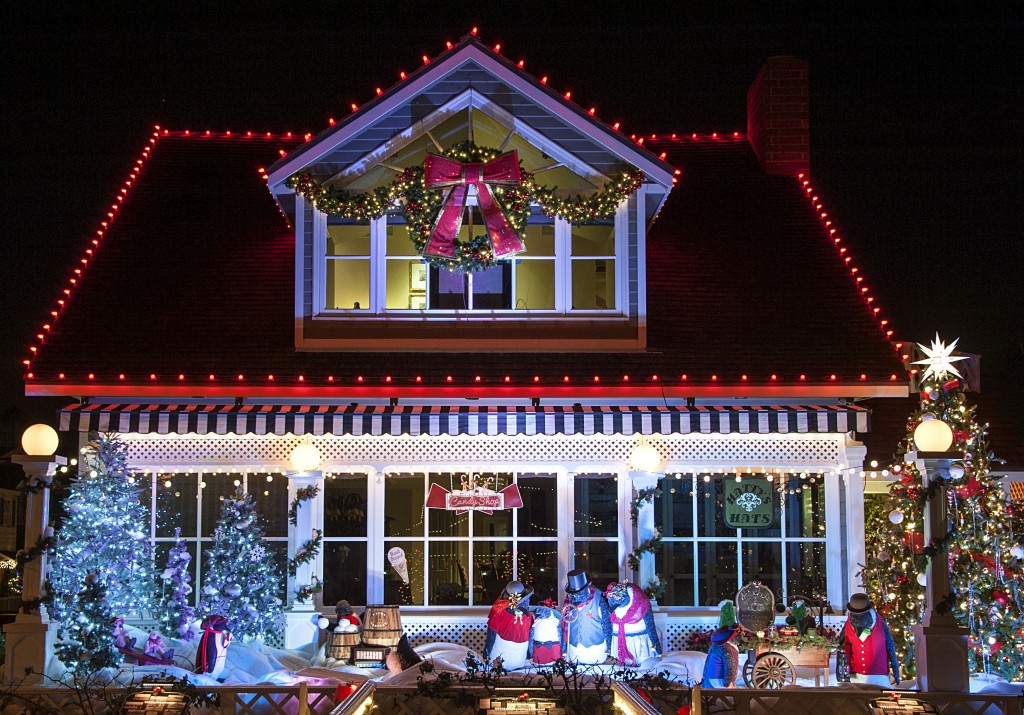 A waddle of penguins find new adventures at Shirley Pepys' home every Christmas.
Last year, the penguins were having fun in Hawaii. Another year, they were in a winder wonderland.
This year, she tied in the 100 year anniversary of her home and Pepys and the penguins are celebrating by winding back the clock and featuring a century old wintery scene.
Pepys has lived in the house for 20 years, she got a lot of information about her home's history from the Balboa Island Museum and Historical Society, where she is director of the board.
"It was just easier to come by a lot of (the information)," she said. "We did a lot of research and one thing led to another."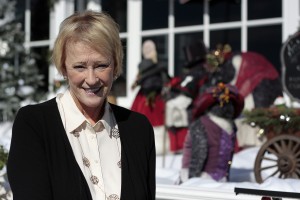 Unlike most houses on Balboa Island, her home has had many owners over the years.
Among the owners was a lion trainer, she explained, who had about 200 lions at a farm or ranch of some sort in inland Orange County.
The original property owner, who bought the land in 1911 and built the house in 1913, was the sister-in-law of William S. Collins, one of the first and most influential developers in the area, Pepys explained.
She bought it from the Harris family, who had owned it for about 20 years.
There were even penguins already in the house when she moved in, painted on the bathroom shower tiles.
"They've moved outside," she joked.
She and her son always decorated the house, even before the Ring of Lights became official. It has evolved over the years and gotten and bigger and bigger, she said.
The display really took off when she met Dillon Wells. Last year, he and his family, including his parents Deanne and Dan Lemire and his aunt Darcy Hafner.
"They're passionate about it," Pepys said, and it shows in the attention to detail of everything they create.
The clothes, props and other items are all handmade, she explained. This year, Wells created a light show that plays in tune with music. It creates quite a show for spectators.
"This stuff fills up his parents house," she said. "There are penguins everywhere."
.
Animation and Detail at 304 S. Bayfront
Visitors will see several Christmas trees at Mark Hurd's Bayfront home, but only one of them will be in a unusual location: Hung over the front door.
Hurd's home also features many animated items to watch and intricate details that bring everything together.
But it all started with that iconic Christmas tree over the door.
The property has been in his family since the 50s, Hurd said. The house, as it currently stands, has been there since 1976.
When his parents were building the house it was under construction during Christmas, he explained. They decided to hang the tree over the door and a tradition was born.
"Every year they would add something new," Hurd said. "But the tree continues…That will stay put …That's the signature."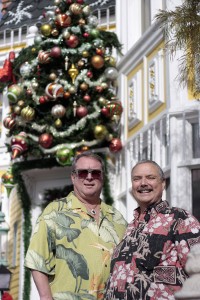 His mother, Joi Dell Hurd, would add little odds and ends here and there and decorating the windows.
Joi Dell Hurd passed away earlier this year, so this is the first time Hurd has decorated without her. He and his partner Kevin Kramp had lived near Eastbluff before moving into his family's Balboa Island home this year.
"It's a little sentimental," Hurd said.
They kept the family tradition of the tree over the front door alive, but they have also made it their own.
"She and I have different decorating ideas," Hurd said of his mother, "so I put my own spin on it."
Neighbors have commented that they see his mother's style in the design still, but that Hurd has included his own ideas. A mixture of both of them.
The reactions are priceless, Kramp said, the "oohs" and "aahs" are nice to hear.
"It's a lot of work, but it's worth it," Kramp said. "It's absolutely worth it."
They love to have friends and family over and share in the spirit, he continued, the decorations enhance the mood.
"Christmas, for Kevin (Kramp) and me, is just the greatest time of the year," Hurd said. "We absolutely love it. We have always decorated our house, wherever we were, to the nines."