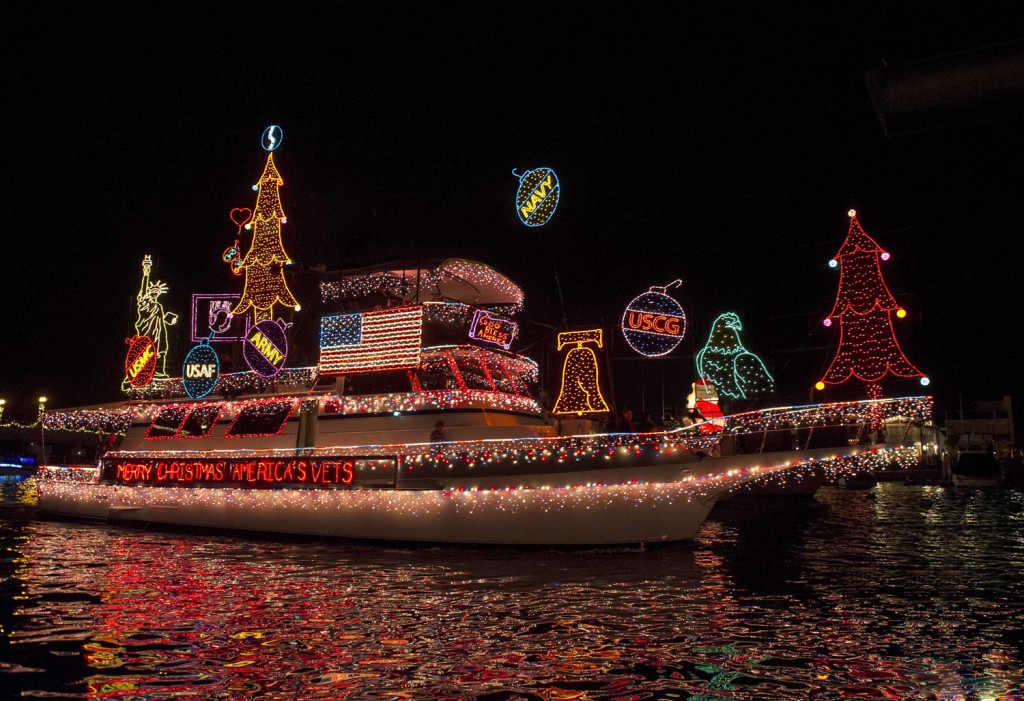 A Newport Beach holiday tradition returns on December 18 when the 105th Newport Beach Christmas Boat Parade sets sail for the first of five nights, with dozens of decorated vessels slowly cruising the perimeter of Newport Harbor under the delighted gaze of several hundred thousand onlookers.
Presented by the Commodores Club of the Newport Beach Chamber of Commerce and hailed as "one of the top ten holiday happenings in the nation" by the New York Times, the Christmas Boat Parade's theme this year is "Rockin' Around the Christmas Tree!"
The parade starts off Bay Island at 6:30 p.m. and finishes at the same site at approximately 9 p.m. each evening.
Multi-million dollar yachts and a variety of small boats will light up the harbor, many decorated with animated Christmas scenes accompanied by music and costumed carolers. Some boat owners spend more than $50,000 to decorate their vessels for the event.
Italian gondolier John Scarpa spent much less than that in 1907 when he took a group of visitors across Newport Bay in a gondola decorated with Japanese lanterns.
A year later, on July 4, 1908, Scarpa and other small boat operators put together a loosely organized parade of nine illuminated vessels led by Scarpa's gondola and followed by eight canoes.
It might not have been Christmastime, but the Boat Parade was officially born.
The parade – then called the Illuminated Water Parade – was held again in 1913 and for several years thereafter until the outbreak of WWI, when the parade went dark. In 1919 it was rescued by Joseph Beek, who was operating a ferry service. Floats that could be towed around the harbor were constructed in Beek's garage; some were patterned after those seen in the Rose Parade.
The boat parade continued until shortly after World War II, when the parade became so popular that traffic along the parade route became too congested.
The parade shifted to December and was rechristened the Christmas Boat Parade. Traffic is still congested, but not as bad as during the summer.
Serving as a backdrop for the lighted boats in the parade is the annual "Ring of Lights" contest, hosted by the Commodores Club.
Dozens of bayside homes and businesses surrounding the harbor are elaborately decorated with everything from roof-top animated scenes to dancing Christmas trees to giant inflatable characters. With its own judged categories and prizes, the "Ring of Lights" has become as celebrated as the boat parade itself.
This year, a fireworks display from the Newport Pier on Wednesday night at 6:15 will signal the start of the parade, while another fireworks display from the end of the Balboa Pier on Sunday night at 9 p.m. will mark the conclusion of this year's parade.
VIEWING AREAS
The Balboa Fun Zone offers plenty of public viewing spots, and it's where you can hear live commentary on the parade. Admission is free and parking is available in the public lot next to the Balboa Pier, but get there early as parking lots tend to fill up fast, especially on the weekend.
American Legion Post 291 at 215 15th Street has a large viewing area available for $10 per person. Food is available for purchase for $5. The venue usually sells out, so call (949) 584-6663 and reserve a spot before they're gone.
The Newport Sea Base at 1931 W. Coast Hwy has a viewing area on their lawn available for a fee; food and beverages will be sold. Call (949) 642-5031.
Many local yacht charter companies take visitors out on the bay to watch the parade, including
Catalina Passenger Service, Davey's Locker, Hornblower Cruises, Gondola Adventures, Newport Landing, Electra Cruises, and Pacific Avalon Yacht Charters. You can also rent your own boat at Balboa Boat Rentals, Marina Boat Rentals, and Newport Pontoons.
For details visit ChristmasBoatParade.com.
BOAT PARADE DINING
Only in Newport could you enjoy a gourmet dinner while watching a parade of boats. A handful of bayside restaurants and venues offer ideal parade viewing, including 3-Thirty-3, Chart House, Rusty Pelican, Balboa Bay Club, Billy's at the Beach, Newport Landing, and Harborside Restaurant.
Some restaurants such as Bayside, Bluewater Grill, A Restaurant, SOL Cocina and the Cannery, as well as those on Balboa Island, don't offer direct viewing, but they're a short walk from the waterfront and can be less-crowded than restaurants along the parade route.
Balboa Village is another terrific area in which to dine prior to or after the parade. The Sliding Door – Balboa Village's newest restaurant – is charming and intimate, and offers an impressive menu at reasonable prices. So does Mint Leaf Thai Cuisine and Great Mex (a local favorite). All three restaurants are around the corner from the Fun Zone.
The Fun Zone itself offers a handful of small eateries including Balboa Barbie Q (a terrific BBQ spot) and several pizza joints.
INSIDER'S GUIDE
Looking for an easily-accessible spot to view the Christmas Boat Parade? Here are a few ideas gleaned during a pre-boat parade cruise around Newport Harbor with Waterfront columnist Skipper Steve.
Park in Cannery Village and walk to the Lido Island Bridge. Viewing there is free. Entry to Lido Island is limited to residents only.
A number of public docks dot Newport Harbor, and make ideal spots to view the parade (dock capacity varies). On the Balboa Peninsula, public piers are at the end of M Street, Fernando Street, Washington Street, and 15th and 19th streets.
Several public beaches along Balboa Peninsula offer sandy spots to watch the parade, including a long patch of beach near 18th Street.
There are also five public piers on Balboa Island, but the parade can be seen from almost anywhere along the perimeter of the island (including the bridge leading onto the island). The trick is finding a place to park on Balboa Island. The solution: park on Bayside (south of Jamboree) and walk to Balboa Island.
Perhaps the best solution to traffic and parking is to take a taxi to either Balboa Island or Balboa Peninsula. The fare is worth avoiding the parking hassle, especially on the weekend.
Whatever you do, dress warm–temperatures can get chilly along the waterfront.
Click here to see the boat parade map.
For more Boat Parade information, visit ChristmasBoatParade.com.